Some of the most popular media players include VLC, KM Player, and PotPlayer. Unfortunately, much of what we watch (for example, race videos, car racing, and so on) is quite fast. Hence it becomes very difficult to capture or view a scene full of details. In this article, let's find out how you can go frame-by-frame videos on a VLC player and other popular video players.
| Player | Frame by frame hotkey |
| --- | --- |
| VLC | E |
| PotPlayer | F for Next, D for previous |
| KMPlayer | F |
Save your time, use this cheet sheet
In the modern era, multimedia is a very profitable segment of the business world. Some people use content to watch and enjoy, whereas others produce content based on viewer demands. People who use various multimedia players to play their music, movies, and videos.
A bit about VLC
VLC is a free media player for various audio and video formats. It supports an extensive list of features and is available on most platforms like Windows, Mac OS X, Android, iOS, Linux, etc, and not to mention it's our 2nd best video player.
What is it? Although it has been around since the early days of DOS and Windows and is still being developed by its original author, it is widely used to this day. VLC is an open-source, royalty-free media player that can be used to play almost any type of multimedia file (including some proprietary formats). Apart from being able to play almost any type of file, the program has all the functionalities one would expect out of a media player. It has a very intuitive interface and can be started right from the start menu of your Windows operating system. You can run its batch processing functionality from within other applications as well.
How to play Video frame by frame in VLC player
Video frame by frame is one of the most useful functions when you want to slow down the video playback speed without changing its pitch. This function will make it easier for you to analyze every second of your favorite movies, music videos, or sports recordings.
Step 1. Open a video file, you can either drag a file or double click to open a media file with VLC.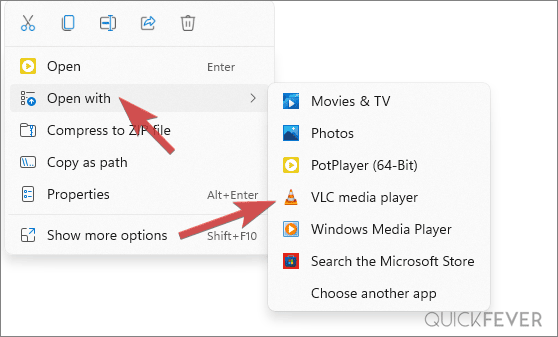 Step 2. When you type the key "e" on your keyboard, it starts the frame by frame mode in your VLC media player. Every other keypress skips a frame and pauses the video playback, use this moment to take a screenshot or view all the details in that frame. Pressing and holding the key continuously will play frame by frame but at a faster speed to help you reach that exact frame faster.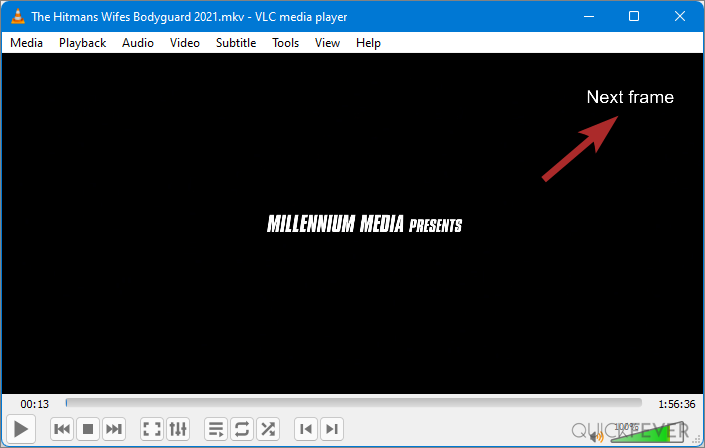 If you prefer a different key for frame by frame mode, Press Ctrl + P to access the preference and then navigate to Hotkeys, lookup for the next frame setting. Now change it to something that makes sense to you, I prefer the F key.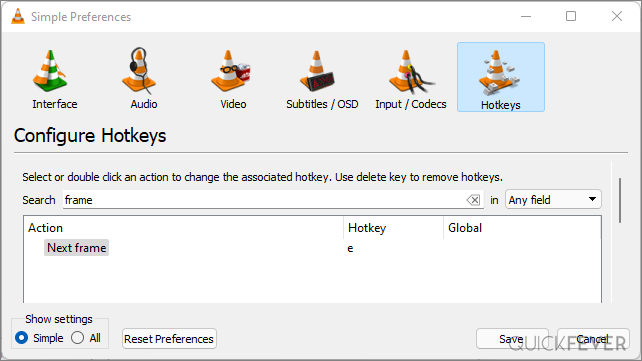 That's all for VLC users, you can now go to that exact frame to take a screenshot or maybe set an amazing frame as wallpaper, there are many possibilities how you use this feature.
Playing frame by frame video in VLC is quite popular, but KMP and PotPlayer users also want to do it. Here are simple steps
How to go Frame by Frame in PotPlayer
Potplayer is our current favorite tool to play media, the features list is growing and we;re fan of its easy subtitle download and autoload feature, and the only annoying part is the updates notification which you can turn off quite easily (not actually a bad thing though). We love Potplayer because it's loaded with features you'll appreciate, and it's absolutely free to download. Highlights include the ability to download subtitles automatically, an easy-to-use interface that lets you control everything right from the screen.
PotPlayer is available from the Microsoft store, please try to avoid third-party sites as they may contain malware and adware.
Here is how you can go frame by frame in your favorite Potplayer.
Step 1. The first step would be opening your favorite video file in this video player and when it starts playing press the F key which enables the frame by frame mode and pauses the video.
Step 2. Press the F key another time it will skip a frame you can press and hold for faster frame skipping to reach to that exact frame. Press D to play frame in reverse mode.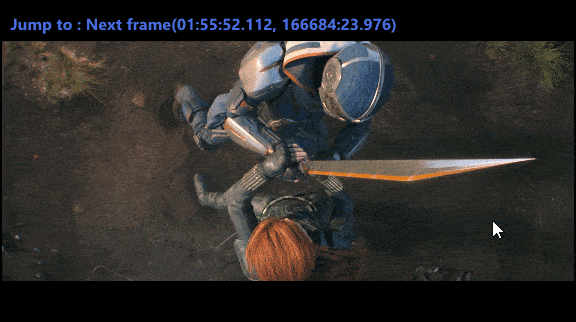 In the Black Widow movie, this is a fast-paced sword-swinging scene, here is how it'll look when played frame by frame. Have you noticed orange hair floating around.
KMPlayers fans don't worry, you can use the F button similar to Poplayer to go frame by frame. It works pretty well with Windows 11 as we've tested in all three video players. So so how you are going to use this function let us know in the comments section we would like to hear it.
RECOMMENDED BY OUR EDITORS
How to play frame by frame video in VLC, KMP, and PotPlayer