Google pulled back its launcher "Google Now," and in the month of March 2017, the launcher will discontinue. It is known for its simplicity and clean UI. Moreover, a product from Google is always up to standards. For some reason, Google went a step ahead and pulled the plug and won't be further maintaining the Launcher. Although the search feature will work just as it is working. And if you have the Google Now launcher installed you'll continue to get updates via the Google Search App.
Google's is being very coy about the future plans, Actually shutting down the old launcher in a favor to the New Launcher, which comes with the New Pixel Smartphones. A launcher named "Pixel launcher" is already out there from Google for people to have the Pixel phone experience on their Android phone. But not all the features are available in the Pixel Launcher if we compare it with the one we find on Pixel Phone. One big missing object it the "Voice Assistant" which the most extraordinary built-in feature in the Google Pixel phones. While you can separately get the Voice assistant AI following a process where some files need to be flashed, apparently a root is required.
If you are using the Google Launcher this is bad news for you but worry not, here are other 10 Google Now launcher Alternative launchers for your Android.
1. Nova Launcher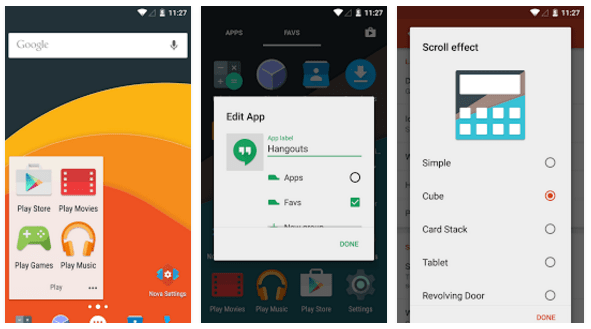 Nova Launcher is the best and most lightweight Android launcher and is highly customizable. It offers separate customize options for Desktop screen, App drawer and Dock interface. It also supports Icon packs from the Play store and ability to backup and restore theme settings. The latest version (v5+) also comes with a "Quick Setup" feature, and it's actually a three step process to get the look you want. Overall, probably the best Google now launcher alternative at this time.
In other words, you can customize it in a manner that you like, and Nova Launcher is quite flexible when it comes to adapt the look a user would want. The App Drawer is also highly customizable, for starters you can choose scroll type, some people prefer "Left-right" page while some admire the "Vertical" style, though a third "List" style is also there just when you feel you need something like the "Google Now Launcher" provides.
How to replicate Google Now Launcher Interface using Nova
Go to Nova settings by long-press on Home screen and select Settings. Desktop > Bar style to have a similar search button. App Drawer > Background > White. It also has the Swipe-to-open App drawer mode that again feels like the Google Now launcher.
2. Pixel Launcher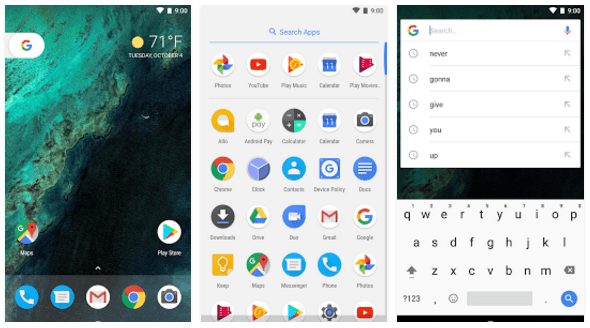 Pixel Launcher can be a great Alternative to the Google Now launcher. But still, there is room for considerable improvement. Let's see what these things which make it a good launcher. How well that will point, you can install it on your phone. The first talk is what pixel launcher. So, guys, you will know your new phone in pixel Google is offering a brand new launcher friends in the launcher which is quite unique features available on the phone, you might get to see a non-pixel.
3. Evie Launcher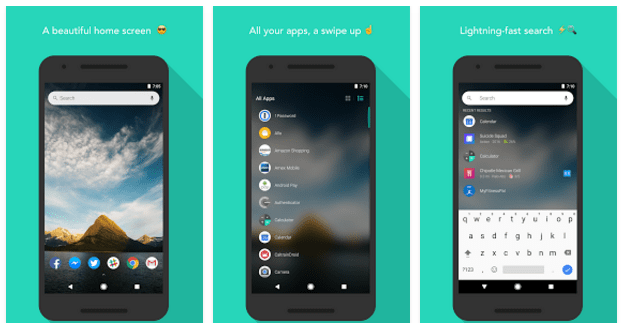 Amazingly built Android Launcher that got the premium look that you may not found anywhere else. The home page looks fantastic with custom Google search bar at the top of the screen. The app lock screen is also unique elements as you can quickly toggle between list and typical box style app icons. You can use this search bar to look up for its application or search on the Google. It also features that swipe to open App Drawer mode which is becoming the trend nowadays. People are dumping be the center button to display the app drawer in favor of swipe to open App Drawer style.
4. Arrow Launcher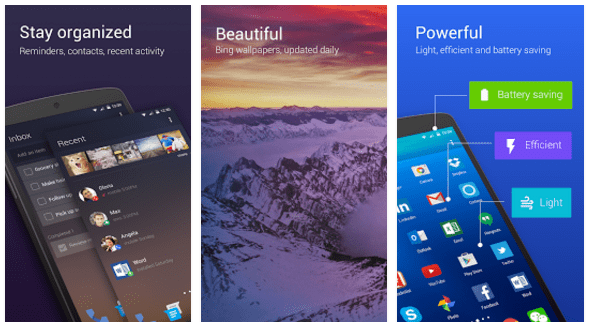 The Microsoft attempt to Android Launcher. Basically, I'll have this done that to be 1 Top Notch Android launcher. Microsoft made it possible to build a launcher that is both lightweight and fast, and at the same time it has lots of useful features, and the interface is beyond amazing. The home screen will be the place where you can take a glance at your recent photos recent contacts etc. It comes with Bing wallpaper which means you can have a new wallpaper the next day automatically and a new one after that day. It has built-in integration with the Microsoft services, but that is completely optional.
5. ASAP Launcher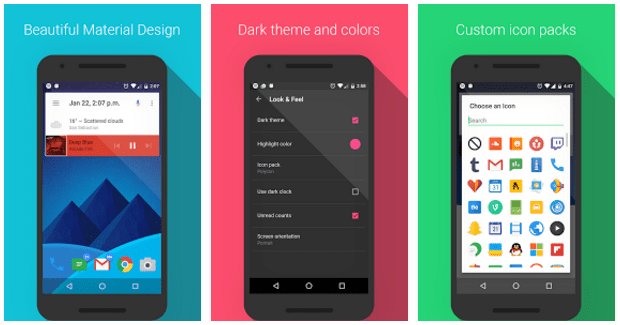 It is for those people who do not need something much customizable and want something simple and clutter free. This launcher really does faster and smoother. The lightweight don't consume much RAM so isn't the battery. Comes with a slide-to-open feature that feels really nice and kind of adopted from the premium Google phone launcher. But it supports the icon packs to let you customize the Apps icons the way you want. It is compatible with the innocent best smartphones, so it does a pretty much good job even with older Android version based smartphones. This launcher is not in favor of having widgets and Icons everywhere if you like that you should try this launcher.
6. Nougat Launcher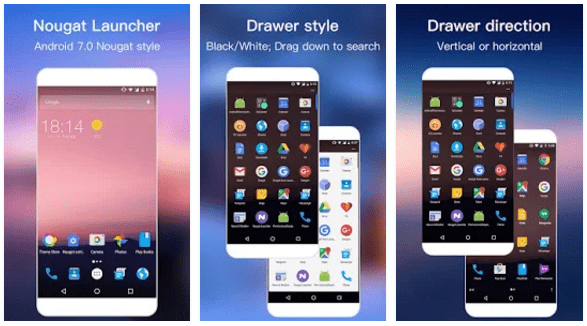 The nougat Launcher is an Android 7.0 nougat style launcher which is officially supported for all Android 4.4 + devices. It states as- "Keep Android native experience, yet with many enhanced handy features." what it meant by handy is features like the Three Drawer style: Vertical+Compact, Vertical+Sections, or Horizontal, Gesture support, many new gestures are introduced,Hide App feature, you can even lock apps ( now no need for third party apps for this !),Widgets classified by apps, Grid size option, Search bar option, Swipe down to search in drawer, Drawer Color, and drawer card options are to name a few. Until this point, No crashes, no bugs but reviews are they should try to provide system app-inside features like dialer, contact, messages. One thing it seems to be hated for is Ads but after all it's way much better than stock one. One thing to check out is its Cool circle animation.
7. M Launcher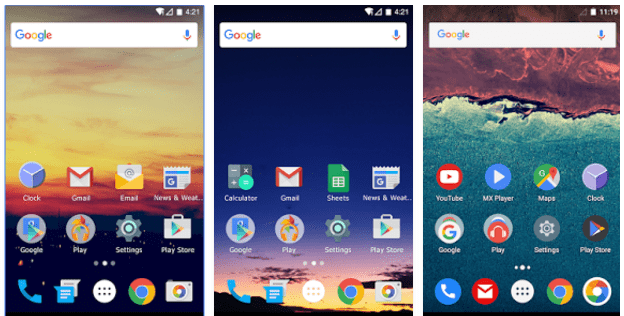 With feeling and taste of stock Android launcher it is another Google Now replacement app which has both simple looking and customise options. It somehow mimic that Marshmallow experience on any Android smartphone. It comes with the same app drawer layout the Nova Launcher offers, and ability to hide applications you barely use. Talking about more features it has the support of unread counts and third party Icon pack support is what makes it a replacement of Google Now launcher.
8. Nougat Red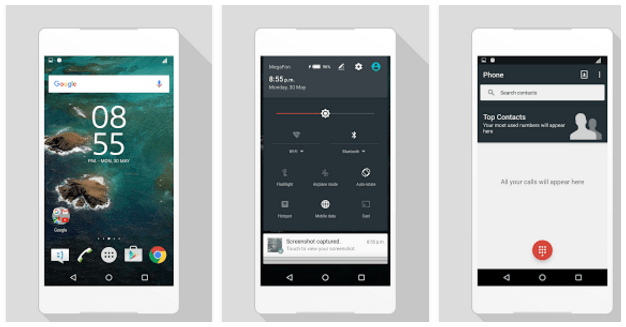 This launcher only supported on the pixel phone to father doing the user interface even much better. So if you are maybe using a Google pixel phone, you can consider this a replacement launcher you may want to try. Though there were many rumors on Google's new launcher which was leaked months before its original release it still was able to grab the spotlight by changing the default google search to a different one. The theme is way more minimalistic which actually makes it faster, smoother and compact. The home button changed to a solid circle which is getting both positive and negative reviews. The new navigation bar is disliked by most of the people, rounded app icons and many other minor changes have taken place since the last update. Mainly it's clean and complete. It's not a messy, complex theme rather it's a simple yet powerful, focusing on looks more than convenience. What's your priority? Looks? Go for it! Convince? There are plenty of fish in the sea!
9. Google Now launcher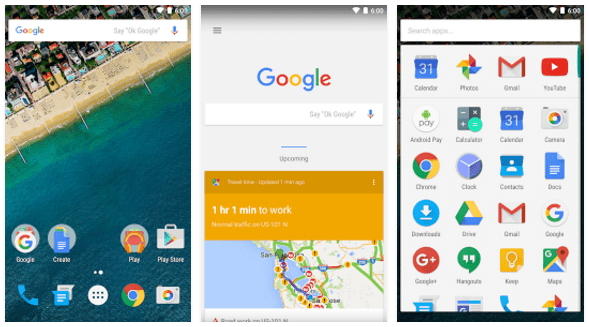 Just because google will discontinue the launcher means you can not use it. Fortunately, there are websites which store APK files, so it is easy to get the APK of Google now launcher even after it is erased from the Play Store. Below are the following sites you can visit to download the Google Now launcher and install on your device.
10. Apex Launcher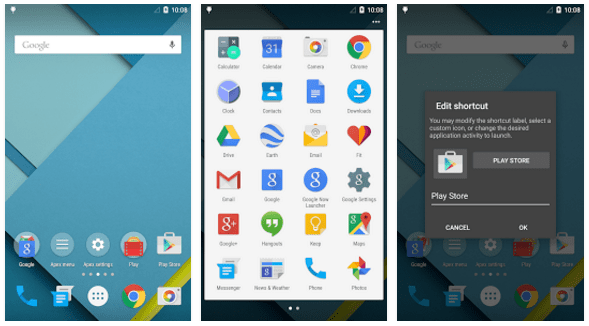 Another lightweight Android launcher which is near the stock Android launcher. It offers white background app drawer as we have seen on the Google Now launcher, as usual, it support custom icon packs and give plenty of customization settings to play with and decorate the launch of the way you want.
Use these Google Now launcher Alternatives for your Android
The above are not only the launcher alternatives out there, more launchers you can find in the Google Play store. But we've mentioned the best Android launchers that can be used if you're seeking to move from the Google Now launcher. Our all time favorite replacement launcher app is Nova, which is the king in all the field. Especially after a lot of beta testing it released the v5+ which is the most amazing and powerful android launcher we have ever seen.
Via: TheNextWeb