If you're looking for a way to make your computer more personal and unique, look no further than animated wallpapers. Unlike traditional static wallpapers, animated wallpapers add a touch of class and sophistication to your desktop. And best of all, you can find plenty of free animated wallpapers online with a little bit of searching. So if you're interested in setting up an animated wallpaper on Windows 11, read on for our guide on how to do it.
Windows 11 by default don't support native animated wallpapers, that's when 3rd-party applications come to the rescue, and using them you can apply live desktop background in Windows 11 (older Windows too). Here is a list of applications to set animated desktop wallpapers and step by step guide, and in the end, you have an amazing animated desktop.
Best Apps to set Live or Animated Wallpapers on Windows 11
1. Lively Wallpaper
If you don't pay for such a simple thing you can try Lively Wallpaper by rocksdanister.
Features.
Videos and GIF: Powered by MPV / VLC player. Customize videos with filters.
Webpages: Load HTML file or web address as wallpaper
Shaders: Run GLSL shaders in the browser.
Games: and app – unity and Godot games as wallpaper
Screensavers: add screensaver
Automation: schedule wallpapers
There are not only paid solutions for those who want to have animated wallpapers on their PC; an example is the excellent Lively Wallpaper, an open-source project rich in features such as interactive web pages as a background, audio viewers as a background, video background and much more. This solution, like Wallpaper Engine, automatically pauses the wallpaper when a game is started, or an application is running on full screen to avoid unnecessarily wasting resources.
Lively Wallpaper supports multi-monitor configurations, high definition resolution such as 4K, and ultra-wide aspect ratios (21: 9, etc.). In summary, all essential features are available, except the live wallpaper editor. An excellent free alternative to the first services offered.
2. Wallpaper Engine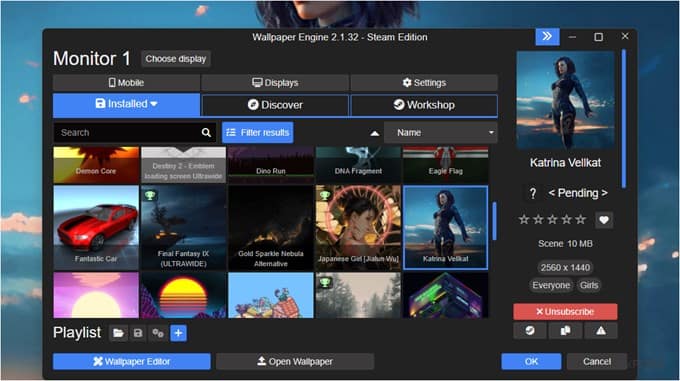 Looking for a way to spruce up your desktop? Check out Wallpaper Engine – the best live wallpaper software for Windows 11. With loads of advanced settings to choose from, including various graphics, videos, and even the ability to block an application or particular website as a live wallpaper, it's no wonder this software is one of the best of its kind. Plus, at just $3.99, it's a great deal!
Introducing Wallpaper Engine – the best way to customize and liven up your desktop! With our huge library of animated and interactive wallpapers, there's something for everyone. And our support for multiple screen aspect ratios means you can enjoy live wallpapers on your Windows 11 PC even if you have a multi-configuration Monitor. So come on in and explore the possibilities!
If you're looking for a live wallpaper that won't bog down your system, Wallpaper Engine is a great option. It features a pause function that kicks in when you're running a game, so you can enjoy beautiful backgrounds without sacrificing performance. This program pauses live wallpapers during games, so you can have the best of both worlds. You can also create custom live wallpapers using the Wallpaper Engine Editor, and share or download new ones from other users. Supported video formats include mp4, WebM, avi, m4v, MOV and WMV.
3. WinDynamicDesktop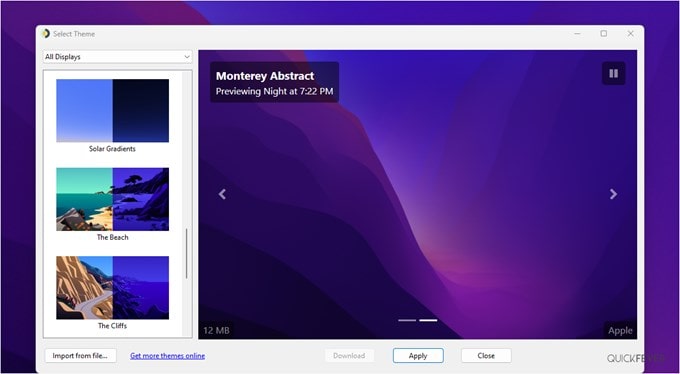 WinDynamicDesktop is available on the Microsoft Store, you can quickly Spice up your desktop wallpaper I get to choose from wallpaper selection which changes on the basis of day and night. The application has 15 wallpaper uh that you can quickly download and apply on your desktop, and if you want more find more than 150+ free themes on this page.
We are sure that you will like this application because the installation processe is simple you click on two buttons and your desktop is revamped. Notice that these wallpapers or not live or animated brother simple wallpapers that change on the basis of day and night. During the day you will see a bright tone and by night it will change to a dark tone while the base wallpaper remains the same.
The catalog for macOS is even bigger on the application that including wallappers of macOS Big Sure, Catalina, Monterey and more. An exciting feature of WinDynamicDesktop is that it sits in the taskbar and changes the wallpaper according to the time and day of your location.
4. DeskScapes
The free trial can live up to 30-days but is good enough to give you a taste of what you can do with your static desktop. To get started, open the link and save the installer on your computer, install and open the program. When you begin choose "Start 30-day trial" and accept the terms and conditions.
Just when the application loads, you'll discover all the available animated wallpapers; select anything that is interesting to you. Then Apply button will set the wallpaper on your desktop.
There are special effects to choose from, you can also correct wallpaper position, , effects and color options are available in the sidebar. There are so many wallpapers it comes bundled with the program but if you want more you can always do that by clicking the download mode backgrounds button.
List of sites for animated wallpapers
Here are the websites where you can find beautiful wallpapers with animations to customize your computer desktop better.
1. DeviantArt
DeviantArt is a great site to find animated wallpapers for Windows 11. It's famous for its vast community of artists, and you're sure to find something that interests you. The collection of wallpapers is huge and varied, and you can download them for free. You can use DeskScapes or VLC to view them. When looking for some quality animated wallpapers for Windows ? You can never go wrong with DeviantArt. This site is famous for its vast community of artists, and you're sure to find something you love. DeskScapes is compatable with these wallpapers.
2. WinCustomize
On this site, look for some amazing wallpapers for your computer. You can find thousands of high-quality, free wallpapers compatible with DeskScapes and VLC. if you're not sure where to start, you can always check out the diffrent category to see some of the most stunning animations. You can browse through different categories to find the perfect wallpaper for you, or you can check out the "popular" section to see what other users are downloading.
3. Waifu
For some amazing animated PC game wallpapers head on over to Waifu! They have tons of great live wallpapers, including some really awesome gaming ones. You'll need to use a program like Wallpaper Engine or Lively Wallpaper to apply the live wallpaper, but it's definitely worth it for the amazing results!
---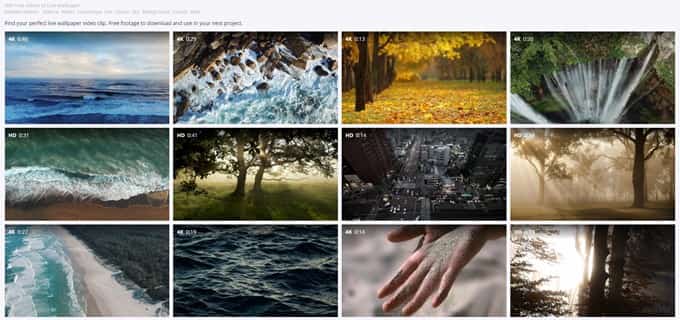 4. Pixabay
Good quality free stock live wallpaper videos are there in the site. Check this for some high-quality and free live wallpaper videos. A user submitted great selection of videos that will liven up your desktop background.
---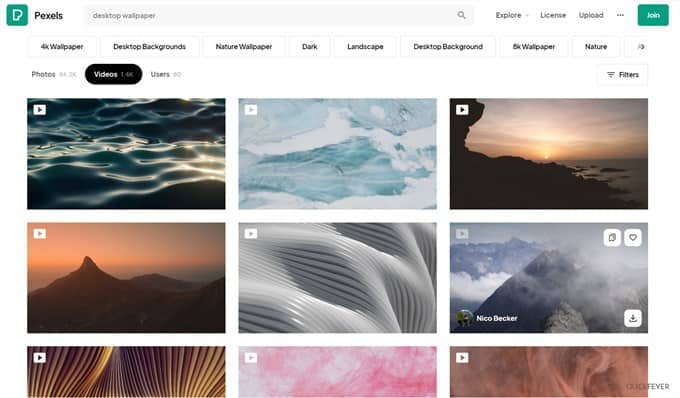 5. Pexels
Pexels is a great resource for videos that can be used as live wallpapers on your Windows 11. The applications we've discussed earlier in this article make it easy to find and set up a video as your wallpaper. Whether you're looking for a calming nature scene or an abstract background, Pexels has a wide variety of videos to choose from.
Stay tuned for more and subscribe to get notified