Discord is undoubtedly the best choice among gamers and works best with the streaming setup. In case you're looking for discord alternatives these are the options we would suggest. Discord provides a simple way to communicate with friends while playing a mutual game. There are a lot of features in it, which can sometimes be confusing for a new user, I often found people asking me what is Discord when asking them to join my discord server using the invite link on my streaming channel.
Discord allows you to add third-party bots to your server to reduce spam and things that you don't like. These bots can help you in specific situations; you can use them to assign short commands to result in the message, you can use a music bot to entertain your server members for you can give them badges according to their loyalty. A bot will also allow you to host giveaways and gift your loyal users within your Discord server. A YouTube channel can be setup with a Discord server, which automatically assigns roles to subscribers and sponsors.
Top 5 Discord Alternatives 😂
First, you should stop and think twice did you really need a replacement for Discord and does it fails you?
Do you really need a discord alternative?
One particular thing about discord is you are connected with your friends all the time. For games like Fortnite and PUBG, this isn't possible. If you've noticed, when the game is over, the voice is cut off. However, you can still voice chat if you go back to the lobby.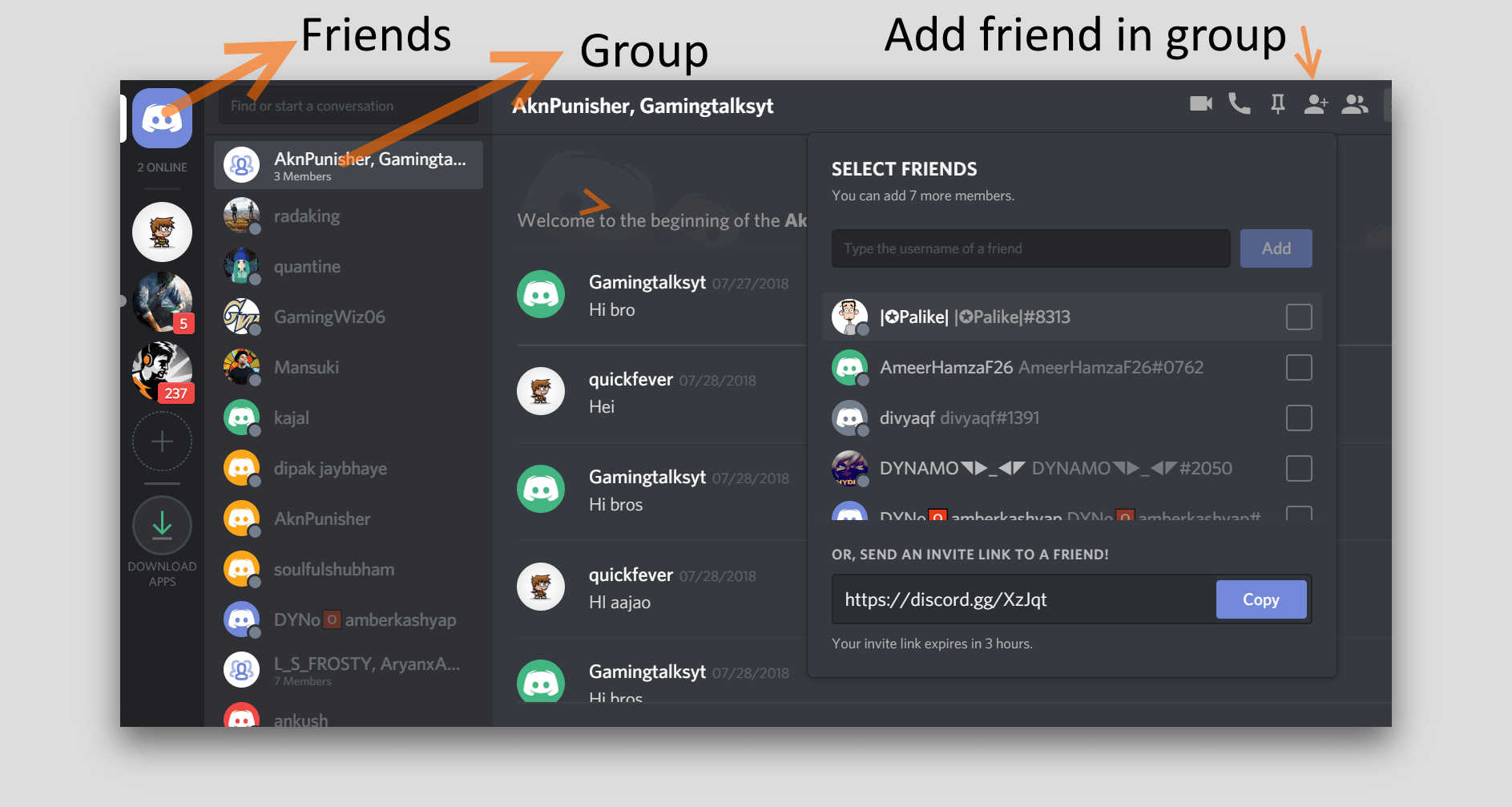 The answer is strong "NO", but it's your decision to make. Despite all these, below are some replacement for Discord you can check in order to communicate with your friends while playing.
Steam – Games and chat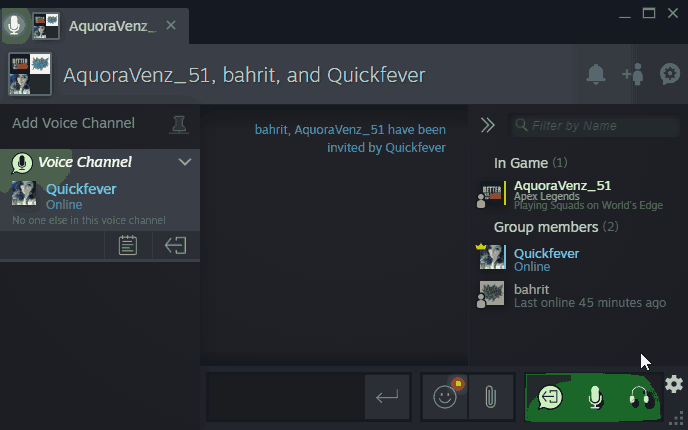 When you use steam to play games, you can add friends who also play games through steam. Steam has a dedicated friends popup where you can add and manage friends. Also, you will be able to search and join people with their username. It is a popular choice if you use steam to play games, you won't get extra functionalities like adding tons of members, so if you are a gamer who often stream on YouTube or twitch you might want to stick with better options such as Discord.
Also, today if you are playing a royal battle game like PUBG or Fortnite with a squad you'll need to communicate with your teammates so your squad can play better. And PUBG is available through Steam so it'll be better to use the inbuilt Steam friends options. Also, such games have in-game voice chat that just does the work fine, Steam chat is also similar to discord in terms of low latency but doesn't expect features here. I would not recommend using steam over in-game voice chat (if the game you play has it) because steam too compresses audio to lower bitrate to avoid network load. The same goes for in-game voice chat, what you hear can annoy your ears.
TeamSpeak
So there is the mobile app for it, but it is paid, regarding Codec it runs on CELT, Speex, and Opus. Teamspeak is a good discord alternative because of its similarities including low latency, minimal CPU uses, custom hotkeys, permissions, multiple channels, individual volume control and direct messaging.
What it does not have compared to discard this browser support, friend list, smart push notifications, a good text Chat experience. Teamspeak is a good discord replacement with many features it has to offer in the free plan. Apart from the software which you run on a computer it also runs on mobile with its premium app. Some popular streamer uses Teamspeak and frankly, you can test if to see it suits your requirements.
Ventrilo
I'd like to mention that the version 4 runs on the same codec that Discord runs upon — Opus. Before v4 it was using Speex. Both Discord and Ventrillo allow users to set Hotkeys for various functions. More features are permissions multiple channels individual volume control, direct messaging you can find all of them on discord.
However if we compare it to discover there are things that you might miss the number one thing is that it is not supported if a browser application kind of thing also there is no mobile app, you will be losing your friends in your list, no in-game overlay and certainly not low latency voice. And if something goes wrong with it, you need to restart it manually. Lookin
Tox
Visit tox.
Talks are also an excellent application to voice and video chat with your friends. Although it is missing some features like sending a message to offline users. You can create groups and make talks to talk audio and video calls and post images, messages, and files. Tox is free to use, and unlike Discord, it works only Tox-to-Tox software which means no web interface and cross-platform support. Think it as a more of VoIP software that you can use to play games 1-to-1. For games, it's not recommended. Also, it misses all the top-notch features that discord has to offer. So unless you play as Duo, this isn't a good discord alternative for you.
D…i..ss.. discord.
Maybe you are using discord in the browser; it's really hard to tell which teammate is speaking. Finally, you have a solution for the annoying situation, and that's Discord new feature "Overlays" once turned on, the name of the person will show to the left-top screen making it easier to know who is speaking
More Discord related articles.
Conclusion.
It is fine to say that there are many options available on the Internet you can consider as Discord alternatives, but in reality, they might not be able to pull up all the features that Discord provides you for free. Apart from the thing that this code is free it also gives you the best option with low latency voice chat which makes it the only best option to communicate with your friends while playing games.
But if you are in look for something different than Disco you can try options available discord alternatives mentioned in this post. Usually, we give one or two suggestions in the conclusion field but I myself use Discord to communicate with my friends while playing player unknown Battleground game. The in-game Voice Chat is ok but sometimes it doesn't work, for that reason alone I would like to stick with Discord for a while.