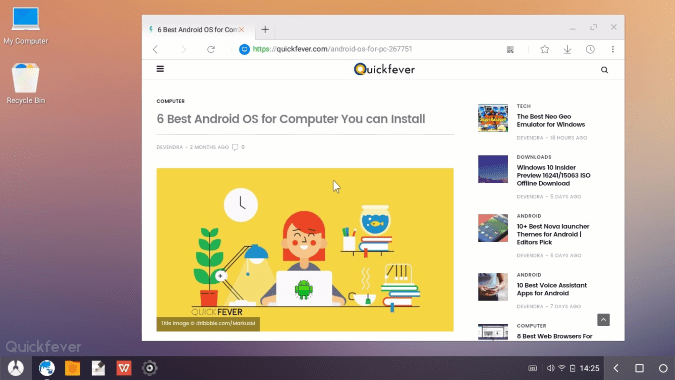 Remix OS— A windows replacement operating system based on Android. Either you have an old computer or a lightweight premium laptop, you can consider installing an operating system that looks like (mimic) Windows 10, but isn't from Microsoft, pun intended. The latest version runs on Android Marshmallow.
A while ago, we posted a tip where we used Neogrub tool in order to gain a dual boot situation. But the latest Remix OS version 3 also included a modified version of Unetbootin to install the operating system to hard Drive directly and update bootloader information, let's see how to dual boot remix OS 3 on your computer without breaking your current operating system.
Why dual boot Remix OS with Windows?
A 4GB USB drive is enough to run this Android operating system and this way it won't actually interfere with the Windows installation. What we're suggesting is that keep running the Remix OS on your computer using a USB drive, so it won't mess up with the Hard Drive, more specifically the System drive where Windows is installed.
This method writes new information to your current bootloader which helps your computer to locate and boot Remix OS, and it's risky when you don't know what to do if things were gone wrong, a little guide for that too.
How to dual boot Remix OS with Windows 10
We suppose you want to install Remix OS on your hard drive (or SSD), follow the below steps to do that without breaking your Windows installation.
Getting Started
Download the latest Remix OS version 3 file from here, and extract the archive using built-in "Extract All" option. Or use software to extract the, i.e., 7zip or Winrar.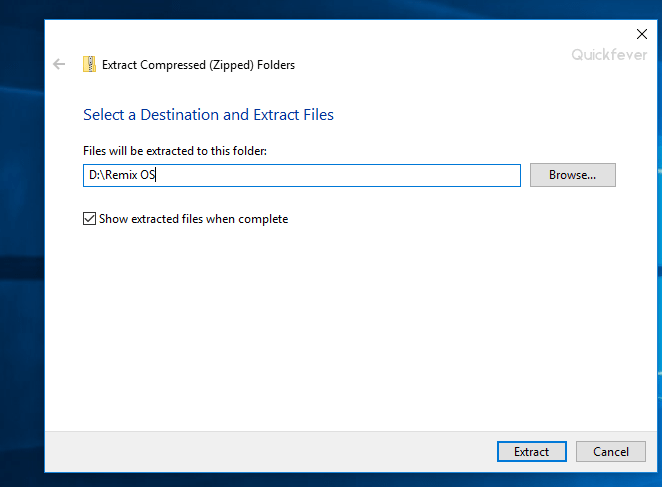 Did you know? The Windows 10 support archived files (mainly .zip) so you can open and extract without the need of 3rd party tool.
Then you'll have 2 important files, one is the Image file, and the other is installation tool—based on Unetbootin. We're using the official tool to install Remix on your Hard drive.
Example file name.
Remix_OS_for_PC_Android_M_date.iso
Remix_OS_for_PC_Installation_Tool-date.exe
Open the Remix OS installer tool.
Open the installer tool, select the ISO file of the Remix OS using the Browse button.
Under "Type" option pick the "Hard Drive" if you want to install it on your computer (this will write files to a hard drive you choose but won't replace Windows files) or choose "USB" to install it on a USB drive (this won't interfere with Windows drive).
Also, you can create a partition (at least 16GB) and select that partition to install Remix OS on it just to make sure your Windows installation partition remain intact.
Booting it up.
Now shutdown your computer, turn it on. The Boot Menu should include the remix OS option if things were gone right. If not, see this guide.
You will see windows 10 along with new Remix OS option in the boot menu. Use keyboard arrow keys to select Remix OS and hit the enter key to boot, sure it will take a while for the first time.
You'll have to go through some steps, settings up wifi, language ad once you're done. The Remix OS is ready to roll.
The project has seen its glory and after few months the team who promised continued updates shut down the project once and for all. Remix OS is not the first who bring Android OS to computers, it was based on the Android x86 (the project that port android to pc since 2009). Those who promised to keep this operating system up to date declared it discontinued shortly after release.
---
What's next! The last version of remix OS is pushed back in December 2016, and it's been a long time since folks. If your priority is up to date operating system, you can consider Phoenix OS, Openthos. You can also use an Android emulator to run Android application on Windows, Mac or Linux. If you're having problem booting Android operating system from USB, you can use a virtual machine software to boot the ISO files.
Looking for an operating system for your decade-old computer check our list of the fast operating system.