DNS Servers are there whether you know about them or not. They resolve Domain names to IP addresses [which are assigned to them]. One person can easily tune their PC to always use a better DNS server to make surfing the web faster. We help you choose a reliable DNS server for your Windows and Mac PC. The benchmarking guide will help you find out which works and which doesn't.
Every DNS server listed in this article is free to use and has public IP Addresses [IPv4 and IPv6). All of them are free but some use dynamic IP addresses so you might have to signup to get your personalized IPv4 address. As soon as you have the IP Address, you should benchmark your computer. One hack I learned over the years is it is practical to use the secondary IP of any DNS server as Priamray on your computers because traffic hits the primary address by default.
Why is the usage of DNS servers is important?
When you type a website name or domain name into a browser – your computer makes a request to the ISP's default DNS server to obtain the IP address assigned to that domain name. Once the DNS server solves it then it renders your request and renders the requested page.
Want to see this in action? Open CMD and type ping quickfever.com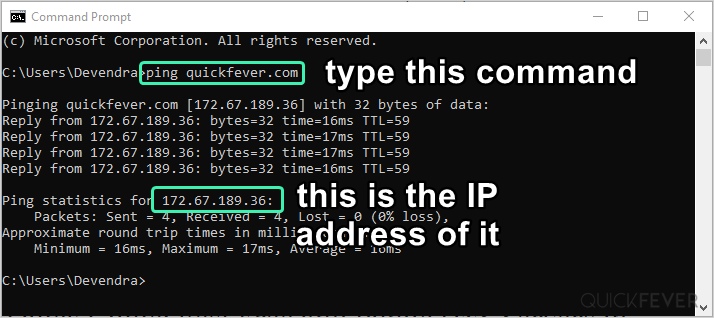 Consequently, when you search for a number of websites, your browser has to convert all the domain names into IP addresses, and this can be quite time-consuming. The default DNS server of your internet service provider may sometimes cause a slight delay in the process. It is therefore possible to use alternative free and public DNS servers in order to speed up IP resolving, thus allowing you to browse the web faster. You should be aware that this will not increase your Internet bandwidth, but will enable you to resolve the IP address of a particular domain name more quickly. Your computer will be able to send the request faster to render the web page.
Free and Public DNS Servers in 2022
Here is an updated list of free/public best DNS servers as of 2022.
| DNS Provider | Primary IP | Secondary IP | Query Speed (ms) |
| --- | --- | --- | --- |
| 1.1.1.1 | 1.1.1.1 | 1.0.0.1 | 12 |
| DNSFilter | 103.247.36.36 | 103.247.37.37 | 12 |
| Cisco (OpenDNS) | 208.67.222.222 | 208.67.220.220 | 18 |
| NextDNS | Sign up required | Sign up required | 20 |
| Google | 8.8.8.8 | 8.8.4.4 | 20 |
| FlashStart | 185.236.104.104 | 185.236.105.105 | 21 |
| Neustar | 64.6.64.6 | 64.6.65.6 | 26 |
| Quad9 | 9.9.9.9 | 149.112.112.112 | 31 |
| SafeDNS | 195.46.39.39 | 195.46.39.40 | 40 |
| NuSEC (Comodo) | 8.26.56.26 | 8.20.247.20 | 44 |
| G-Core | 1 | 1 | 46 |
| | | | |
April 2022, World-wise Stats
---
| DNS Provider | Primary IP | Secondary IP | Query Speed (ms) |
| --- | --- | --- | --- |
| DNSFilter | 103.247.36.36 | 103.247.37.37 | not tested |
| 1.1.1.1 | 1.1.1.1 | 1.0.0.1 | not tested |
| Cisco Umbrella | 208.67.222.222 | 208.67.220.220 | not tested |
| NextDNS | Sign up required | Sign up required | not tested |
| FlashStart | 185.236.104.104 | 185.236.105.105 | not tested |
Fastest DNS provider for the United States
a somewhat outdated table that needs rework.
Note: Primary DNS server is also called Preferred DNS server, and secondary DNS server is called Alternative or alternate DNS server in Windows. Similar terminology works in Linux and MAC.
Change DNS server on Windows 11
Windows 11 is criticized for its Taskbar and Start Menu mechanism and lacks features, those are going to be addressed in upcoming updates. One thing that does not suck is the process to change the DNS server on Windows 11 is fairly easier.
Change DNS Server on Windows 10
So now you know what is the free and public DNS, it's time to install it on your computer. This is a guide to installing a free DNS server on your Windows 10 operating system, in case you use other operating systems, the same terminology should exist there too.
Step 1.
First, you need to right-click on the network button and then select Open Network and internet settings.

Step 2.
It will open the Windows settings and from there click on the change adapter settings. You can cut some slack by typing it directly in the search bar.
Step 3.
Opened Windows should contain all the network connections you use to connect to the internet. Select the network connection of which you want to change DNS servers. Right-click on that network connection and select properties.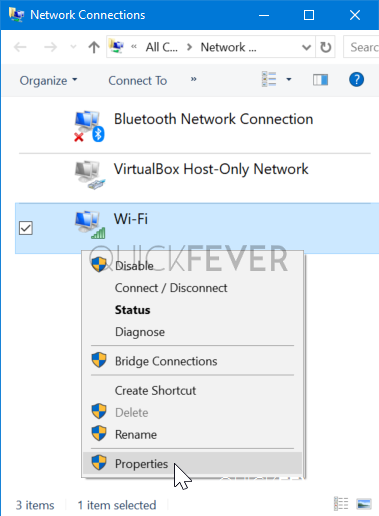 Step 4.
When the properties page loads find internet protocol version 4 and double click on it to open its properties page, from here opt for the "use the following DNS server addresses" option and type your preferred DNS server address in the field. (check DNS server address list above).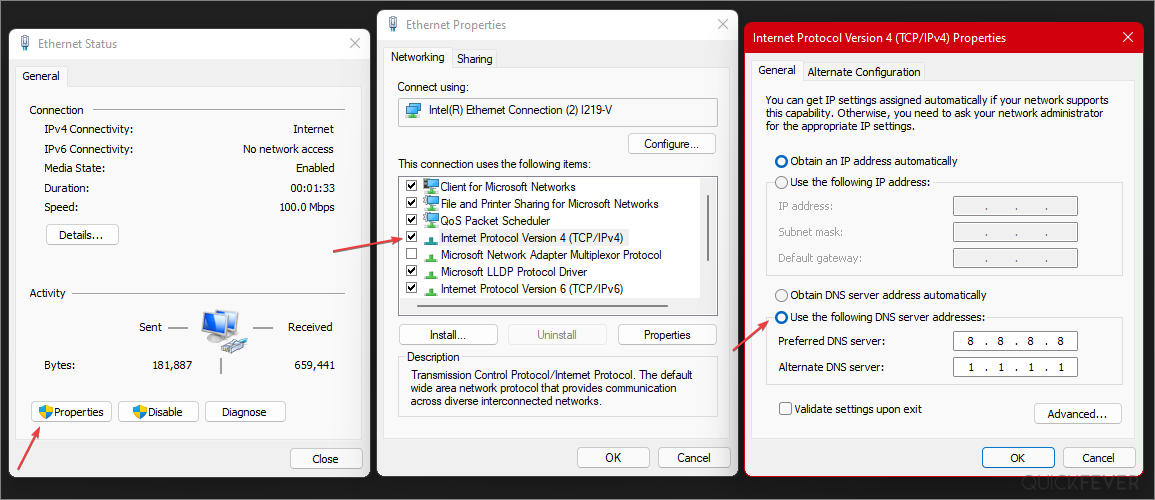 Step 5.
When you're done click on the ok button and if necessary disconnect your network and connect it again to take immediate effect.
your domain resolving should be now fast
Alright, you know the best DNS servers and how to install them on your computer. It's time you implement them. For starters, you can use either Google DNS and Cloudflare DNS or any other from the list above to see which DNS server suits your needs. In fact, you could not tell unless you keep eye on the time your browser takes to resolve domain names. For accurate testing use sites like Speedtest.net and see the ping you get, then change to another DNS and test again. Ping does really matter in several fields, such as Games like PlayerUnkown battleground where Ping matters the most.
Summary; our picks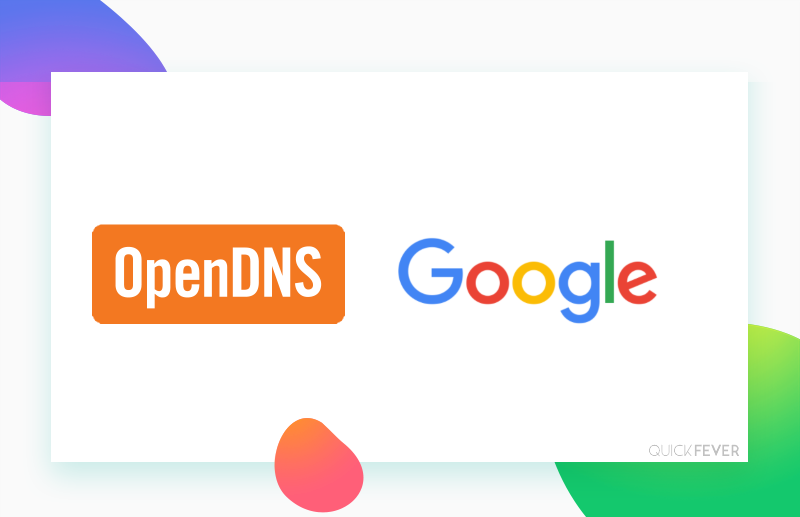 Google: When you regularly access Google services such as Youtube, Webmaster, and analytics, you should stick with Google DNS, which is free and easy to install on your computer. It's worth noticing that Google may offer you the best and most reliable DNS server.
Cloudflare: Report indicates that Cloudflare DNS works faster in comparison with other public and free DNS servers. in addition to the free DNS server, Cloudflare does offer free WRAP apps for Windows and other Operating systems, which works as an alternative to VPN.