Looking to install Windows 11 on your computer and pondering the question how much space does Windows 11 will take on Storage. We've answered your queries regarding Windows 11 installation size, images size, and other requirements. Also, this guide will give you an estimated idea of whether you have recommended space to install and run windows 11 on your computer. Check the following points to decide whether you should install Windows 11 or not.
This article is partially inspired by Windows 10 size guide there are a lot of similarities but in some aspects, Windows 11 requires such specification that the majority of computers before 2017 don't officially support it (we'd be lying if that's the truth).
Windows 11 Disk space
We ran several tests using the Windows 11 x64 official Microsoft copy.
On a typical Laptop with 250GB Local Disk C:
Windows 11 took roughly 24GB (#test 22H2) right after the installation. Please note that this also includes the primary drivers which need to be installed for hardware to function properly (these primary drives were installed during Windows 11 setup since it required an active internet connection so there wasn't an option to prevent drivers from installing) however there is a slim chance of Windows 11 not asking for a Microsoft Account and Internet connection during setup if it doesn't detect an Ethernet connection.
Depending on your computer hardware such as Graphics card and utilities it can set you 1-2GB additional storage occupation as Drivers of Nvidia and AMD are bulky in size. Always take a margin of about 10-20 GB additional for drivers and apps. So aim for at least 30-to-40GB empty space on the installation partition. Of course, this will be a different scenario when you upgrade to Windows 11 because Windows puts everything in a Windows.old folder and sometimes trims the folder to adjust accordingly.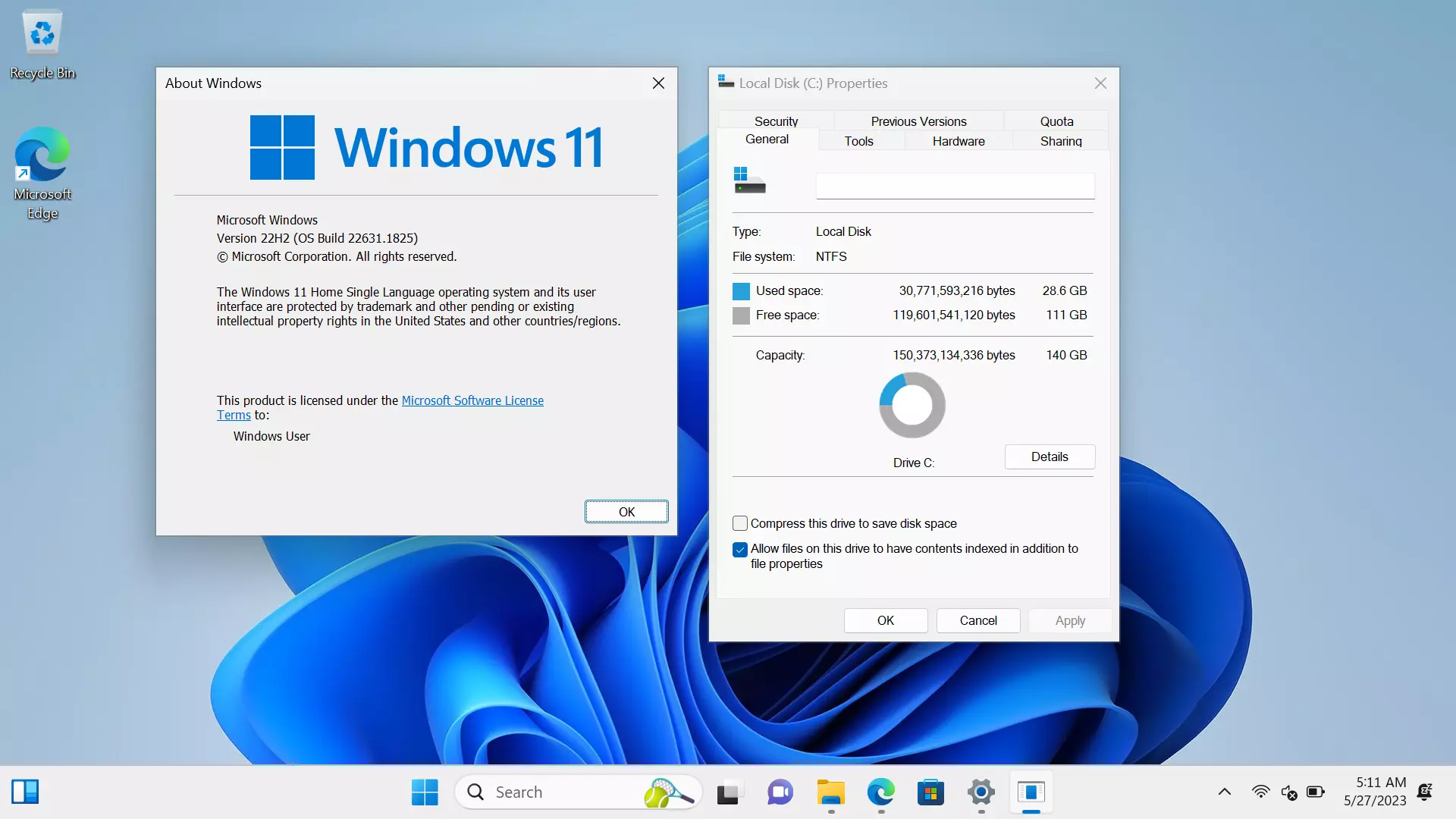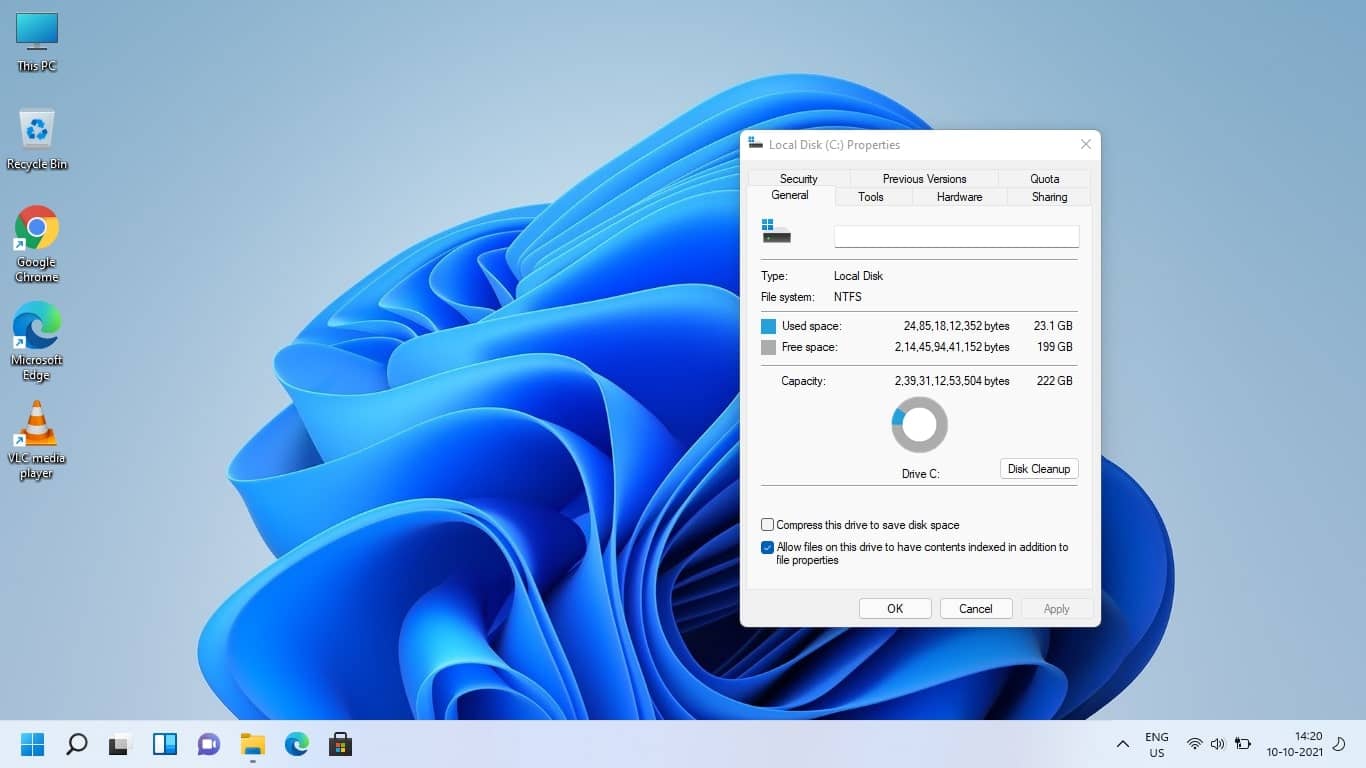 ---
Windows 11 ISO size
The official Windows 11 64-bit ISO file size is 5.2GB for the English language, we checked this information in June 2023. In the case of multiple architectures, the size can go up to 6GB. remember if you have a 6GB ISO file you need at least 8GB storage to properly create a bootable USB.
Windows 11 is also available for ARM devices so it's highly unlikely that someone would build a multi-arch ISO knowing the 32-bit version doesn't exist for it. However, for every base edition, the ISO size increases by about 500MB, but taking various compression levels into consideration it might be less for even a 12-Edition ISO.
A Windows 11 Pro edition would be around 3 to 5GB with a standard install.wim file.
ARM English Windows 10 ISO = 3.x GB
x64 English Windows 10 ISO = 5.x GB
Windows 11 Single Language Home edition saves a few MB in file size.
ARM Single Edition English Windows 10 ISO = 3.x GB
x64 Single Edition English Windows 10 ISO = 5.x GB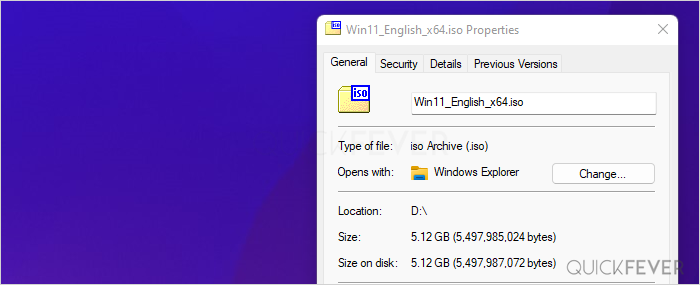 ---
Windows 11 ESD size for 64-bit and ARM for a single language is 3.4GB to 3.5GB.
Windows 11 ESD files are actually a tightly packed archive that is turned into ISO during ISO creation with the Media Creator program. ESD is generally less in size so you can save up to 1 and a half GB download.
Now that you learned about ESD files here is a handy guide How to Convert Windows ESD & UUP files to ISO file
---
Windows 11 tips to reduce storage occupancy
Command Prompt: You can not compress everything in the Windows directory.
** run Compact.exe /CompactOS:always in CMD to free up about 2GB space by compacting Windows file.

---
Disk Cleanup: Once you are done with Windows 11 upgrade, run the Disk Cleanup program > Clean up system files > tick everything and select clean. This does remove the Windows.old, all Windows update leftover, and other data that you don't need. Apart from that, clearing temporary files and folder is possible using the following How to Delete Temporary Files in Windows 11 guide.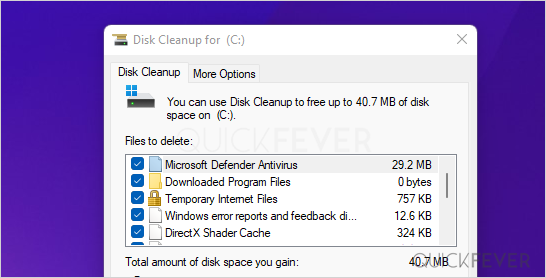 ---
Windows 10 Minimum Requirments.
New device: 2 gigabytes (GB) RAM for 32-bit or 64-bit
Update: 1 gigabyte (GB) for 32-bit or 2 GB for 64-bit
| | |
| --- | --- |
| Processor: | 1 gigahertz (GHz) or faster with 2+ cores |
| RAM: | 4GB |
| Hard drive space: | 64 GB |
| Graphics card: | DirectX 12 or later with WDDM 2.0 driver |
| Display: | 720p (height) 9″ diagonally |
| Other | TPM 2.0, Secure boot |
credit: https://www.microsoft.com/en-us/windows/windows-11-specifications
That's everything we know about Windows 11 storage requirements and various file sizes. The first question that everyone ponders is how much space windows 11 will take after installation so the short answer will be 25GB but as soon as you start using your computer and connect to an active Internet connection it will quickly fill up to 30GB. Microsoft officially recommends at least 65GB of storage available for Windows installation but that is not a rock-solid line you can be flexible and a little artistic.
Also, keep in mind when creating windows 11 USB drives you would need to create a bootable USB for GPT disk partition type as most of the modern hard drives support it (unless you are using a very old slow hard disk which requires MBR partition support).
For users with Intel CPUs older than 8th generation and users without secure boot and TPM can also install Windows 11 by bypassing all the additional requirements but know this Microsoft doesn't want you to do that, our best guesses Microsoft released the new OS to boost laptops and computers sales for popular manufacturers.