Get access to hidden or upcoming features and enable or disable them on Windows 11 using this free tool that goes by the name ViVeTool.
An above-mentioned tool is a command-line tool that is available for free on GitHub and it can be used to enable or disable hidden features and functions on your Windows 11 computer. To get started you'd need to install this software on your computer and after that, you can enable or disable hidden features through a command prompt on Windows PowerShell.
Alternatively, if you are not a fan of command-line tools there is also a graphical user interface version of the tool using that you can easily navigate through to what hidden features are there uh and enable or disable them within a click.
ViVeTool GUI has a Graphical Version out for public
Grab the tool from GitHub, from there you have a few options. The first option is the installer version that you have to download and install on your computer there is also a portable version that does not require a setup any can simply extract and use it. No matter which version you download both will work the same.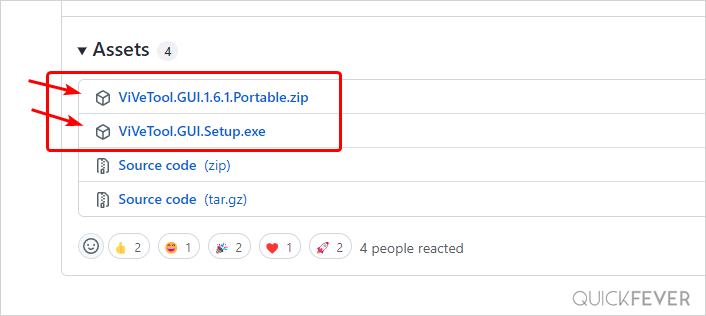 The tool keeps a history of all the Windows 11 Insider preview builds, if you are not enrolled in Windows Insider program but would like to experience new features you can grab your Windows 11 insider preview ISO file. Also, if you be needing a tool to create a bootable USB, check this article for help.
Note: You'll come across Windows-protected your PC screen, click on the more information link, and then click on Run anyway as Microsoft shows this prompt every time you install a third-party application.
Once you're all set open the tool (open ViVeTool_GUI.exe as we've downloaded the portable version), and select your Windows 11 insider build (#1 in image) it will take a few moments to load all the settings. All features in the tool will now be categorized by their state (whether they are enabled, disabled, or editable).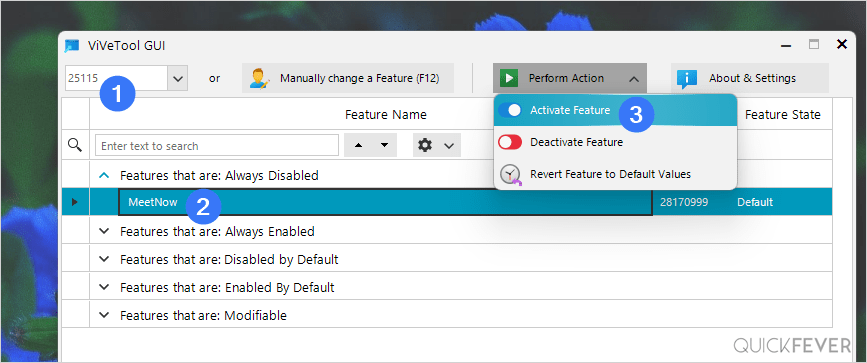 Build version: Microsoft releases new Windows 11 insider preview builds every few weeks you need to select your build in order to load appropriate features. That makes two consecutive builds have different hidden feature sets.
If you want to check your Build version, open up the Windows setting by pressing Windows + I shortcut. Under System, scroll all the way to the bottom and there select About. On the page on the next page, you will see the OS build not it down, and select that in the tool.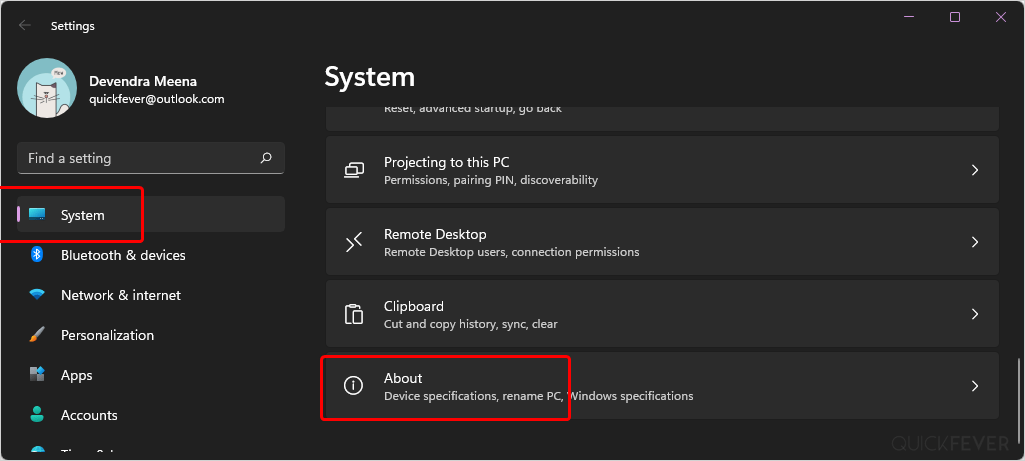 Once you hear about your insider preview build it's time to open the tool and select the build and the tool will scan for all the features available in this build and then allows you to enable or disable them.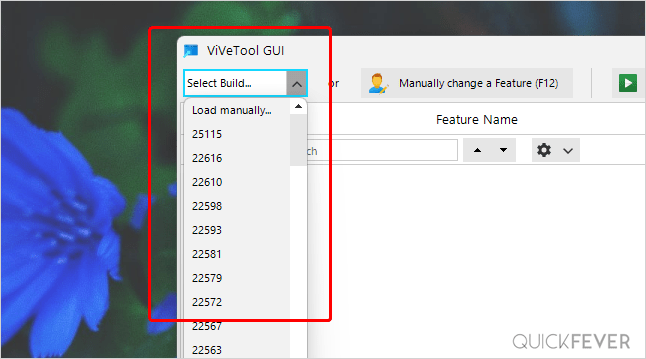 Now look for a feature and click on that from the top menu you can activate or deactivate the feature third option is present there to revert that specific feature to its default value.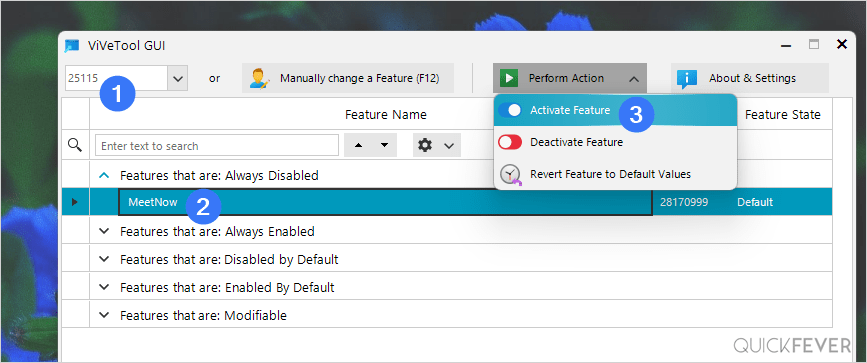 After that the tool categories the hidden features or features sets in the following sets.
Features that are: Always disabled
Features that are: Always enabled
Features that are: Disabled by default
Features that are: Enabled by default
Features that are: Modifiable
That's all about the tool folks if you have any questions or queries feel free to ask them in the comment section.
---
Bonus section [for experienced users] This section is for users who prefer the command-line version of the tool
You can visit this link To get all the information that includes feature ID for all the options. For every build, there is a separate file that contains product ID and all the hidden features that can be enabled or disabled.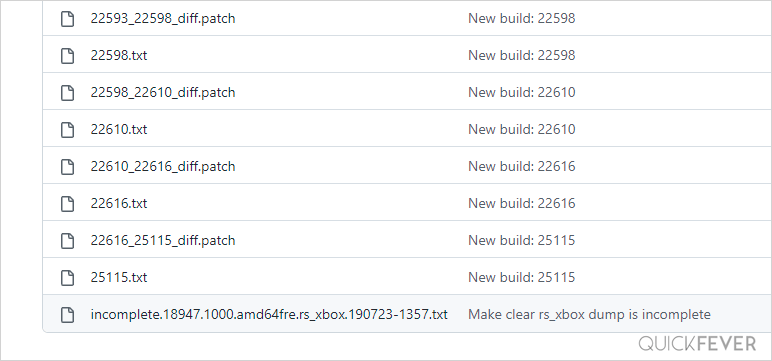 When you select a builD and click on that it will show you all the features along with their feature ID.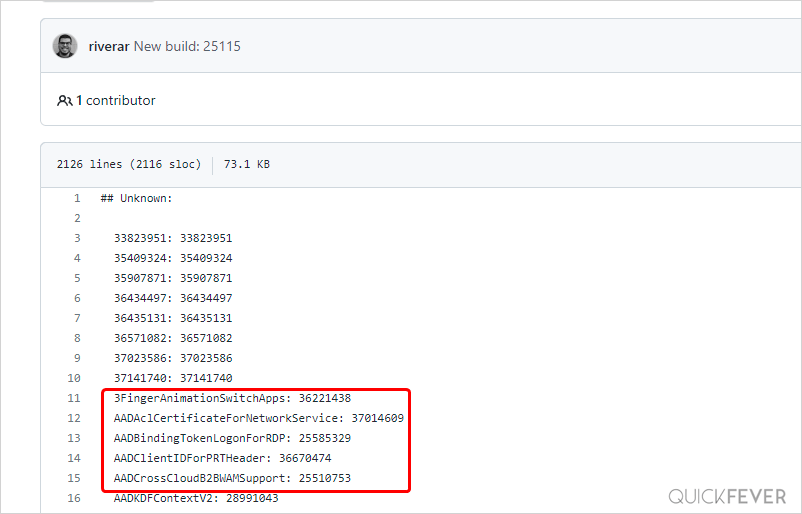 If you are reading this then the possibility is you prefer the command-line tool; if that is the case take a note of the feature ID from the GitHub release notes and use the following commands to enable or disable a particular feature.
Tip: You need to run Command Prompt from the extracted command-line tool folder.
vivetool addconfig FeatureID 2
vivetool delconfig FeatureID 2
The project itself is very old, for the last four years it is well maintained and that is why we trust the tool and the developer.