Annoyed by iCUE's "No devices found" error message. Fortunately, when you find yourself in a situation where a corsair utility engine not detecting anything follow these solutions. It can be frustrating if you buy a Corsair gaming keyboard and iCUE is not detecting it.
The device tabs turn grayed out on the keyboard brightness buttons won't work. There are similar issues with Mice and liquid coolers. When you are having problems with iCUE profiles, Corsair Utility engine not recognizing your mouse, trouble with the liquid cooling system, don't worry:
Corsair's Utility Engine, which knows as iCUE, is a useful program for managing devices connected to your computer, making it one of the best device management programs on the market. In addition to keyboards and mice, peripheral devices include speakers and headphones. Users complain that even though the software is regularly updated, "Device not detected" errors still occur. iCUE is not able to find a device when it is connected to the computer, or when it is connected but is still not detected.You can choose to try these workarounds if you see a message in iCUE Device not detected in the Corsair utility engine. I'll show you how.
What caused the No Device detected in iCUE (Corsair utility engine)
The error occurs for several reasons according to our research after receiving several user reports.
Here are a few examples.
We have observed cases where the controls of devices have not been controlled by the Utility Engine, for some reason.
The iCUE error occurs when a device controller, such as the USB controller, is in error and needs to be rebooted in order to function properly.
iCUE must be updated to the latest version if the Corsair utility is not updated. As the new hardware is designed to work with the latest software, it will pose many problems if the utility is not updated.
Hardware Complication: If the hardware does not match the devices supported by the utility, you will not be able to operate them with the utility because they were not designed to be recognized by the utility.
Many users seem to ignore this possible cause; an incorrect USB port will not recognize the device. It is usually helpful to change the USB port.
In addition, it is possible for the device not to respond as expected. The problem may be resolved immediately by resetting the device.
Raise a support ticket to Corsair support using this link.
iCUE not detecting mouse and keybaord
Here we try to fixe the corsair utility engine won't update issue at your end so it would allow you to update to latest iCUE software available.The Corsair link software works similarly, while the iCUE lastest version is around 700MB, Corsair link is less than 50MB.
Restart The Corsair Utility Engine
You can try restarting the iCUE software.
Open your task manager and end the process of CUE. If this software is running in the taskbar, remove it from there too.
In addition to that, you can try using a different USB port for devices like keyboards and mice. This works nicely for liquid coolers, do check if you correctly connected the USB cable from liquid cooler to motherboard.
If you are plugging the USB device into the front USB port of your CPU cabinet using a USB port located at the back of the I/O plate.
Always try to use a USB 3.0 port and a Type C port.
Re-installing iCUE software
The drivers provide the link between devices (hardware) and the operating system. Corsair iCUE does not detect errors from devices with damaged driver files or malfunctioning in other way. When the device driver is corrupted, you may need to uninstall it.
In Windows 11 navigate to System settings > Apps > Apps and Features
Find iCUE and Corsair Link, and continue to uninstall.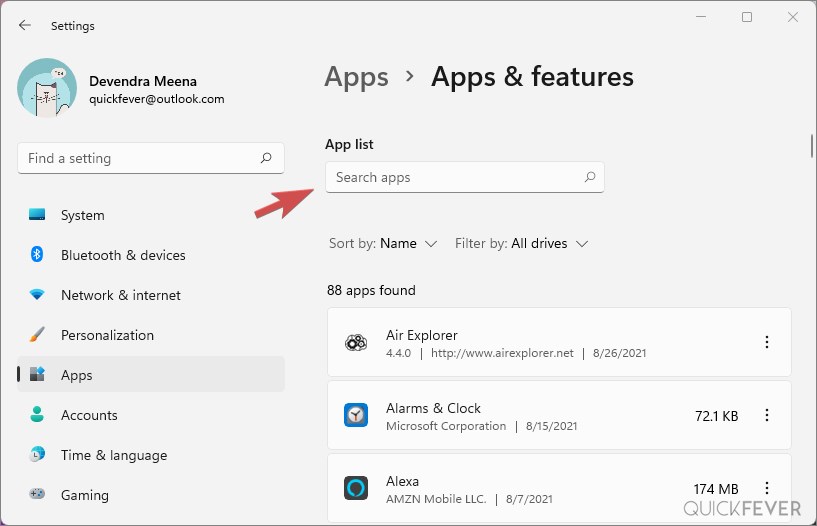 Download the latest iCUE version from their support page, (this link is the English language page). The first listing of the iCUE software is an up-to-date version simply click on the download icon and it'll start downloading, you can also try searching your Corsair device name in the search car on this support page.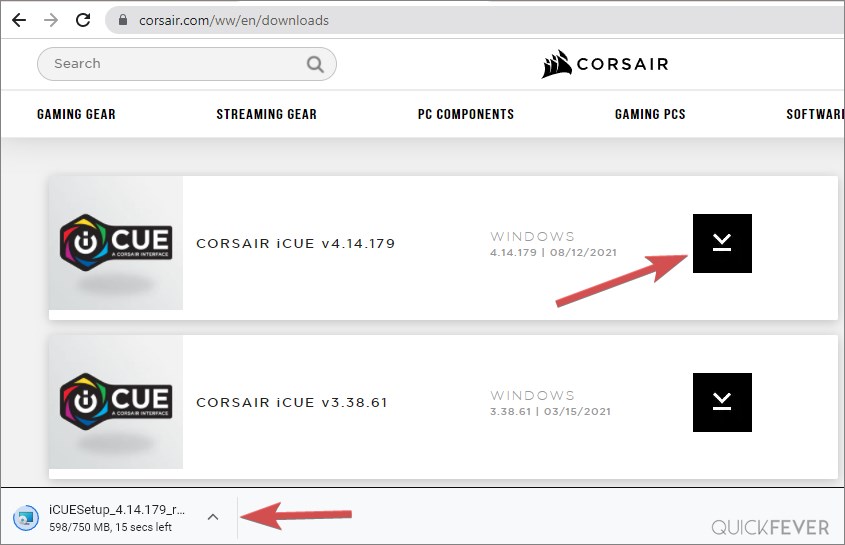 In the first setup screen, select lanaguge and click Next.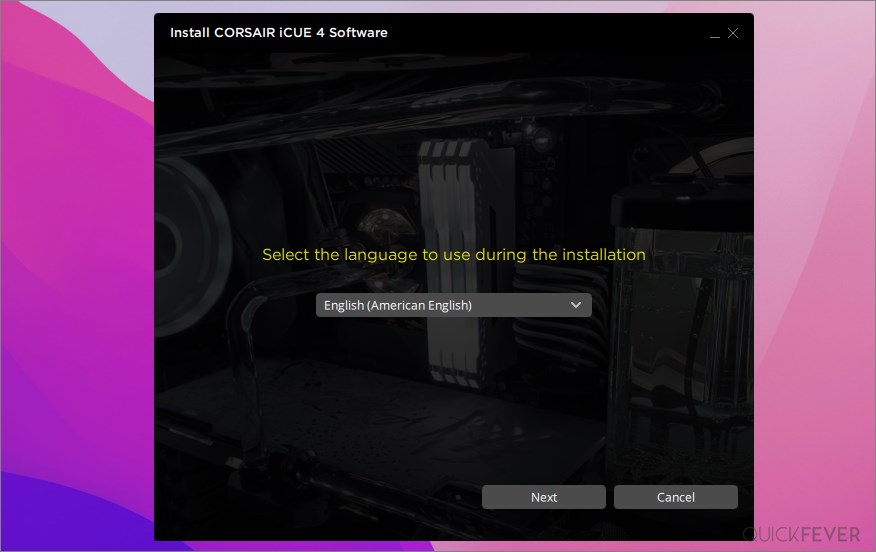 On the next screen, you can select the installation location, shortcut in start menu, automatically boot at startup and desktop shortcut settings.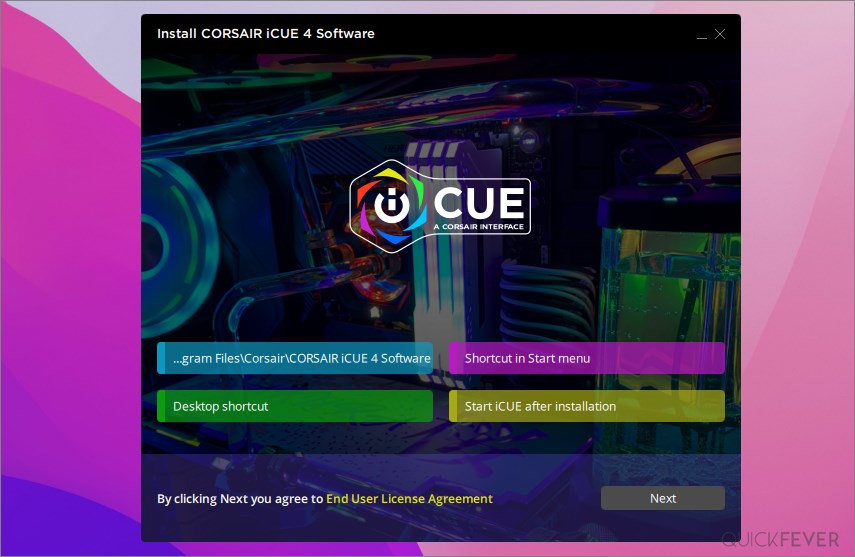 How to update corsair utility enggine
iCUE has a gear icon at top-right corner that opens settings page, here you can verify latest software version and if the software displays a newer version proceed to install that as well. If this does;t work and displays this error corsair utility engine has detected an error during software update check you might want to uninstall and install the latest version manually. For updating manually check the above section.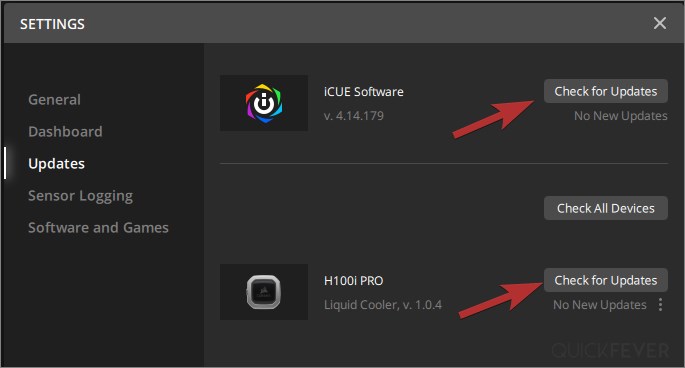 Device-specific queries (FAQ)
Corsair utility engine no device detected K70, K65, K95
If you are using USB 2.0 ports, make sure you plug both USB connectors. if K65's brightness button is not having backlit shows it didn't make a connection to iCUE software. A workaround is to right-click on iCUE taskbar icon and Quit the app, then open app again and that would fix any connection mistakes.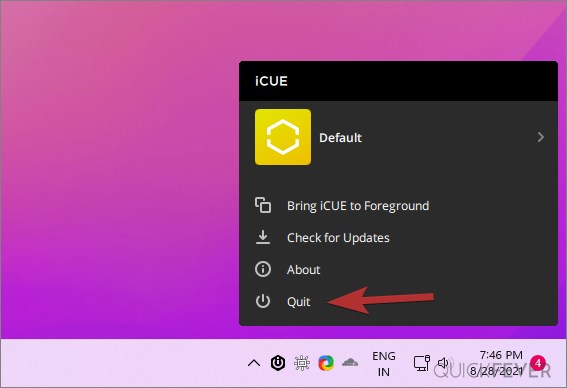 TIP: Reduce the startup application in Windows and set iCUE to load with Windows boot.
What caused this issue: If the startup sequencing is a little off and the necessary downstream requirements aren't while iCUE starts, it defers and allows system to start without necessary prerequisites. A newer version may simply throw a system exception.
Corsair utility engine or Corsair link won't update
If you have an internet connection you'd be able to update both software. If nothing works, uninstall the older software and download new version from Corsair support page.
Reinstalling Windows may fix your problems if your system is messed up, but it won't solve all the problems, you can clean install Windows 11 on your PC, mind the PC requirements.
---
In addition to smart lights, the iCUE software also manages Corsair liquid coolers, keyboards, and keyboards. For people having only a liquid cooler Corsair link is lightweight and is sufficient for them. Use iCUE to further manage the lightning and advanced customization and sync.