PrimeOS is an Android operating system forked from the Androidx86 project or AOSP project. This means you can use all the Android Apps on your computer. Play games such as PUBG, Fortnite, and Candy Crush! No? Cool. People are interested in any Android operating system more than ever we have imagined, even Windows and ChromeOS started supporting running Android apps.
If you ask which OS you can find in mobiles, the answer is either Android or iOS (sorry Windows phone users). Out of these two, Android is insanely popular, and since it's open-source which means the code is public and anyone can build an operating system out of it is an amazing thing. Which made it possible for projects like Android-86 to fork AOSP android and turn them into something that can run on computers. That's the reason you don't find any project to run iOS on computers. Apple company business model is different, and unlike Windows and Android, their OS (iOS and MAC) aren't open source.
PrimeOS: Android Home for Desktops
Talking about PrimeOS, it's an operating system configured to play games out of the box. For comparison it stays within the stock Android interface which is good, you don't want a bloated operating system like OpenThos. Scaling is really bad in this OS, we never saw any update addressing bugs and issues.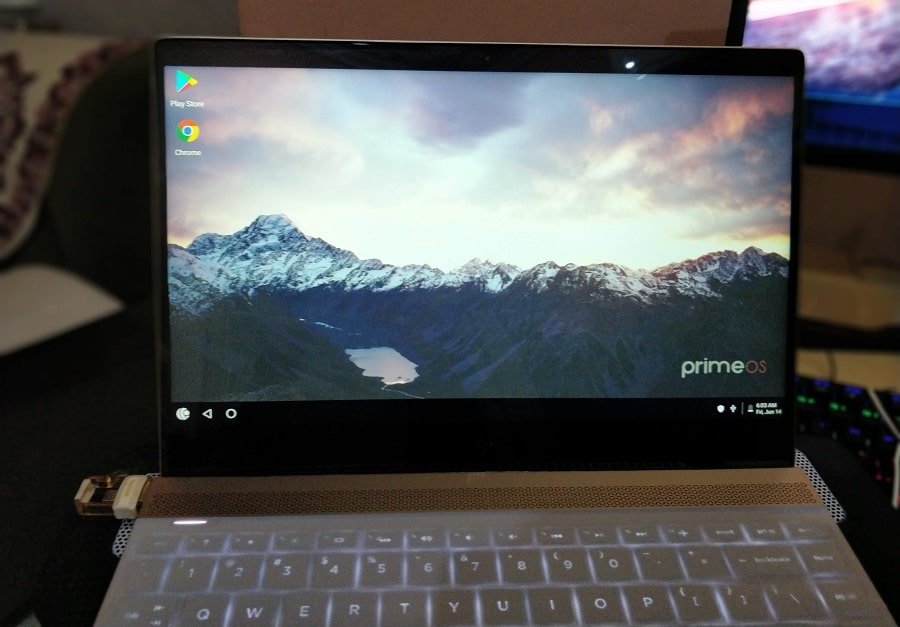 How PrimeOS combines Desktop and Android;
Desktop features; start menu, taskbar, action center etc.
Multitasking support with app maximize, minimize, close, resize etc.
Multi-window can be disabled on app basis.
Popular keyboard shortcut support e.g. alt + tab, alt + f4, win + d etc.
Still maintains AOSP experience while aiding desktop features.
Android features
DecaPro key mapping to control games using mouse and keyboard.
Right-click to aim function.
Pre-configured key mapping for popular games (PUBG).
as Gamer perspective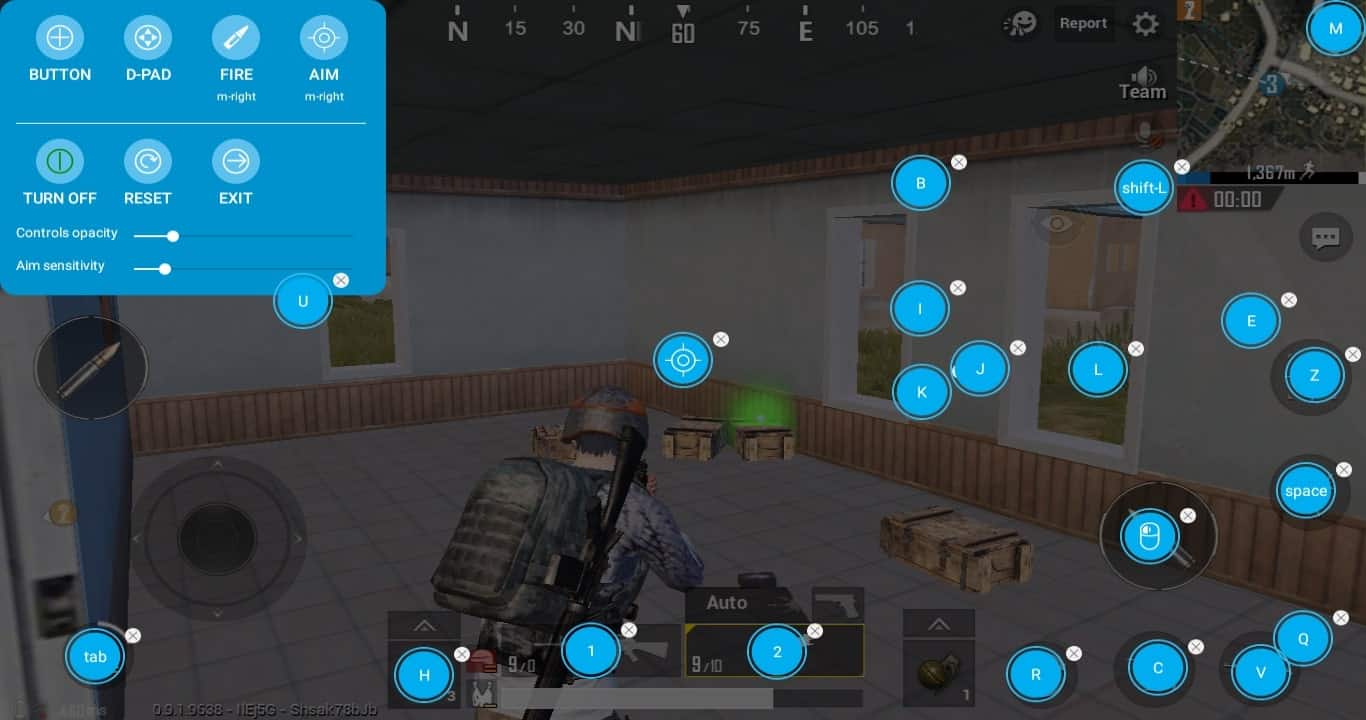 PrimeOS sounds impressive but delivers an average gaming experience. With DecaPro key mapping, it adds key mapping for popular games by default, and you can customize them any time by pressing the F12 key. If you're looking to play Pubg or similar games without using emulators you can try this approach. Many emulators players usually run games on Bluestack or Tencent's official gaming buddy and simply does the job? What is the thing that PrimeOS solves? It makes the Android gaming playable, even if you're getting good experience using emulators with PrimeOS you can boost your gaming skills since it elements lags and response time.
as Standard user perspective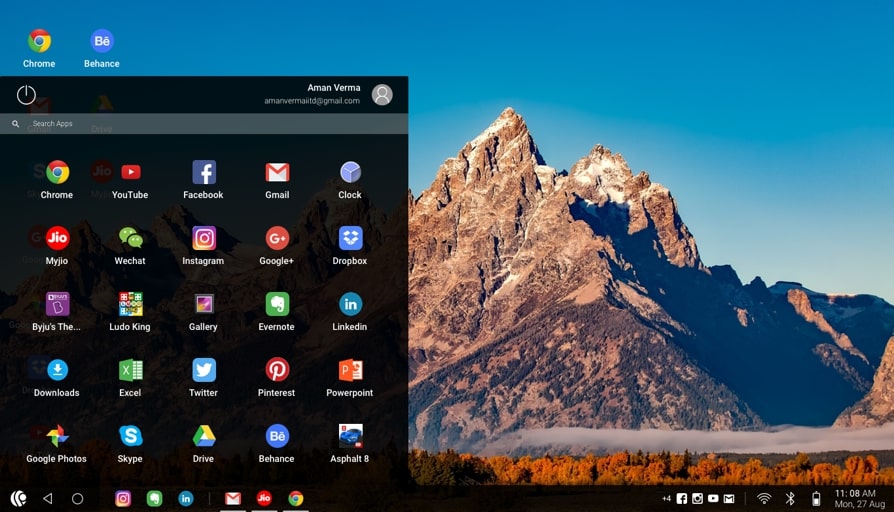 First of all, the Android OS doesn't solve any specific problem with computers. Instead, it allows you to emulate Android Apps and Games natively. So why would you want to use an Android Operating system?
There are multiple reasons, first, you can test and run thousands of app from the Google Play store. Desktop elements such as Start menu, taskbar, and action center, so you won't feel you're missing anything.
Should you try Android because something in Windows is bugging you? The answer is no.
Instead, try PrimeOS on your computer to find ways to be more productive. Cut the time you spend fixing Windows (removing ads, stopping forced updates, nobody-like-type bundled software) dump Cortona, and use Google Assistant with a decent "hey Google" hotkey.
What you can do with an Android OS on a PC is limitless, you're stepping into a familiar operating system forked to run blazing fast on the computer. Isn't it great?
Booting Prime OS
It is possible to create a PrimeOS persistence bootable USB flash drive so that users will not lose their data every time they boot. However, adding a complete guide would make the article more lengthy. To make this process easier, we'll do it step by step.
The first thing you'll want to see is how PrimeOS will look on your desktop, so you'll need an ISO file and a USB drive.
To create bootable media for Phoenix OS, follow the steps below.
Save ISO file and Rufus software on your computer home screen.

Plug a USB thumb drive of 4GB and more.
Open Rufus, drag the ISO file inside it.
Choose NTFS or FAT32 type.
Click Start and wait for a few minutes.
You'll be notified with a sound tone when it finishes creating a bootable USB.
Install PrimeOS on Hard drive.
Read the main article Dual boot PrimeOS
Install PrimeOS on your computer for daily use, follow these instructions. It's better to install an operating system on your hard drive rather than temporarily booting from USB.
Here we're using PrimeOS official installer for installing it on the UEFI system which currently has Windows as the primary operating system. The aim here is to dual-booting PrimeOS with Windows. That being said, let continue.
Step 1. Get the Installer and save it on your computer.
You need a 64-bit installer, but you need to check your CPU-supported architecture, if it supports 32-bit, download the 32-bit installer instead.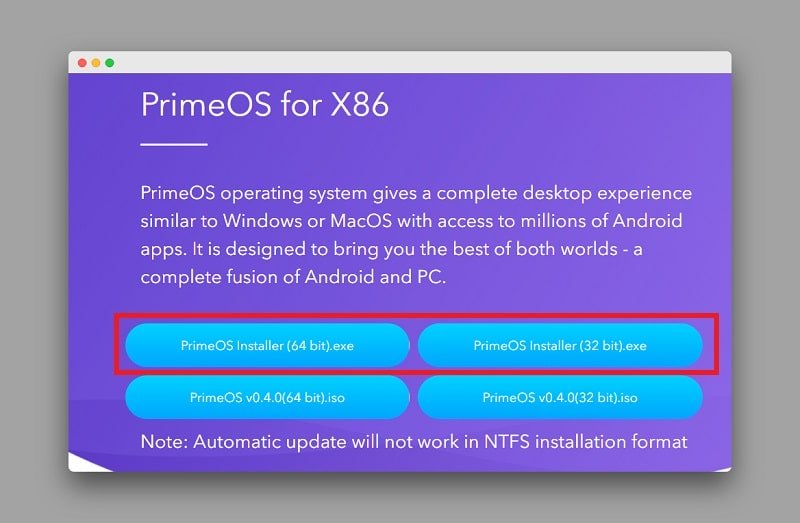 Step 2. Simply run it and follow on-screen instructions.
Open the installer, simply answer a few prompts and PrimeOS will be installed on your computer.
In the process, you'll be asked to select the drive where it gets installed and Input space in MB for the new PrimeOS partition.
Proceed to installation, depending on your hardware it should take only a few minutes. During the process, if you get prompt to format the new partition, simply close them since Windows does not acknowledge such partition types.
Upon success, you need to restart the computer to let the setup finish installing the operating system since it installs Grub bootloader which allows you to choose either Windows or PrimeOS leaving the option up to you.
How to Install prime os without USB?
If you do not want to use USB to install/test, use the Installer version instead.
How to uninstall PrimeOS
The GRUB2 becomes the default bootloader if such an OS is installed. Now from here, you have two options, the first is that you manually remove this option from the GRUB2 menu. In the second option, you have to clean install any operating system. We have written an article that tells you how to fresh install Windows 10.
Is PrimeOS good for gaming
The Keymapping feature in PrimeOS lets you map touch controls to a keyboard to enhance your gaming experience.
Can PrimeOS run on a 2GB PC
Yes, it should boot normally.
Is PrimeOS an Indian OS?
Yes, PrimeOS headquarters are located in Delhi, India.
Conclusion
Using Android on the computer should not be hard since you're already familiar with using it on your phone and tablet. PrimeOS tries to deliver an Android desktop experience with built-it update features but can we trust these companies who never deliver updates and go into shadow for years without any announcements or updates.