How to show Wi-Fi password in Android without root. Here's a complete tutorial using that you'll be able to show Wifi password on Android and that is without rooting.
We know root is not for everyone, and it does void warranty and not to mention there always chance that you might soft brick your phone during the process and considering data loss and system wipe is something that'll make you think 13 times.
Sure there are ways to see Wifi passwords in a rooted phone and they are as easy as using an app to get the Wifi passwords.
This article will help you get saved Wifi passwords on your phone easy. With a Wifi password connecting more devices becomes easy.
Let me try this example, There is a guy named John, He has Oneplus 5T and his friend connected his phone to Wifi network without letting John the password or using WPS push button. So, John has a computer and didn't want to bother to ask his friend cause it may sound lame.
John has only one option — read this article to figure out which method to use in which situation to get the password of a Wifi network.
This is not how-to-crack Wifi password but a guide to show saved Wifi network password so you can connect more devices.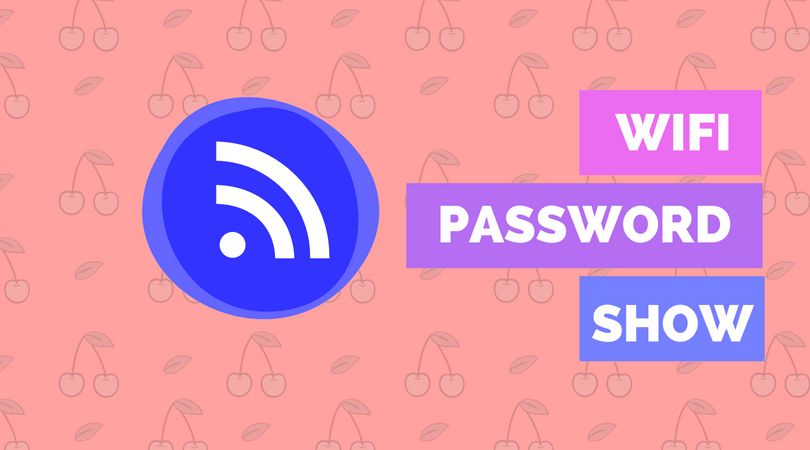 Everything clear? now head to the main section of this post.
Make wifi password show without root
First of all, you have to download Es File Explorer App on your phone. Despite the app has tons of ads and bloatware, use Solid File manager as an alternative.
Now open it and Swipe left to open navigation bar.
Choose local.
After that, tap on Device > System > etc folder > wifi folder.
Now click on the file named wpa_supplicant.conf.
Open it in ES text viewer.
That's it, Now you can see your all saved wifi passwords.
This method works for all android version greater than Android 5, new Android such as Oreo, nougat, and P may not allow accessing this system folder for the obvious reason.
If you are unable to access the Wi-Fi password files then you might need to root your phone. Rooting your phone has some Pro and cons it depends on whom you ask.
A headache is that when you root your phone you have to unlock the bootloader which format the phone rendering it completely empty — and then you have to install your apps all over again. But if you are going to root you should take backup of everything that matters.
Note: We are using ES file manager Pro version, it's good despite the free version is messed up with bloatware, overlays and annoying ads which are indistinguishable and users may end up installing useless apps.
How to see wifi password without root.
Let's face it if you are unable to see the content of data folder where the Wi-Fi password file (wpa_supplicant.conf) is present. Now we are using a different approach to get the file to your computer, that's right you will need a laptop/computer for this process. I tried to put the instructions as simple as possible.
Unlock your phone and go to settings tap about phone.
You see the build number there will be a build number you need to tap 5-6 time till you get a message that says you are now a developer.
Before proceeding to the next steps I will remind you that in this method we are using ADB and fastboot tools. ADB is a set of command which is used to interact between phone and computer.
From developer option, tap and turn on Android/USB debugging.
In case you have root permission you can set it to ADB only.
.
Connect your phone to the computer using the USB cable, right click on my PC and select manage then go to device manager I look for your Android device right click on it and update driver. This will install ADB driver which is required for this process.
.

You will need ADB and fastboot tools from the link below

http://forum.xda-developers.com/…How to Install Fastboot, ADB and Google USB Drivers on Windows 10
Now you can go to the folder where you installed it. Hold the shift key and right click in the blank area and select open Command Prompt window from here option
The command prompt window will open now you need to check if the ADB is working or not, connect your phone to computer and type the following command: adb devices

Y

ou see a device in the list that means your phone is correctly attached and recognized by the ADB and fastboot tools.
Copy paste the following command. adb pull /data/misc/wifi/wpa_supplicant.conf c:/wpa_supplicant.conf
The above command will get the file from your phone and copy it to local disk c root folder. Open the file using Notepad Notepad++.
Hasta la vista baby.
P. S.: It can be a confusing process for those who are not familiar with ADB and fastboot tools, but if you put some time to learn ADB and fastboot tools and how to operate them it will be straightforward for you to deal with ADB and fastboot later.
But if you have a Mi phone you do not need to root your phone because MIUI comes with a Wi-Fi sharing option. To learn how to share Wifi password on MI phones, continue reading.
Show wifi Password without root on MI Phones.
MIUI made it simple to share WiFi passwords with QR code scanning mechanism. Take this example, Phone 1 is connected to a WiFi network and you don't know the password. To connect Phone 2 you can use Share password feature from Phone 1 WiFi Settings to Phone 2. Or better if Phone 2 is rooted you can even see the password and then use the password to connect other devices as well.
If you still confused, follow these steps.
Step 1. Open Settings.
Step 2. Open Wifi settings.
Step 3. Tap share Wifi, this will display a QR code.
Step 4. Take out the second phone and scan the QR code.
That's right, the limitation here is there is no way to tell the actual password, but if the other device is rooted you can follow the next method to find out Wifi password.
Show Wi-Fi password on rooted phones.
First, you need a file explorer like solid File Manager or ES File Explorer. Once you install open the app.
Now slide from the left side, and choose the system folder. Same you can do in another file managers by typing on a slash icon.
Now Navigate to device > system > etc > Wi-Fi folder.
Inside that folder, you will see a filename WPA_supplicant.conf, Open it as a text file. This file will contain all of the saved Wi-Fi passwords. It has both SSID and password information — now here is the tricky part since it's a text file a password should below WiFi SSID.
wrapping up: Show wifi password
Well, things are not very straightforward, sometimes they get tangled. This might not work on all the phones but you can try if it works. In case if doesn't Root your phone and apply all the steps over again. Once you gain access to Root you can use apps from the Google Play store to see Wifi passwords.