Reddit user u/salmon_01 found a way to use Android Widgets on Chrome OS based on Android Pie with version 73 and newer. At this time Chrome OS 73 has beta version you can test on your Chromebook or unofficial Chrome forks.
Chrome OS was previously move around Chrome Browser as the main function. Recently with Chrome OS version 72, users could install Android Apps on supported chromebooks, and unofficial forks like Fyde OS.
Not only Chrome OS, Android Operating system like Phoenix OS and other can use the same method to get Widgets to home screen, specially when an Android OS doesn't allow to use 3rd party launchers.
Steps to get Android Widgets on Chrome OS
Open play store and look for Taskbar app (app link).
Open advanced features of the app and turn on replace home screen and enable widget support. This is required to use Widgets on Chrome OS desktop.
Look up for Play store for thousands of Widgets and start using them.
To use click on the taskbar icon and then on the widgets (6-square icon).
Tap or click on free space on desktop, and choose from the list of widgets.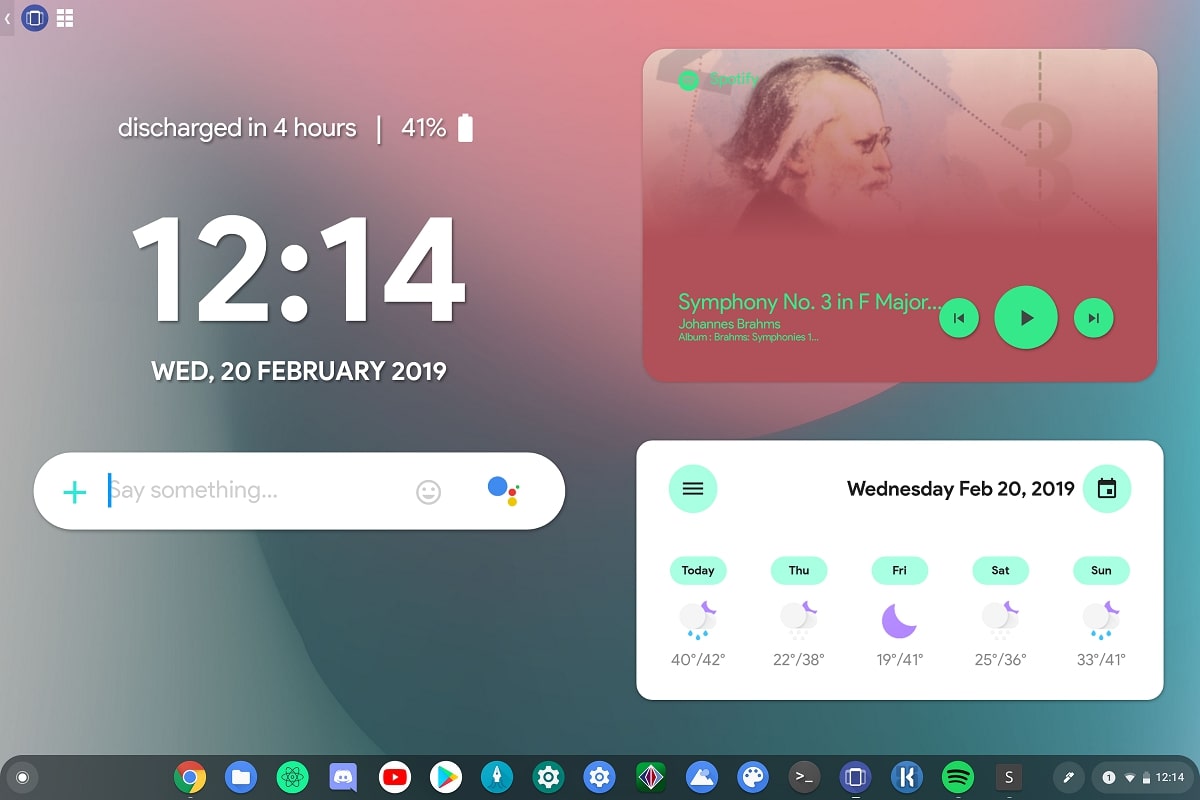 I hope your Chrome OS desktop home screen finally may offer useful information. Since there is no Widget support in Chrome OS and this method even is not perfect yet, you might see occasional bugs, transparent taskbar. It may take you to tap more settings to find a workaround while having your favorite Android Widgets on Chrome OS desktop.
Using the Taskbar app, with a few-clicks you can find all the available widgets on your Chrome OS, obvious you just installed a launcher dedicated for Android apps to fetch their widgets.
This app works in overlay mode, you have to give permission to draw over other apps. After that, you can replace your current Launcher with Taskbar. Once done, you'll get the overlay (few buttons) and blank area. The blank area can be used to display bunch of Widgets could be custom KWLP skins and others.
To add a widget on screen, click/tap the 6-square box icon and then tap anywhere on screen to get the following prompt to choose Widget.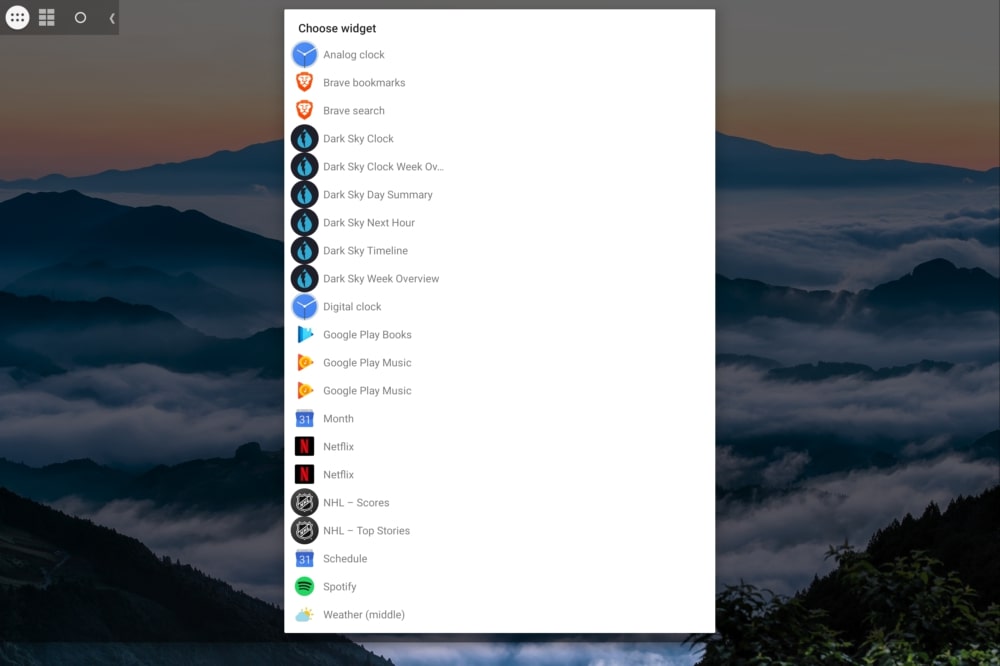 Conclusion
Chrome OS offers a lightweight environment that not only uses fewer resources also makes the best out of it. Unlike Windows, you won't see occasional ads, auto installed apps, tons of lock screen ads, automatic updates, etc. Chrome OS is complete material, while the Chrome browser recently got every aspect turned into a material design.
I will suggest you to test out Chrome OS fork (or unofficial chromium based forks) some of the popular forks are released by ArnoldBat and FydeOS. Most of the forks don't have ability to bring Android support leading you unable to install Android apps. Few exceptions likes of FydeOS has the feature that allows installing Android App from the play store. I tried to use it once, but the USB couldn't boot – so i can not add further comments on the experience.
Moving from this topic, if you use Chromebook comment "YES" below. If you're using a fork, name that in comment section.