One of my friend's Logitech wireless mouse which is something he can't live without was not working a while ago, he called me to fix this issue. I told him that there could be many reasons for which his wireless mouse is not working properly and then I tell him some basic solutions and tips, the mouse worked. He thanked me.
So here are some tips that you can use to fix your wireless mouse easily and in a snap. First of all, a Logitech mouse can stop working in many instances like Critical battery situation, Driver glitch, Loose USB port issue, etc. These tips work as well for other wireless mouses.
How To Fix issues with Logitech Wireless Mouse Not responding
Re-do-all-over
You need to unplug the USB receiver from the computer USB port, wait for few seconds before plugging back in. By removing and connecting the receiver again (and again), your wireless mouse may start working again, if it does not happen, then you can try again.
This time remove the battery from your wireless mouse as well as turn off the wireless mouse. Now put the wireless mouse back on the battery and turn the mouse on and see if it is working correctly.
(Also replace mouse battery, even rechargeable batteries degrades, so you need to change it).
Mouse Driver
This might fix the issue in case of a driver glitch or if you've upgraded your operating system. We suppose you're running on Microsoft Windows and here is how to update/install mouse driver or fix them if that get corrupted.
On Windows 10/8.1/8
Press the start key and type "Device Manager" and open it. (Win Logo + R) and type "devmgmt.msc" to open device manager).
Under Mice devices you can see connected mouse, and if you don't see your wireless mouse name or seeing a standard name such as PS/2 Compliant mouse.
Update Mouse Driver
Right-click on it and click on "Update Driver Software" and you'll be asked to install driver online. That recommended that you update the wireless mouse using the internet to always get the latest version.
Uninstall-reinstall mouse driver
If after updating driver the mouse still fails to work you can try uninstalling and reinstalling the driver to ensure there will be no software glitch left. To do that right click and select uninstall option, then again scan for Hardware changes and update the mouse driver. This is required sometimes when you've just thrown your old mouse and took a new wireless mouse.
/ Just make sure you have not disabled the windows automatic update.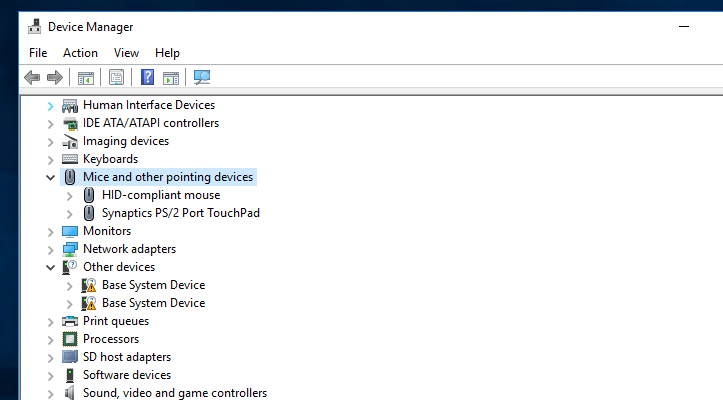 Check USB Port errors
If the USB receiver shuts a bit, then it will stop working. If your computer's USB port has been loose, there is a simple trick by which you can tighten it so that your mouse does not stop working with small shocks.
Fix Your Loose USB Ports with This Little Trick You never Imagined
Check Microsoft Help
Check and try these solutions given by Microsoft support and troubleshooting page.
2. Troubleshooting wireless and Bluetooth® issues
3. Troubleshoot a wireless mouse does not function correctly.
Reinstall Windows
If you're on older windows, consider updating to Windows 10, or even you can install the Windows 10 creator update which brings such new features and a splendid Windows 10 build. Windows 10 automatically install drivers as soon you're connected to the Internet and not using a metered connection. Below are several links to help you get window 10 install on a computer.
Installation Guides & Resources
Download Windows 10 ISO: Download the latest version of Windows 10 from the Microsoft website.
How to Install Windows 10 From USB: If you downloaded a Windows ISO file to your computer, you could create a bootable USB installation media to install Windows 10 on a computer, check windows 10 requirements before you do anything.
Install Windows 10 using Media Creation Tool: You can also Download Windows 10 ISO and create installation media at the same time using the Media creation tool provided by Microsoft. A high-speed internet connection is required.
Fix Logitech mouse stopped working & get it working again
We hope to solve a widespread problem in this article that now your wireless mouse will be working correctly. Unfortunately, if not, then it's a perfect time to buy a new wireless mouse (or a Logitech mouse). It may also be possible that your mouse is damaged, but nowadays there is no time to repair the mouse.