Virtual reality known as VR is a three-dimensional and computer-generated environment, a person can interact by moving VR headset. In this post, we are going to talk about Virtual Reality Headsets and ways to figure out if your phone support VR headset or not. You don't need to buy a Virtual reality Headset to check whether your phone will support it. We're going to tell you about how you can figure out if your smartphone will support the virtual reality headset.
Any Android phone running on Android version 4.1+ with gyroscope sensor will support virtual reality.
Is my phone VR supported?
Your Phone will support VR if it has the following features.
Gyroscope: The backbone.
Magnetic Field Sensor: For VR headset buttons to work.
Internal Compass (optional)
NFC (optional)
The Android Virtual Reality is a promising feature for Android Devices running 4.1+. In fact, Android Virtual Reality is not very new, but the latest upgrades ensure the maximum support and control. Despite, VR is quite not just there, but you can now watch things in 3D using your phone unless your eyes start hurting, eye-straining. Here are some methods to check if your smartphone supports VR.
Using these methods, you can easily figure out if your phone supports virtual reality headset.
1. Play A 360° Video on youtube app.
To start open YouTube application on your mobile phone and search a generic term like 360-degree videos, open any video from the list, just make sure that the video has a cardboard icon at the right bottom side. So when you click that button, the video which you see is divided into portions creating almost identical frames.
Open Youtube app on your Android phone and search "360 videos" and play any video from the result. Remember video should be 360 degrees. Or just visit youtube's Playlist of best 360 Videos.
When a video starts playing, you'll be able to move video screen/angle by your finger. The video screen should also move when you move your phone from left to right or in any directions. You'll even notice a VR icon at the right-bottom side of the screen, and by clicking on that icon, the screen will be divided into 2 parts.
2. Use Cardboard mode.
Play any youtube video and from the top-corner click that 3-dot icon to view video option. From there select View in cardboard option. The screen will divide into 2 sections if the video moves when you move your phone means that it got a Gyro sensor and will work perfectly with any Virtual reality headsets.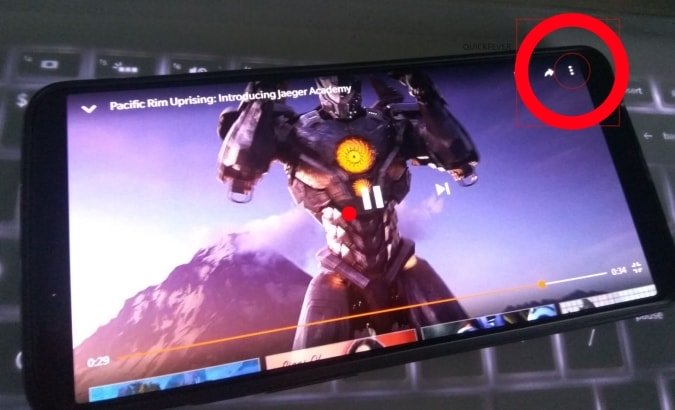 If your phone screen is moving as you move your phone, It does mean that your phone will work fine with VR headsets. You can quickly search if your phone has a Gyroscope sensor. Is my Phone Virtual Reality compatible? Search your phone name on Google to check whether it has a gyroscope sensor or not. If it works fine, check out the best VR Headsets out there.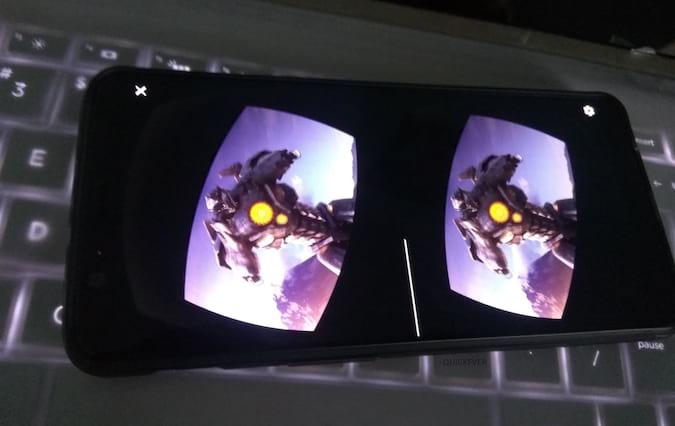 3. Check VR compatibility using Apps
Open play store on your Android phone, search for any VR apps and install it. Open them, and you'll see two screens – now move your smartphone to left/right and forward/back or any direction. If your phone's screen is moving, congratulation your smartphone supports Virtual reality. 🙂
These are the apps you can install and run to check if your phone does support the virtual reality headset.
Well, you need a VR Headset to enjoy the virtual reality in VR apps or Youtube Videos on your phone. Now many sellers are providing custom-made cardboard online.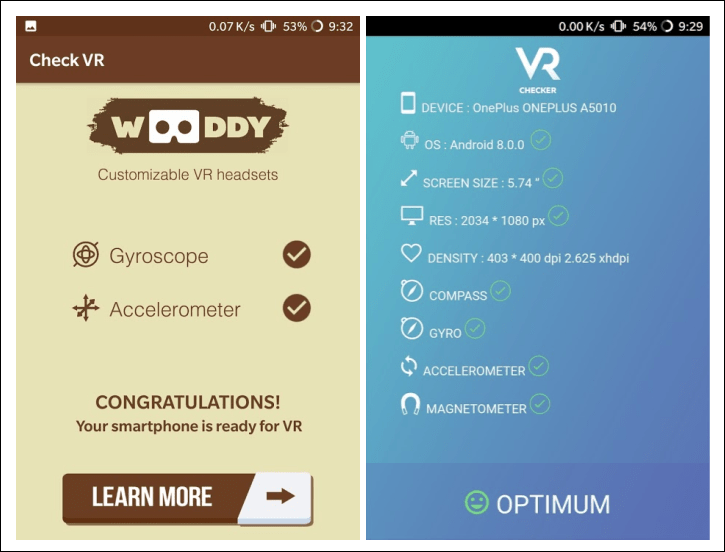 What's Virtual reality, by the way?
Do you know what a Virtual Reality Headset is?
A virtual reality headset is similar to Google's cardboard but advanced. At the bottom of this page, you'll find some VR apps for both Android and iPhone Devices. We have compiled a list of all of the Smartphones from major companies that support virtual reality headset. So if you are worried about whether or not your phone will support VR headset, you should check your phone in the VR list below, so you do not waste your money buying a VR headset in case your phone does not support it. All right so when we talk about virtual reality headset the first thing came into action is typical Google cardboard virtual reality headset which consists of two lenses and a magnet button, that is all a typical virtual reality headset is constituted. Google is also selling their second generation cardboard, Before buying cardboard, you should know if it will work with your phone or not. For example, if you are going to purchase the viewmaster cardboard, You should know this works with only iPhone 5, 5C and 5S. But no promises, if there are any functionalities crisis with your Android phone even if it v4.1 or newer, you might not be able to enjoy Virtual reality with your Android. Also note, when your phone has sensors such as magnetic sensors and gyroscope, you can check your phone specs online, or you can test your sensor using this sensor sense app for Android.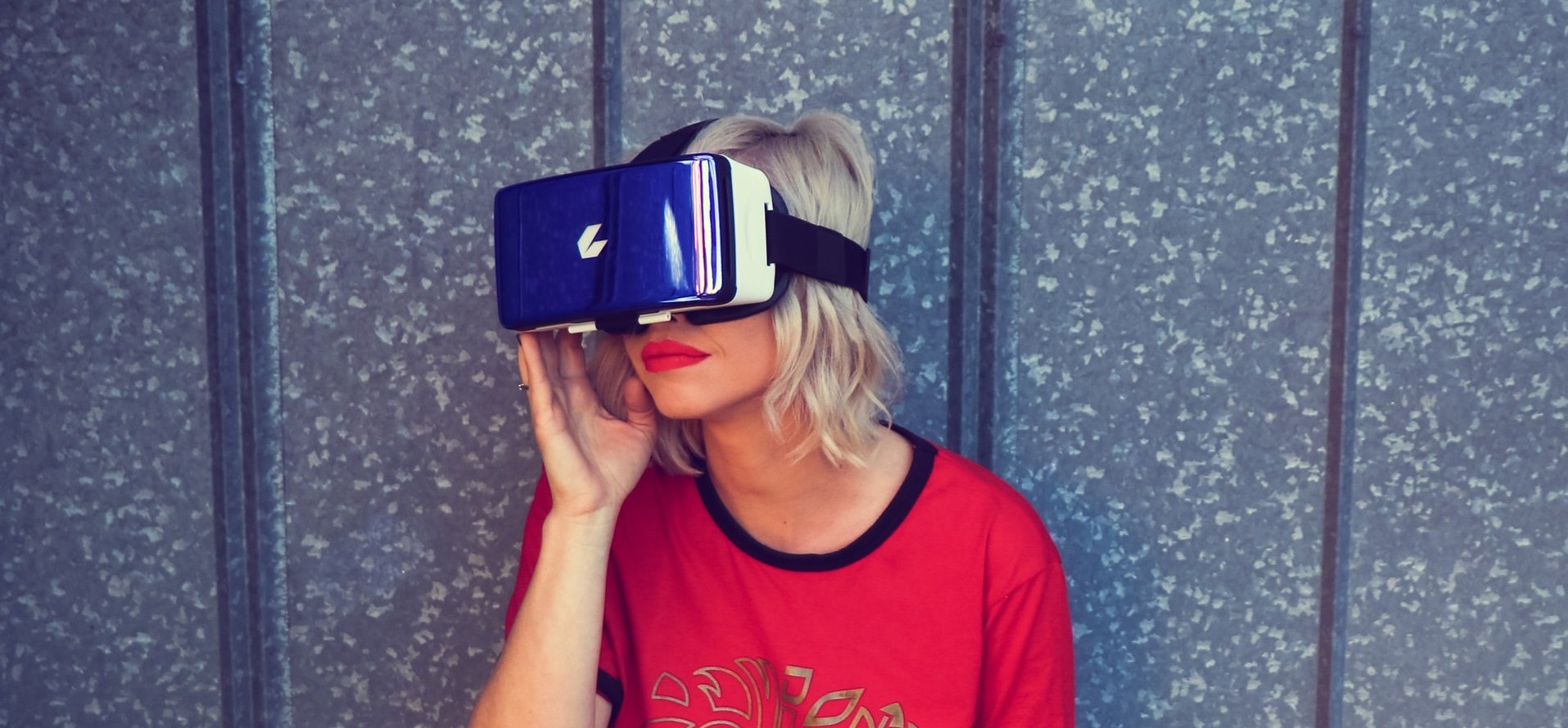 Now again there are much more expensive virtual reality headset out there giving enormous and amazing 3D experience, and some of them such as HTC Vive and Oculus Rift virtual reality headset supports only a bunch of mobile phones. So when we usually talk about virtual reality headset what we mean is a budget and simple VR headset because they support a large number of Android mobile phones and iPhone. You can also check if your Phone supports virtual reality with any VR headset or Google Cardboard. You can type your phone name, and if you can see your phone name, your phone is compatible with VR. In case you need to look at which phones compatible with google cardboard check the following article.
iPhone Virtual reality? Yes, it works with Google cardboard and supports virtual reality. Also with Google cardboard version 2, its SDK was released to the OS developers. Also, these button collaborates with any iPhone. iPhone Virtual reality is yet in the emerging phase because iPhone runs on a different mobile operating system known as iOS, which is in no way similar to the Android Operating system.
VR Chcker apps for Android.
Do more fun with VR Apps for Android (androidauthority.com). We are such no mood to cover virtual reality applications for Android. However, we would like to talk about this particular Android app; that will give you an amazing experience with your virtual reality headset. There is nothing much you can do with this application, rather than looking at mountains, iconic building all kind of other sceneries stuff.
At this point of the time there are not so many VR Apps For Apple iPhone, but who knows we will see some virtual reality apps for iPhone very soon. However, for now, the available virtual reality apps for iPhone are the following – the height, dive Zombies, stereoscopic tunnel effect, and Moore note. We will update This article with new iPhone virtual reality apps.
So does your phone support virtual reality headset?
That is all to check if your smartphone supports VR, if you can use your phone with google cardboard, you are set to go. After you buy the Google Cardboard, make sure to install the Google Cardboard application from play store (for Android). If you have any question or feedback, use the comment section. And remember please try to avoid asking in comments like "phone model is this, will it support VR" I may not reply to such questions as I explained all the things you can do to determine whether it will support the VR or not.