Deleting Temporary Files in Windows 10
As soon as you upgrade to a newer version of Windows operating system, you might notice that the process leftover some files, let's call them "Temporary files." — Sure you can just delete them and save space on the hard drive. Here's the catch there is more than one place where temporary files are created and sometimes left with no reason. This guide will cover such temporary files location and ways to get rid of them.
Why Windows / Programs left over temporary files?
A program such as big as the Windows 10 and software's setup are generally compressed, In order to install them on your computer, you'll have to go through a process, which we often call setup or installation. In the installation phase, the software package should be extracted. After that, your computer writes files to the disc so you can use the software once it's installed. The extracted files while the installation will still be there. Some programs clean them automatically while some do not.
1. Clear basic temporary files.
Right click on the Local Disk (C:) and from its properties click the "Disk Cleanup" button, the tool will scan for temporary files and other non-useful files. In the result box, scroll down and find and tick the "Temporary Files" now to clean it, click Ok.
You cal also launch the "Disk Cleanup" utility from the Start Menu > Windows Administrative Tools" > Disk Cleanup. There is an another way to open the tool. It can also launch by pressing Win + R > Type "cleanmgr" to launch the same.
There will be many types of junk and temp files, you can tick them all for sure, just you need to know what are you doing. But most of the free space can be achieved by deleting temporary files. Or just tick everything and delete them — that's what I always do.
2. Clear advanced temporary files.
Follow the above same step but when the result show, click on the "Clean up system files," this time an advanced result will be shown. You can see below that now temporary files are larger in size, as it includes system level temporary files. You can also clean Windows installation temporary files from here, such as Windows.old folder and other junk files created when Windows Update occurs.
3. Deleting the Temporary Folders.
Disk cleanup tool removes the most of the junk and temporary files. But there are more places where are other temporary files are stored. We call them Temp folders. They are actually 2 different folders. How to open them?
Press Win + R > Type "temp" or "%temp%" one after one. When the Window opens, select all files and delete them.
But be extra careful and manually check the temp folders, most of the time they are a totally waste, and you can delete and get rid of them immediately. There are also 3rd party cleanup tools like "Ccleaner, " but we won't recommend them, the built-in tool and some knowledge is just enough to remove all the temporary files and folders from your computer.
Another location of temp folder can be accessed by typing "%temp%" using the Run dialog. Or manually you can find the folder at this location "C:\Users\YOUR_USERNAME\AppData\Local\Temp" using File Explorer.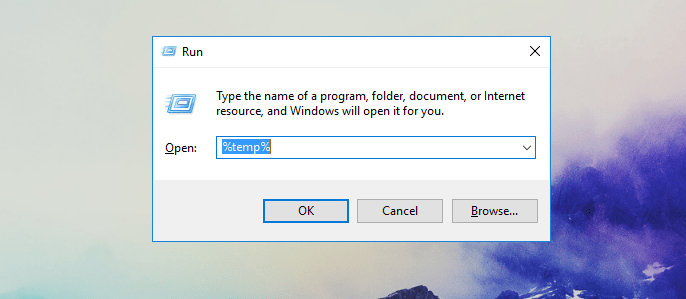 Let's see how much space these files are taking on my computer — around 726MB. And this was after just a couple of days from the last time cleaned this all. So basically you should be cleaning this junk at least once in a month. Or once in every 2 months. How much you care of your computer is up to you.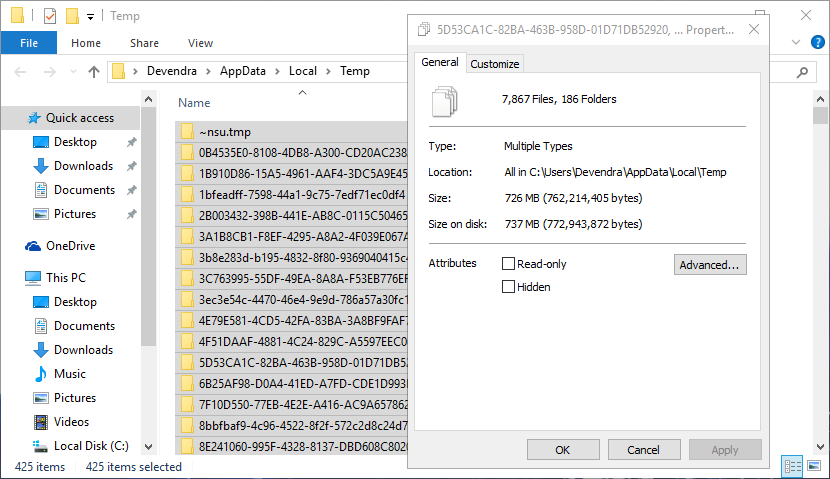 =
So now you've some more free space, check these Software & Apps list to find something new to install on your computer.
20 Best Software to Install On Windows 10
Quickfever's List for Windows: Best Essential Windows Apps
==