In this article, we will show you how you can set a sleep timer for Amazon music on every device.
Before you go to sleep, do you listen to songs on Amazon Music? You probably have been searching for a method to stop the music when you fall asleep. Amazon Music could stop playing music as soon as you begin to drift off, let's see how to do that and we also have options methods where we can rely on timers to accomplish the same task.
Amazon Music subscription is sold separately but it comes bundled with Amazon Prime subscription which is comparatively better deal. With Amazon Prime, one can get, Prime deliveries, Prime Video and Music. and for some countries Prime games too.
Check out more Amazon-related articles. Here is how you can change language on Amazon Prime Video because things feel more connected when they are in your regional language. Next is Changing Video Stream Quality for Amazon Prime Video if you're low or there is an unlimited data plan you can use the article to set your preferred Prime Video quality. Last but not least you can however only have one Prime Video Watchlist but have profiles so, in fact, you can Create Multiple Amazon Prime Video Watchlist.
Part 1. Sleep Timer for Amazon Music Android/iOS App
Open the Amazon Music app on your Android mobile and, you see a little cogwheel icon on the top-right side. Tap that and select Music settings. The same is applicable to iOS users, and this method works similarly in Android Tablets and iOS tablets.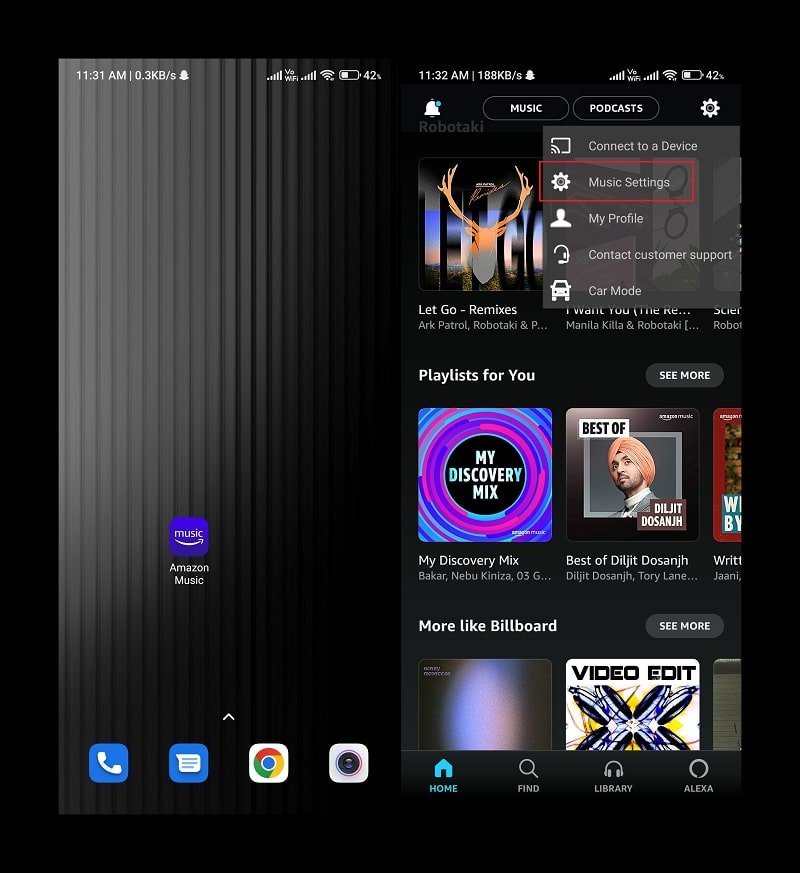 Find the TIMERS setting, you'll find that when you scroll down a little bit. Scroll down a little and turn on Sleep Timer, a little pop-up will appear, choose from 15, 30, 45, and 60 minutes. Click on Done and you're good to zizz.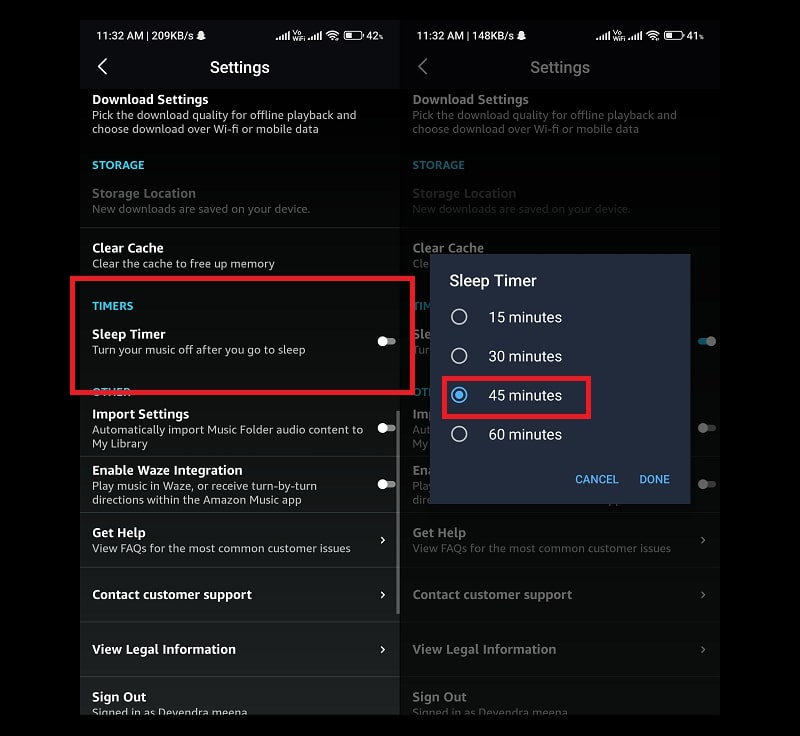 ---
Part 2: Set a Sleep Timer on iOS for Amazon Music
In this part, you can use the Clock app on iOS to stop playing music and it works with Amazon Music nicely.
A. Create a simple sleep timer on iOS
Pick up your iPhone and open the Clock app, tap on Timer which is somewhere at the bottom-right side of the screen.
Then you've to select the duration, after this duration the music will stop playing. The sleep timer works with any app that can play music. The point is it works pretty well with Amazon Music.
Select a time and start something to play, you can play your favorite songs or playlist on Amazon Music.
B. Create a routine sleep timer on iOS
You'd need an app created by Apple called Shortcuts from the app store on your iPhone.
Once you authenticate to install it, Open the app and tap Automation tab at the bottom.
First things first, if it's the first time select Create Personal Automation. If you already have a routine, click on the Plus (+) icon located at the top-right side of the screen.
Select a time, usually when you'd want Amazon Music to stop playing songs. Then hit the Next button and add action.
From the search bar, you'd want music to top so we'll select Pause/Play option.
Select Play/Pause option and again tap on Pause from the displayed menu.
Now when you click Next, untick the following option called disable Ask before running.
Part 3. Set sleep timer for Alexa devices
Own an Alexa device, you can play music from Amazon Music, and you can use "Alexa set a sleep timer for 30 minutes" and Alexa would stop the music after 30 minutes.
Don't forget to check our list of best voice assistants for Android devices, a few of them might have gone outdated but most of them are still valid.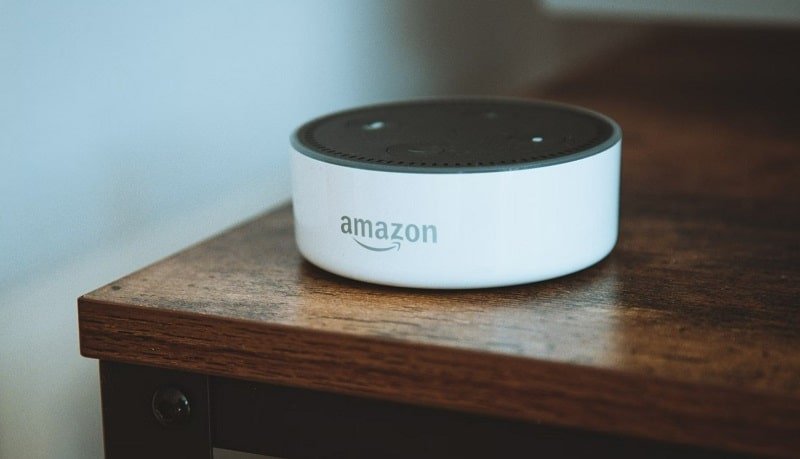 Part 4. Shudown timer for Windows and MAC
For Windows: Open CMD as admin, and type shutdown -s -t 7200, where 7200 is the seconds (2Hour) after than your Windows PC will shut down, along with Amazon Music. This method is rather unpleasant because it does shut-down the whole computer.
For mac: Open System Preferences and then Battery. Find Schedule option from the sidebar and use it to configure your shut-down timer.
Summary: We found it extremely easy to set sleep timers for Amazon Music app. If you have an Alexa or Echo device you can listen to songs from Amazon Music as the library is humongous. The Amazon Music app still falls behind in terms of better music suggestions, and low-quality songs image placeholder is also there. You can also spot low-quality placeholder images on Amazon website and Prime Video, they look really outdated.