Check out these troubleshooting tips to easily fix slow loading Gmail when it takes forever to load.
We all use Gmail for communicating let it be our schoolwork or office work, why shouldn't we? Google's robust email service never goes down. Over the past few years, Google introduced so many features and merged them into Gmail. Talking about features you have i.e. offline mode, scheduled messages. This year Google added Google chat and Google meet features right into Gmail and there are options to add other services like Google tasks to the sidebar.
Why is Gmail so Slow
One of the main reasons that prevent Gmail to load slowly is poor internet connection, outdated web browsers that you may be using, cache and cookies issues where you have not cleared them for a long time. Gmail mat also acts sluggish if you have tons of Chrome extensions installed. Some people use custom themes which could become one of the reasons why Gmail takes longer to load.
Along with that, multiple Gmail tabs could also trigger the issue. In some instances when you open the Gmail website there may be lots of data that your browser needs to download. When that happens you would see a longer wait time before Gmail could show all of your emails. To overcome this issue you can try opting for 10 or 20 emails per screen, and avoid loading like 50 emails at once.
Last but not least Gmail could be down for some people in various regions from time to time. If that is the case you should wait for a few minutes and try opening Gmail again.
When Gmail is taking forever to load and you have been waiting to respond to your emails; we've gathered a complete list of solutions to help you fix slow Gmail. We will start with easy solutions to determine the root cause of this issue and eventually, it will fix your slow Gmail.
Fix slow Gmail in 2022
When you are connected to a slow Wi-Fi internet connection you can resolve using the steps mentioned below. First, we will figure out what your internet connection is speed and if that is capable enough to load the Gmail website.
1. Double-check WiFi connection
This is the most common reason for Gmail to load extremely slowly on your device. Practically the load speed of a website heavily depends on your internet connection if it's good enough a particular website will open and render faster if the case is different and you have been stuck with a slow internet connection internet websites will take forever to load on your computer or smartphone. Even if they load they might act weird or may not render properly the way they should.
So you might want to check your internet speed by going to websites like speedtest.net or fast.com both websites are reliable to check your internet connection speed on your device. If it tells that your connection speed is rather poor you might want to check other connected devices in asking your family if they are downloading or watching OTT platforms. If you are sure that no one is using your Internet connection and you are getting really slow speed compared to what has been promised by your internet provider, you can simply contact them and ask them to fix the issue. In a normal scenario, the download and upload speed ratio should be 1:1. If you have an external device laying around you can turn the Hotspot and connect the device in question to see if Gmail is loading properly or not.
---
2. Check Gmail Status Page
A good place to look is Google's Workplace status page, to quickly check if Gmail is really down. As we have mentioned before Gmail is quite a big email service provider and it rarely experiences such scenarios.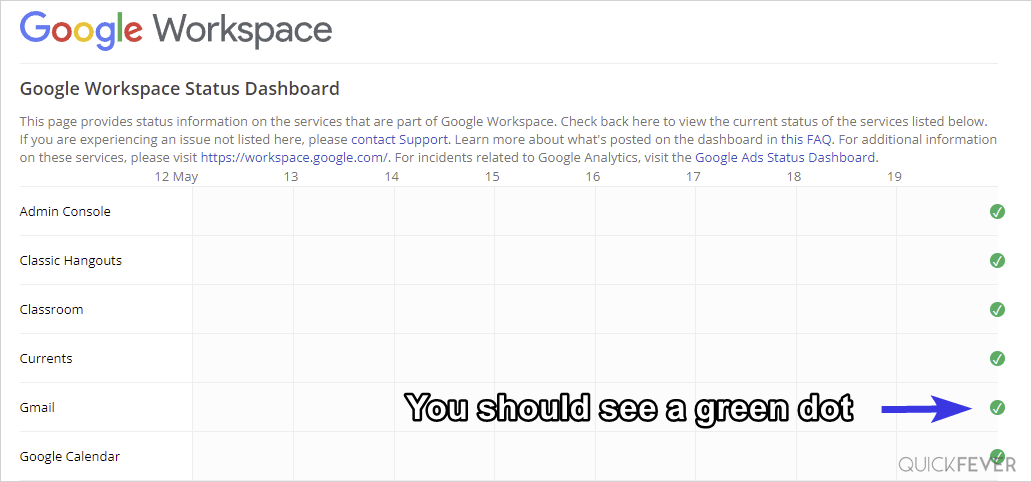 ---
3. Reduce per page emails
Gmail, we don't know about you but is set to load 50 emails per page by default unless, of course, you've set otherwise. There are many people who prefer to load more than 50 emails per page in a cozy layout.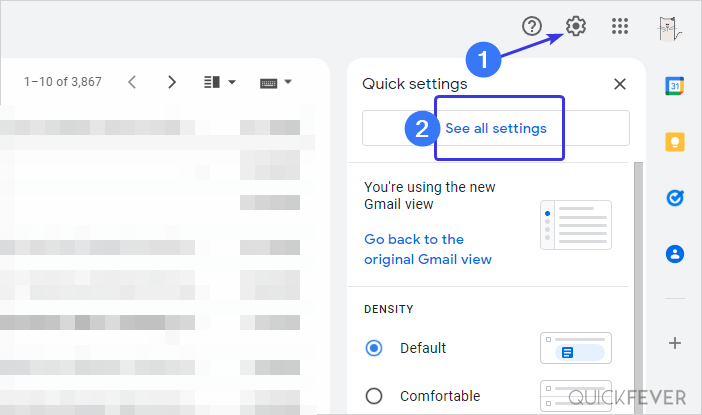 Look for the Maximum page size option and try to keep the number low, 10 and 15 are recommended when you're experiencing a slow connection or resource-hungry system,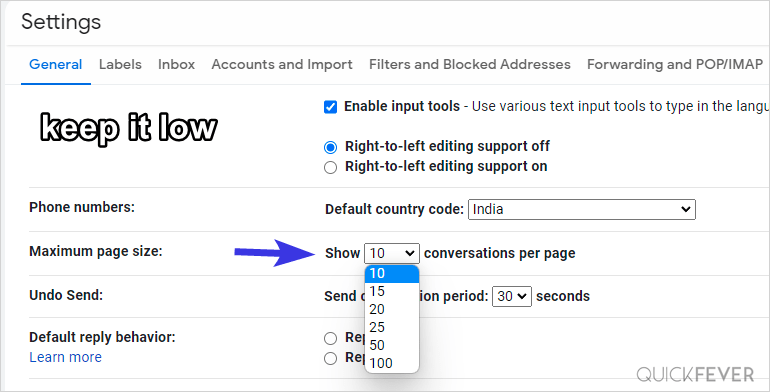 And it has also been seen that if you have too many attachment files in your emails, then Gmail takes a long time to load. However, if your attachment file is from Google Drive then it should not matter. But if it is PDF or photos etc. then your browser tries to download them and because of this, your Gmail page loads very slowly. Along with this, if you are using the offline feature, then Gmail tries to download and save all the conversations in your browser, if this is the case then you will have to turn off offline browsing. However, in some situations, the offline browsing feature can also help you because once you have downloaded the emails, you do not have to download the same mails again. Only new emails are downloaded.
---
4. Disable Google Chat | Switch to the old design
4.1 Disable the Google Chat feature.
The New Gmail can load slow for you because the updated design gives additional room for Google Meet, Spaces, and Chat. Click on the cogwheel button and then select see all settings, there you'll find all the Gmail options.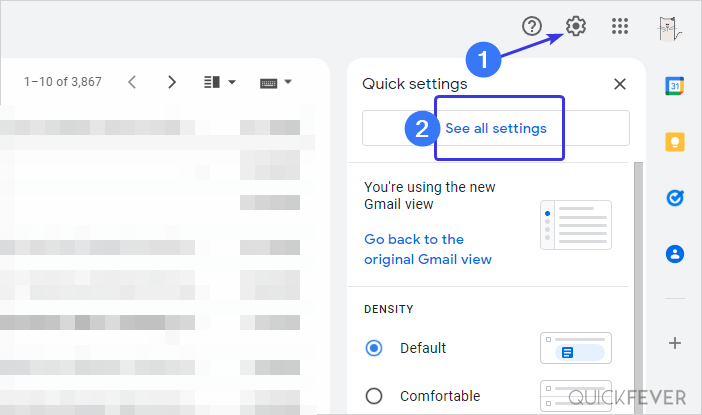 Look for the Chat and Meet tab and set it to off and click on save which is located at the very bottom of the page.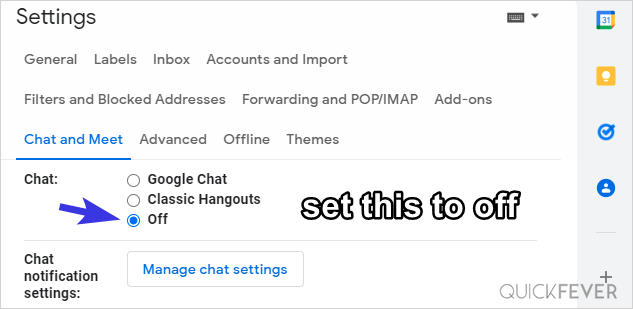 The Google chat feature is now removed from the left sidebar, and Google Meet can not be removed because there would be nothing left to show on the left sidebar if we do that. But still, if you wanna get rid of the Meet tab you can completely go back to the older version of Gmail.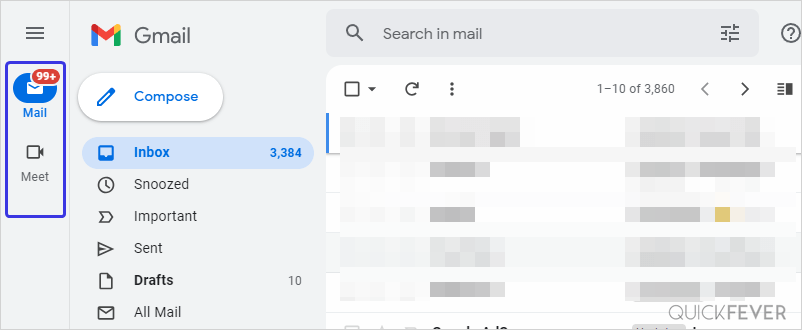 4.2 Disable the new Gmail design for now
One thing we know for sure is that the new design will eventually roll out to everyone and there will be no way to get back to the old version. But for the time being, you can actually go back to the older version of Gmail which does not have the left sidebar.
Switch to the old Gmail Interface that cuts newly added services (Meet, Chat, Spaces) from the right side and gives you more space for conversations.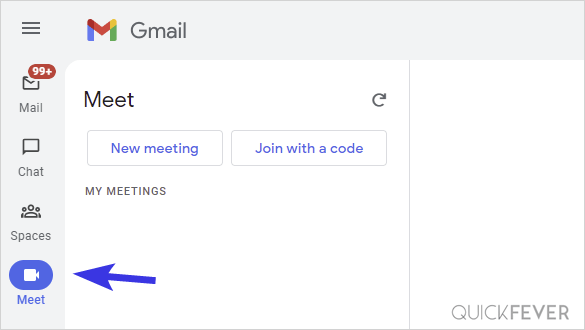 Click on the Settings icon and there is a button "Go back to the original Gmail view" simply click on that, and after a reload you'll see the original Gmail interface.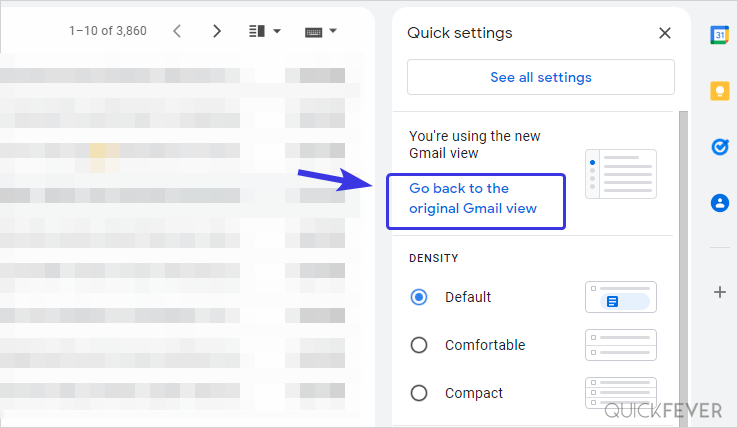 ---
5. Use the HTML version of Gmail
Stuck with a very slow Internet connection such as 2G and 3G? If you live in an area where the connection is very-poor you can use the HTML version of Gmail. It loads fast with minimal features and it does not rely on heavy JavaScript. This is why even with the deadliest slow connections the HTML Gmail version will load quite easily.
https://mail.google.com/mail/?ui=html (click on the link)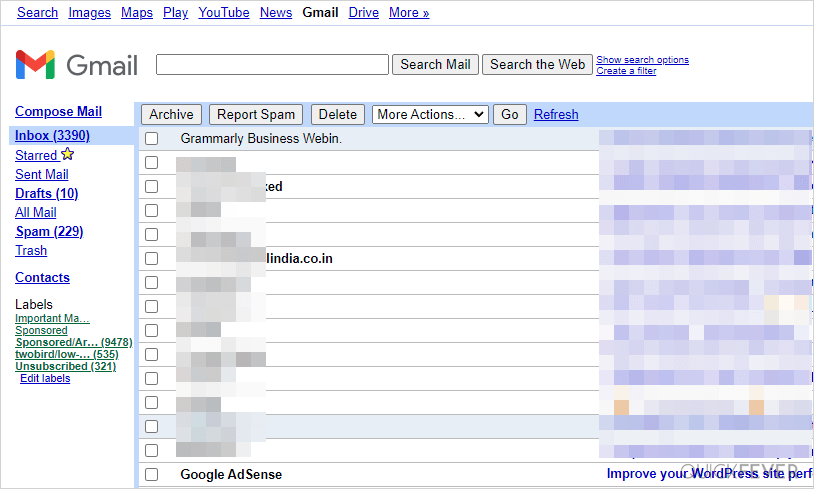 ---
6. Troubleshoot browser issues (Cache etc)
If you consistently have the issue of slow loading of your Gmail it can be due to an outdated version of a web browser. One of the popular web browsers is Google Chrome which is updated very often, if you are on Google Chrome click on the three dots and select settings then go to the about page. Once you are on the about page the Chrome browser itself will check for updates automatically and process to installation. Sometimes you have to repeat the process to update the Google Chrome browser manually, a restart is required after a successful Google Chrome update.
Also, you can try cleaning up temporary browser files including history cache and cookies. To do so press Control + Shift + Delete while using the Chrome browser. You will be prompted to select the duration so here you can select Advanced and tick History, Cache, and Cookies.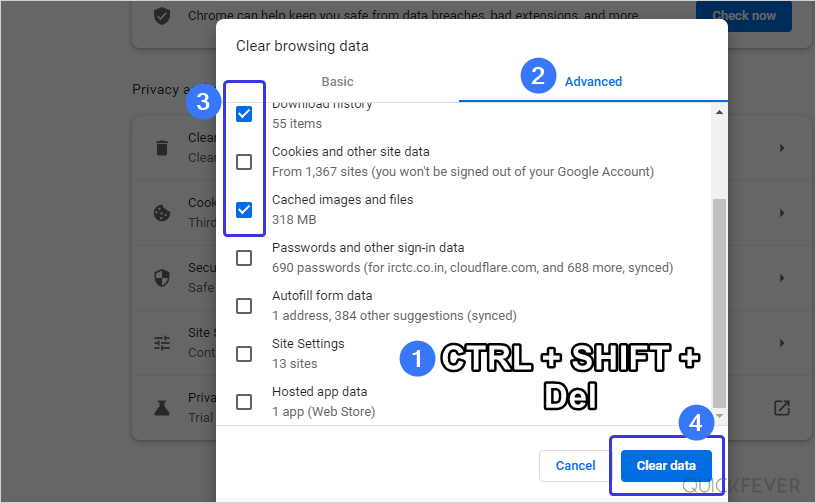 Many of you may be using Mozilla Firefox, Opera, Microsoft Edge, and maybe even Vivaldi. Just like Chrome these browsers also get updated regularly and there should be no specific reason for Gmail to load slowly. But when you are facing the issue we would suggest that you clear the cache and cookie of your preferred Browser and make sure to update to the latest build.
---
7. Contact Google One Support
If you have the Google one subscription, you can also access their support system. You have two options to contact the support staff, one is calling them and the second is through chat or email. Issues like these are really weird to talk about over a phone call so we will advise you to take their support through live chat as you will be able to attach screenshots.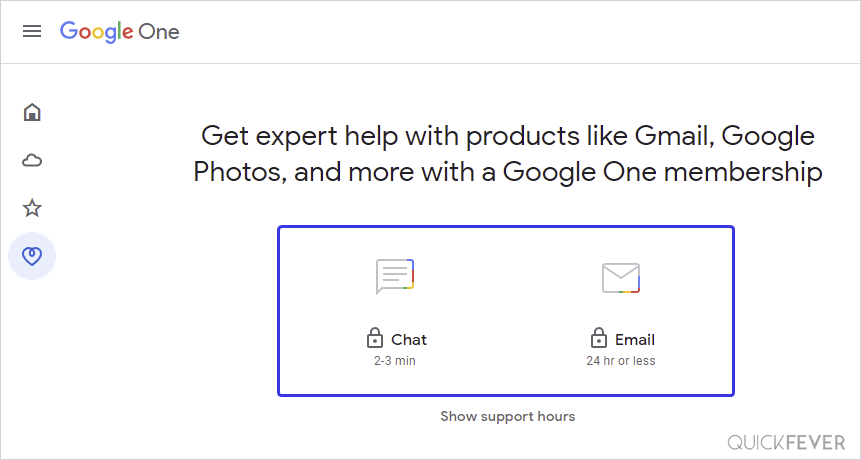 ---
8. A combination of fixes
We hope that these fixes worked out for you. If the world is against you, use a mixture of the above-mentioned methods. Here is a summary of all the solutions you should try in this preferred order.
[Network] Double-check if your Wi-Fi connection signal is strong enough
[Network] If multiple people or devices are connected to the Wi-Fi ask them to stop downloading heavy files.
[Network]Always prefer a 5ghz over a 2.4ghz network. And just like that aim for at least Wi-Fi 5 network.
[Network] You can always check your Wi-Fi connectivity signal status by going to the Wi-Fi settings page there you will be able to see the connection speed to your device.
[Browser] always use an updated web browser, uh uh like Google Chrome or Mozilla Firefox.
[Browser] clear cache and cookies using Ctrl + Shift + Del on your favorite browser.
These recommendations should be able to fix Gmail loading slow and not loading Gmail at all issues. If you have any suggestions or feedback about this article feel free to use the comment section.
---
Bonus: Remove the label
If you are a person who always categorizes their Gmail is time to cut down some slacks and be easy on Gmail. Start with removing unnecessary labels.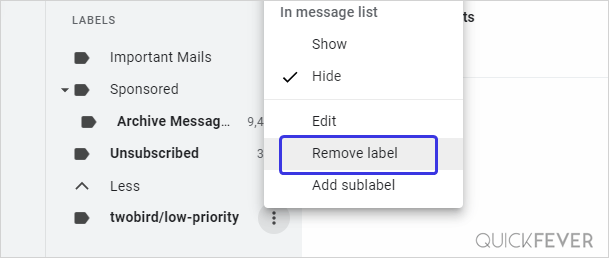 ---
Don't use Gmail and switch over
It is possible to use a Google account without a Gmail address attached to it. There are two methods for this, if you are creating a new Google account make sure to use your custom email. And if you already have a Gmail address, you can delete Gmail and it will remove your access to Gmail but the downside is you cannot add a different Gmail address to the same account.