In this article, you will learn the method to download Windws spotlight collection desktop images on Windows 11 so you can have them permanently on your desktop as desktop wallpaper.
Windows spotlight was first available on the Windows lock screen where it shows different images daily. Windows Spotlight Collection is a new feature that shows Spotlight images as your Desktop Wallpaper. A collection simply means that the images will change throughout the day. There are now a title of four option to decorate your desktop screen, Picture, Slideshow, Solid color and Spotlight Collection. The Spotlight collection or Windows Spotlight was only available to Lock screen and was a highly asked-for feature. If you may recall Bing search engine loads a new background and it's always refreshing to see something new every time you you load Bing's homepage. The lock screen of Windows 10 and 11 had this feature for so long, and Windows shows related information about the particular image on lock screen.
If put in simple words the feature automatically downloads Wallpaper from the cloud and saves it to your machine [hidden] and lacks the ability to save as per your choice.
How to Download Spotlight Collection on Windows 11
There is a place where windows save your spotlight collection files on your computer, by default those image formats are unrecognizable and simply do not have a file extension. In the backend these files doesn't have extension to protect the images from normal users. But there are many geeks out there always trying to get more on Windows 11, breaking restrictions and finding hidden features.
Open File Explorer on your computer (press Control + E). Copy and paste this location into the address bar. This would open up the folder location that Windows uses to store Spotlight images.
%USERPROFILE%\AppData\Local\Packages\Microsoft.Windows.ContentDeliveryManager_cw5n1h2txyewy\LocalState\Assets
All the Wallpaper in the current Window spotlight session will be there, simply copy and paste the folder on your desktop. Oen these files in Google Chrome Browser and from there save them as JPG to PNG files using the right-click > Save image as option.
But for this article, we will change the unrecognized files to JPG format so that your PC can recognize them and you can do whatever you want with them.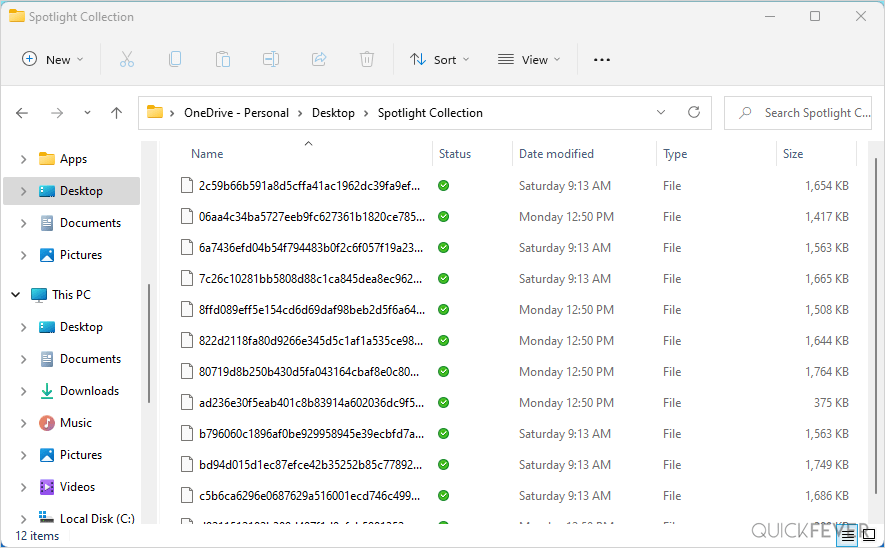 Press shift and click on any space while being on the folder and select Open in Terminal make sure that your default terminal window is command prompt.

…make sure that your default terminal window is command prompt, if it's not Command Prompt you've to manually open the Command Prompt, type cd (cd and then a SPACE), and drag the folder inside Command prompt area, this will paste the folder location into the Command prompt and finally press enter key.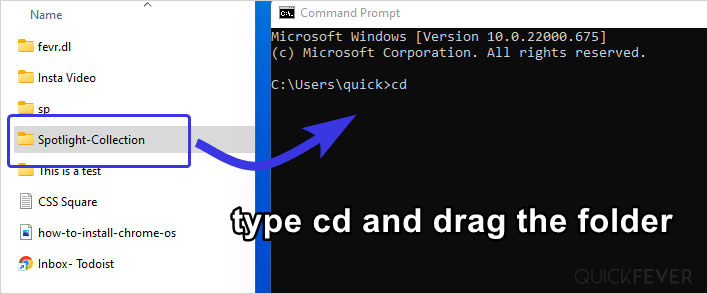 For Windows to recognize these files use the following command, this is a very general command that renames every file with a .JPG extension, now Windows consider them as photo files and you can open them just like regular images. Copy and paste the following command and press enter! Within a few seconds, all of the files will now turn into jpg files and you can now preview them.
ren *.* *.jpg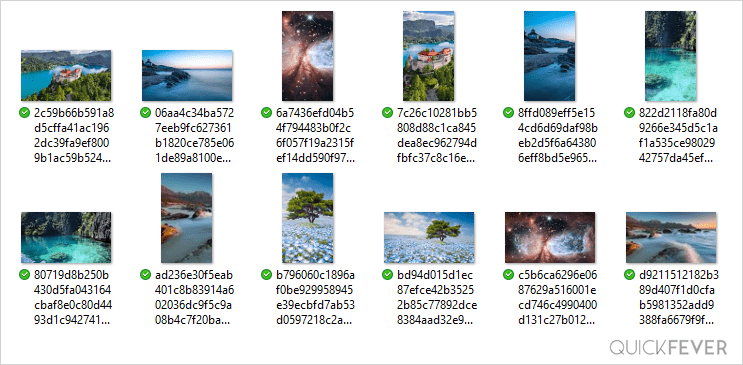 To set a desktop wallpaper right-click on any image and select Set as Desktop Wallpaper. If you prefer you can select the folder in the background customization to automatically change wallpapers after a certain period. There are a few more ways to get these images to your desktop wallpaper, one being the slideshow option present in Settings > Personalizaion > backdrground.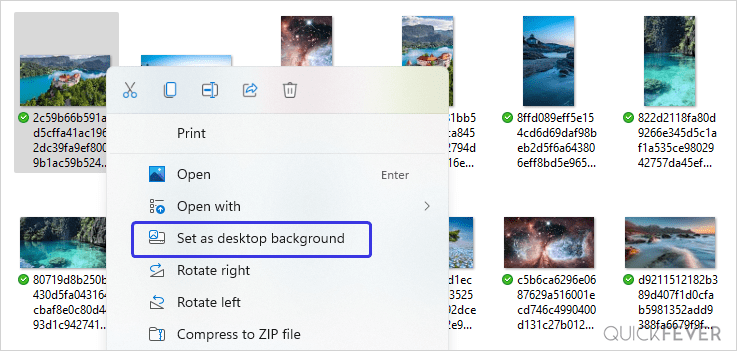 Once you have the Wallpaper on your computer you can set them on your desktop and lock screen using the background setting page. You can quickly open your windows setting page by pressing CTRL + I (more keyboard shortcuts).
How to use the Windows Spotlight feature on Windows 11
Spotlight collection as desktop wallpaper is rolling out for Windows 11 users. You should be able to see this option under Windows Settings > Personalization > background. Consider using the Windows Insider program for testing newer features before anyone.
As of now many users who updated Windows 11 through Automatic Updates have not been able to get this function. Users who have clean installed Windows 11 would see this feature. The same goes with Windows insider users, they got this feature already. A feature enablement update may push this feature to stable Windows 11 version users.
But you can always save the lock scree's Windows spotlight images to your desktop and manually set them as desktop Wallpapers.
Downloading spotlight collection images on your desktop
Both the spotlight collection and spotlight feature use the same download folder to keep the current Spotlight session locally available. This makes it easy to download spotlight collection desktop images on your computer, and later you can share these images to other devices such as Mobile and Tablets. If you know other ways to grab spotlight images, we'd be happy to hear.