We've listed everything you need to get started with Phoenix OS.
The all new revised Phoenix OS runs on the almost latest Android 7.1 which is something you won't get using other android Operating system for PC. Phoenix OS is an android operating system started with x86 machines support but now it supports 64-bit architecture computers as well.
Phoenix OS is a well-customized PC operating system based on Android. In this guide, you can get the download links for the Phoenix OS operating system for both 64-bit and 32-bit variants. The latest version of Phonix OS is based on Android 7, nougat 🙂
So your old computer can run android based operating systems such as "Phoenix OS" as well as other operating systems for computers. Phoenix OS can be run on desktops computer as well as laptops and supports both 32 and 64-bit architecture. The new Phoenix OS comes with an installer that makes it easier to install the operating system directly to your hard drive or only USB drive. In so many ways it feels and acts like the remix OS, but yes it falls short when in comparison.
Preparing for the Phoenix OS.
Like any other operating system, Get the Phoenix OS build to your computer. Now you can either install it on a USB to plug-and-play the Android operating system. ON the other hand, the installer version of it allows hard drive installation which uses Grub boot loader mechanism to list Phoenix OS along with your current operating system.
Helpful Guides
How to dual boot Phoenix OS: Easily install it to a USB drive or install it on your computer's hard drive along with Windows operating system.
Brief Review (Screenshots)
Phoenix OS 2.1
Phoenix just did it, the latest version runs on android 7.1, unfortunately, it still comes with some Chinese bloatware and some apps shortcut on the desktop (I tried to remove them but they'll come eventually). The overall interface is clean and nice efforts to make the taskbar more appealing.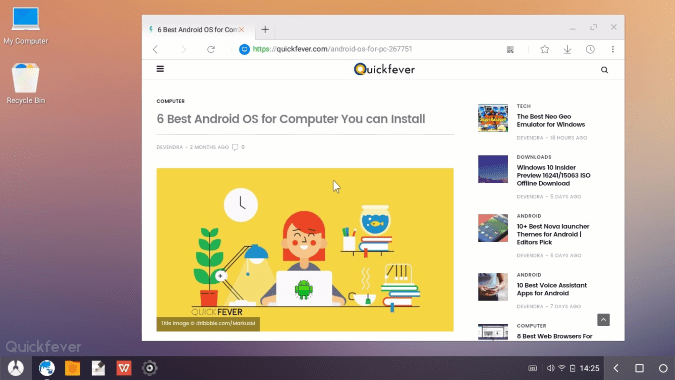 ---
Also, the power options are minimal.
---
Phoenix OS 1.2
At that time Phoenix OS was a choice of users who wanted to install a Remix OS similar operating system for their 32-bit machines. You can still download this version which is based on Android 5, use this guide to dual boot with Windows.
---
As Remix OS dropped the project, Phoenix OS in currently the only maintained android OS for the computer.
Download Phoenix OS for 32-bit and 64-bit