Roku's popularity has grown since it was introduced to provide users with access to online streaming media content. In contrast, Roku offers only a limited number of features for browsing. While it may sound like a downside, Roku is still an entertaining system.
Due to Roku's lack of a built-in browser to surf the Web, we may be able to give you some suggestions. Here is a list of the best Roku web browsers you can use.
Windows PC & Laptop: Chrome Browser by selecting the three dots on top right and selecting "Cast".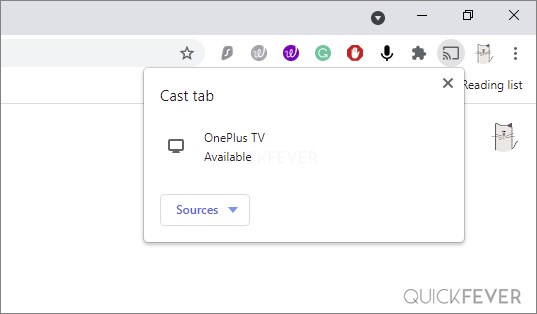 Mirror from Windows: Press CTRL + K to start Cast, it scans for all the available wireless screens such as smart TV. For this to work both Windows and SmartTV should be on the same Network. Since both Windows and Roku support Miracast there should be no problem.
Best Web-Browsers for Roku device
Moment of truth, Roku device does not come with a dedicated web browser so we're going to use some workarounds to get (screening/mirroring/casting) web browser interface from a mobile or windows device to Roku device.
Web Video Caster
You can mirror any Web browser from your PC or Mobile on a Roku device, experience browsing Internet on Roku.
The app has multiple features, such as browsing, video playback, and web browsing. You will not see any difference in the quality of the video streaming from an Android device through this application to Roku device as would be the case with Android Cast.
Steps to browse internet on Roku with Web Video Caster.
Install Web Video Caster – receiver on your Roku Device.
Now Download Web Video Caster for iOS at https://apple.co/2RCUMwW or Android at http://bit.ly/2TAdv9Q
Once installed, open the Web view Caster on your mobile. From the sidebar choose "Browser" and whatever you type will appear on your Roku Device. You can enter a website or any search term.
Step #1. Install Web Video Caster on Ruku device. (Because you're watching this page on a mobile or PC, this link won't help to install anything on your Roku device. Open Roku Channel Store and search for "Web video caster – receiver" then click on add channel.

Step #2. Get the mobile app of Web View Caster (note that you don't need the receiver version of the app on mobile), for android click here, and for iOS click here.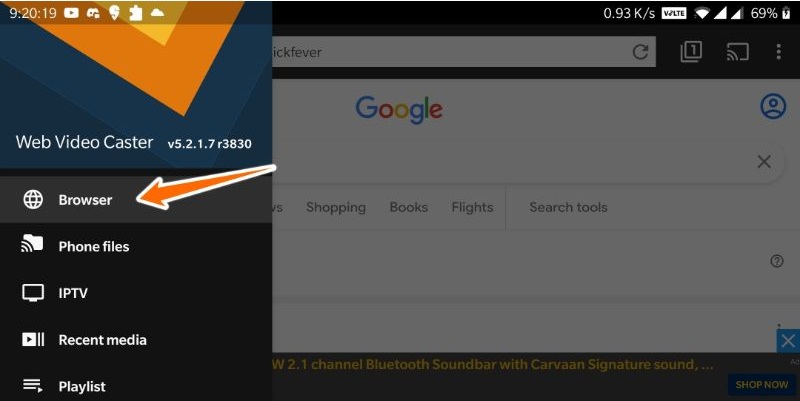 Step #3. Next Click on the Cast icon, after that, find Roku from the list and choose Add IP. You'll get an IP from the Web Caster Receiver's app on Roku device.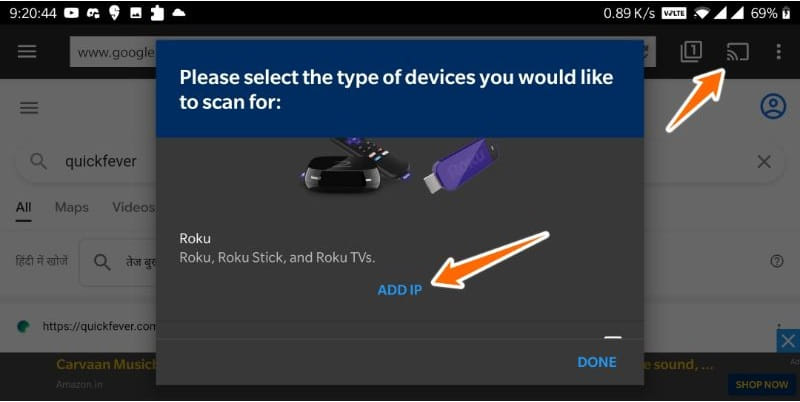 After you have successfully connected your phone to your Roku device, you will see the Browser page, and you can now access the Internet. Even though this isn't as fun as having a dedicated web browser, it's all we've got. Perhaps Roku will offer a web browser as part of its upcoming devices.
perks and cons
Better quaity and image doesn't blur out
Browser screen mirror to TV
An App mirror support with audio would be awesome.
Default screen mirror doesn't include voice.
---
Cast a Web Browser to Roku from Windows 11 & 10
The dumbest way to use Internet on Roku is by casting a web browser from a Windows 10/11 PC to Roku TV or other devices. This method reduces the resolution distortion, compared to casting from the Android Cast feature. Use Google Chrome for native Chromecast support.
Google Chrome
cast a Tab, Entire Desktop, and a video file.
Google Chrome comes with Chromecast support, Open Google Chrome on your Windows or Mac PC. Form the three-dot select Cast to start casting a Chrome Tab, further select from Tab, Entire Desktop, and Video file.
Chromecast is enabled by default on all Chrome Browsers.
On your PC or laptop, launch the Google Chrome.
On your browser's top left corner, click menu icon (⋮) select Cast. Right cick and choose Always show icon.
From now on, click the Cast Icon.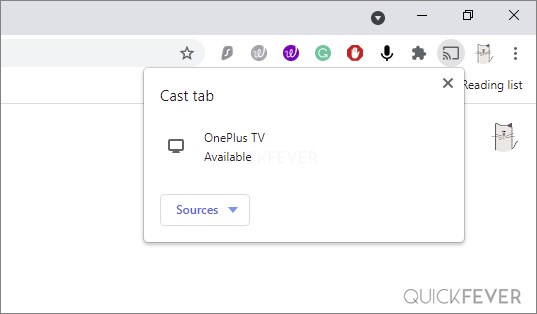 Select either a Tab or even better mirror entire Desktop screen.
Optional: When casting Desktop, you can use other browsers and it'll help you browse Interent on your Roku TV.
perks and cons
Easy to use
Supports whole desktop Cast
Built-in Chromecast support
Opera Browser and other
Opera on Roku simplifies web navigation. Opera is similar to a standard web browser which needs to connect streaming devices to a Windows computer. Use Opera to browse the internet and use the keyboard of your streaming device. Because of the lightweight nature of this browser and its fast engine, it responds to user queries in the shortest time possible. Using this browser as a VPN service allows you to access unlimited entertainment content and keep your digital identity safe at the same time.
Similar to Opera you can use other browsers such as Google Chrome and Edge.
Chromecast casting with Opera: Here's what you need to do:
Turn on your Chromecast and set it up. You can find more information about setting up here.
On your PC or laptop, launch the Opera browser.
On your browser's top left corner, click the O logo. select settings. The shortcut key ALT+P from the keyboard can also be used to access it.
On the settings page, select Advanced > Browser.
"Enable Chromecast support" can be found in the Settings menu. On the right side, there is a search bar.
Activate Chromecast by clicking the toggle next to "Enable Chromecast support". Casting has now been enabled in the browser.
perks and cons
VPN speed is insanly slow
Cast option is not enabled by deafult
*Install on the host device, installation on Roku device is not possible.
---
Xfinity
Xfinity is popular for on-demand TV and streaming.
There is an in-depth guide on the official Xfinity site to help you with setting things up.
Open Xfinity-channel from Roku channel store and select sign in.
It displays a six-digit code on your Roku,
Open xfinity.com/authorize on other device such as mobile or PC.
Enter the code from step 2 in step 3.
Sign in your Xfinity account with username and password, or create new.
You should see a sucess message.
---
Frequently asked questions about Roku and Browser mirroring
Which is the best browser to use for Roku
Roku doesn't have a web browser built-in by default but there is workarounds available.
Is it possible to install an Internet browser on a Roku?
You can mirror your Windows/Mac or mobile device screen to Roku device.
How can I get Google Chrome on my Roku
You can Cast Chrome's screen to your Roku device.
Does Roku have a web browser 2021
No, Roku doesn't introduce any browser in 2021 and remained silent on whether they have a plan for it.
What's more
12 Best Kodi Skins (Leia) Install right now