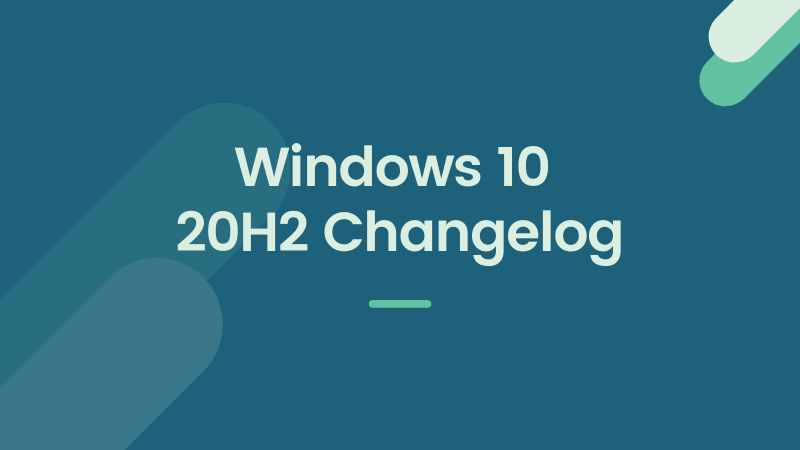 Today we help you get to know which features are coming in Windows 10 Fall 2020 Update, presenting you the Windows 10 20h2 changelog article.
Windows 10 version 20H2 will be the 10th update since the launch. Microsoft told in a recent blog post that version 2004 is a major update and 2009 will be a minor update, think of it as a cumulative update that ships with bug fixes, stability, and without any ground-breaking new features. Windows 20H2 (also known as 2009) will e the second update coming in 2020, first is already released and with the Insider program, it's possible to gather up a list of the changelog.
This guide will highlight new features and changelog as they make their way to the insider builds.
We'll continue to republish this article with new information, such as a changelog and new features.
New features in Windows 10 version 2009 (20H2, Fall 2020)
The name 20H2 simply means 2020, Half, and 2nd update of this year. People who signed up for Windows 10 Insider program and opted for Dev (Slow Rings) Builds are eligible to receive 20H2 Build 19042.330. Here are the new features, changes, and improvements on Windows 10 20H2 thus far –
Chromium-based Edge Browser: The first build released is 19042.330 which contains nothing but Microsoft Edge based on Chromium.
Touch Experience is improved in desktop mode.
Allowing PowerShell to change the system locale on Server Core platforms.
Fixed visual distortion when resizing in windowed mode or switching from.
Fixed lsass.exe to fail
Note: You can expect many features from the current Windows Insider branch since they are not version-specific, it means features from the development cycle may or may not make it to the final release. Talking about 20H2 expects no new features but the regular fixes to stabilize the version.
Windows 10 20H2 Expected features
OS Details
Public name: Windows Fall 2020
Codename: Unknown
Version: 20H2
Release: Fall 2020
Location in-use: icon in the taskbar can indicate if an app is using location.
Task Manager: New architecture column in task manager for each application running. (Released in W 2004)
Default Apps experience: You can now select the default app by each file extension type.
Linux File system support: MY PC can now show Linux WSL files.
Cleanup storage update: In 20H2, the Storage page is updated to show recommendation that helps you free up storage.
Volume control: If music is playing clicking the Volume now contains playback buttons such as Next, back, and pause.
Conclusion
Windows is always be the first choice for majority of people as it's very easy to use and everyone is already familiar the way it works. Many people might argue that it's not as stable as MacOS, but you also know that an Operating system partially depends on the Hardware and it's a tedious task for Microsoft to make Windows work on every machine regardless of machines capabilities.
It is completely fine if you use Windows, there is no point in arguing about which Operating system is better, for someone with an ancient computer Linux is the best way to get things done while coders and developers usually prefer MacOS.