The very first update to Windows 11 is version 22H2; also known as Sun Valley 2/SV2 update. Microsoft is all set to release this update somewhere in October 2022 but that doesn't mean you cannot use this version right now. There is no 22H1 version, but a 21H2 version and version 22H2 for this year. Version 22H2 serves as a major Windows 11 version and brings numerous new features, an updated start menu, system stability, and more (check the later part of this article for a broader list of changes).
Everyone who is on Windows 11 stable branch will automatically get this update for free on their devices via Windows automatic update. This article is for those who want to get their hands on the new Windows 11 version 22H2 without waiting. We will try to keep this article short as possible because we have a dedicated parent article on this topic.
RECOMMENDED BY OUR EDITORS
Download stable Windows 11, an always up-to-date guide, and download the latest version.
Check Windows 10 version 23H2 currently serving in Windows 11 insider preview program.
---
Quickly download Windows 11 22H2 ISO
Quickly download the appropriate version and follow the instructions, at the end you'll have a Windows 11 22H2 up-to-date ISO on your computer (original and 100% safe). The first two links download a zip tool that can be used to build ISO on your computer (also known as UUP to ISO method).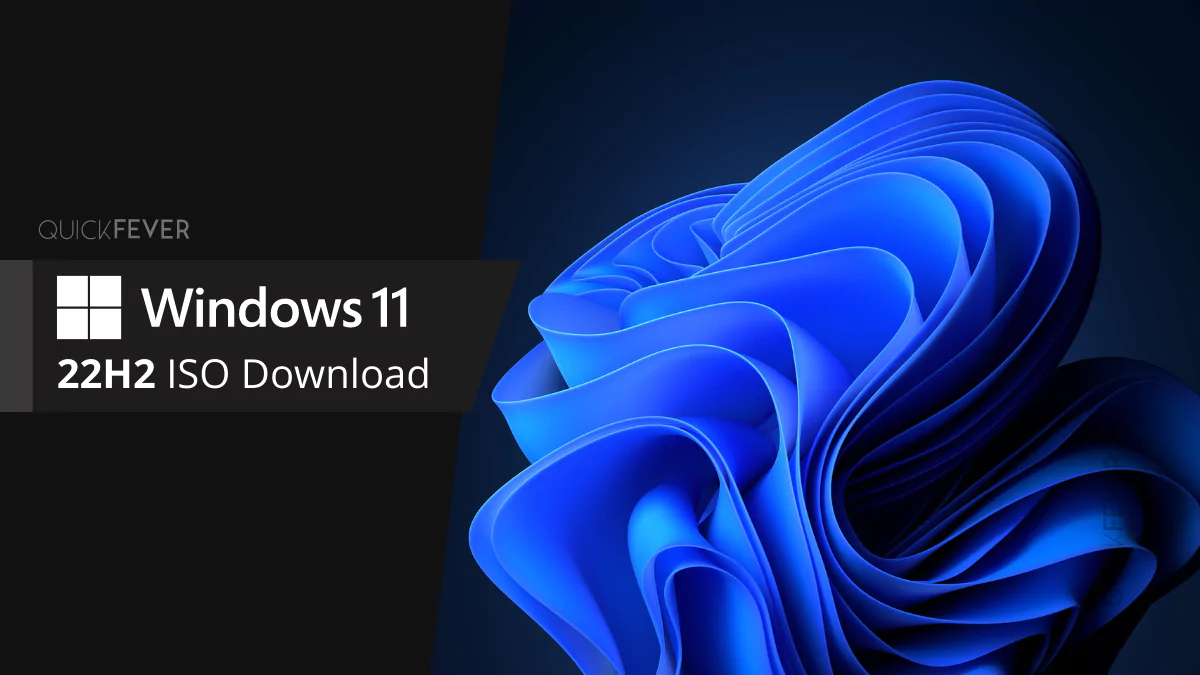 Very important: for detailed step-by-step instructions here, check this guide or watch this video.
Steps to build ISO on your computer.
Follow these steps and make your own original Windows 11 version 22H2 ISO using a Windows computer.
Download the appropriate version on your Windows computer.
Extract the ZIP file that you've downloaded.
Run UUP_download_windows.cmd file.
The tool will now download and turn UUP (unified update platform) files into an up-to-date ISO file of Windows 11 version 22H2.
Find the ISO file inside the same extracted folder, the size will be around 4 to 5GB depending on the type of architecture.
Quick Disclaimer: The tool is safe to use and our method is already used by thousands of people to build ISO on their computer.
---
Check if you are running Windows 11 version 22H2
When you're not sure about which version of Windows 11 you have installed on your computer? follow these steps to figure it out.
Press Windows + I key combination to open the settings
Then navigate to System > About to check your Windows 11 version.
There you see Version, it should be 22H2 when you want to stay ahead and want new features.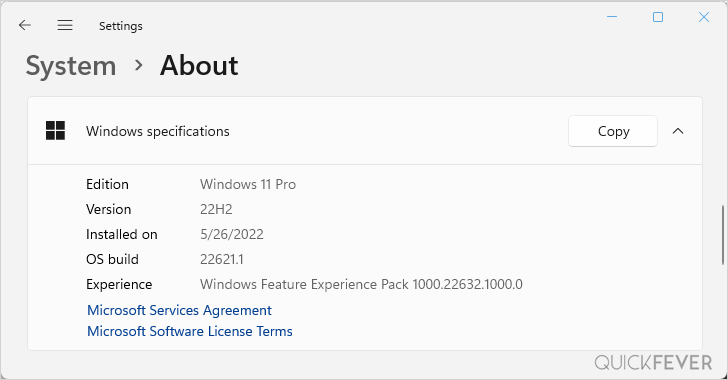 ---
Windows 11 22H2 Features
Windows 11 SV2 update features are following.
1. Start menu and desktop customization
Update 1. New folder option in the start menu, drop multiple apps inside a folder for convenience. More pins will show more app icons while more recommendations will prefer more recent documents and files in suggestion. The default option is in-between and a balanced option for the majority of users.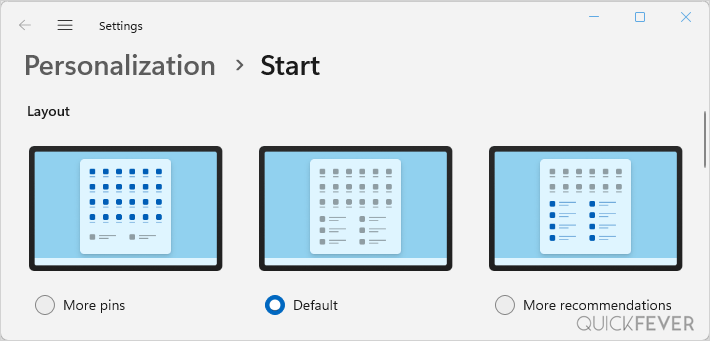 Update 2. Windows spotlight wallpaper for Desktop.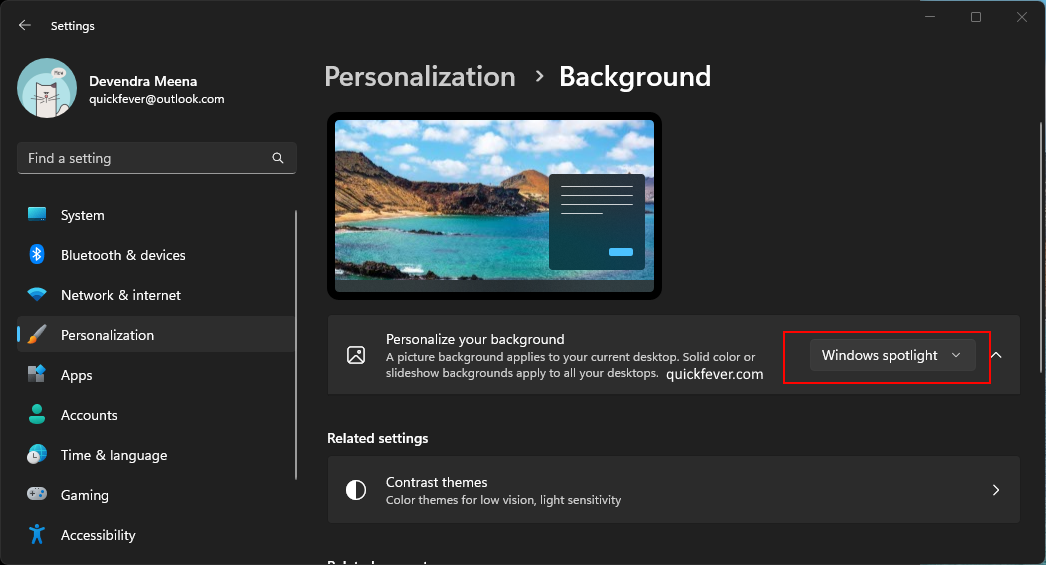 2. Improved Taskbar
The clock will appear on multiple monitors.
Alt + Tab follows acrylic design.
Drag and drop support is back to Windows 11.
3. Touch Gestures
A total of eight new gestures are released to enhance the way you interact with Windows 11 on your touch devices. In the spotlight, Swipe up to show the start menu. Swipe from the right to open the notification bar and swipe from the left to show Desktop Widgets.
5. Ctrl+Shift+C to copy file path while on File Explorer.
3. Printers & Scanners: more details about the connected printer on the settings page.
4. Microphone privacy settings are placed under the sound page.
5. Focus Assist: It is integrated into the notification center.
6. Voice Access: easily manage your PC with your Voice.
7. Windows Snap Layout: When dragging an app or Window, a snap layout appears on the top screen. Use it to arrange your open windows (rather than using 🪟+Arrow keys).
---
Windows 11 22H2 Release Date
If you're looking for the official rollout we would like to tell you that it is scheduled for August 2022, As of now, this update will arrive as the accumulative update to all Windows insider preview beta channel users. The build 22621 is said to be the RTM (released to manufacturers) so you can be sure that you'll be having a stable Windows 11 22H2 operating system if you refer to this article.
As we have told many times in our articles that Microsoft will offer an annual feature update for Windows 11 (meaning one feature update every year, followed by monthly stability updates). This year we will get Windows 11 22H2. For your information, it will come with 24 months of support For home & pro editions. Enterprise and education edition gets 36 months of support.
Windows 11 version 22H2 is completed in May 2022, The public build could be released in September or October month. You can wait as usual for the official rollout or you can manually update to Windows 11 22H2 which is quite stable at this point in time.
Thank you very much for your support We know that you like such articles on our website. You can comment your thoughts in the comments section It would mean so much for us.
---
Directly Install Windows 11 version 22H2 without USB
What is required?
A computer already running on Windows 11 operating system.
So if you have carefully followed the article you should have the ISO file on your computer.
Select the ISO file and right click to open in File Explorer this will mount the ISO and you can access the files. Open the mounted disk there you will find a setup file run this file and Windows 11 setup will not start.
An initial check up will tell if you are able to upgrade to this version. If everything goes correctly, you should be able to choose if you want to keep your files in settings if you want to do a clean install you want to select keep nothing option. Remember this will move your existing Windows file to windows.old folder once the new version is installed
For the time being use this guide.