Microsoft delayed the spring update by a few days as they have seen an increased number of BSOD in the build. The first stable version was 16133, and recently Microsoft released a quick fix so that people can download the spring update and install them on their computer. The version is Windows 10 "1803" for this Redstone 4. The work of Redstone 5 has already been initiated, and you can join that as Insider preview program.
There are many ways you can get the Windows 10 1903 version ISO so that you can burn it to a USB drive and install Windows 10 as fresh and clean.
How to get the Windows 10 May 2019 update before anyone else.
You need these following files.
UUP files of Windows 10 (any version).
UUP to ISO tool (Decrypt multi / uup converter wimlib). For Method 2
RUFUS (to make bootable USB).
Method 1: Easy Way
Visit any of the UUP site mentioned here.
Adguard
Search your build version on the site.
Choose language > Edition > Download usign aria2 and convert.
It will start downloading a ZIP file, extract the tool by right-click and select Extract All option.
Open the extracted folder, run aria2_download file, this script is an automated script that will download all the files using the Aria2 download program. This is necessary to download multiple files at once.
This will take some minutes, use a high-speed internet connection. you can see the progress inside the command prompt window and all the files that this tool download is from Microsoft server, so yes there is no involvement of third-party files.
Once done, this script will execute another tool that you can find inside the same folder. Run the UUP-Convert to start converting downloaded files to Windows 10 ISO.
Note: Latest version will result an ISO, making this process more automated.
You're done.
Method 2. I'll prefer manual way
Grab UUP files from Microsoft and create ISO manually.
UUP files are simply unified update program, for a whole Windows 10 operating system you might need to download 28–29 files and later using a tool you can convert it to ISO.
This might look very complex as you might have been thinking, why won't just download an ISO and do the work. Microsoft didn't start providing version 1803 on their website, as of the time of writing only Fall creator ISO are available through the Website.
You can sure go check twitter, and you will find many 3rd party ISO links, but you can not take it for granted that those files are totally safe and no virus or malware is in them? You simply should not trust them. That's why we're going to teach you simple method to download UUP files of the Windows 10 1803 version (April 2018).
Where to get the UUP files? These are the options.
Use a tool to fetch and download UUP files.
Use a UUP dump site to get UUP files to download links such as uup.rg-adguard.net or UUPdump.ml
(New) Use media Creation tool to get 1903 ISO.
Let's take this as an example; there are a few UUP dump sites that can provide UUP links for all the latest Windows 10 (final) and Insider preview version. So you can get those UUP for all the new Windows 10 builds as soon as Microsoft releases them.
This is a UUP dump site, let us choose the Windows 10 spring update / 1803 version, x64 architecture and Single English language.
You can copy the Links and batch download them using a download manager like Internet Download manager on Windows.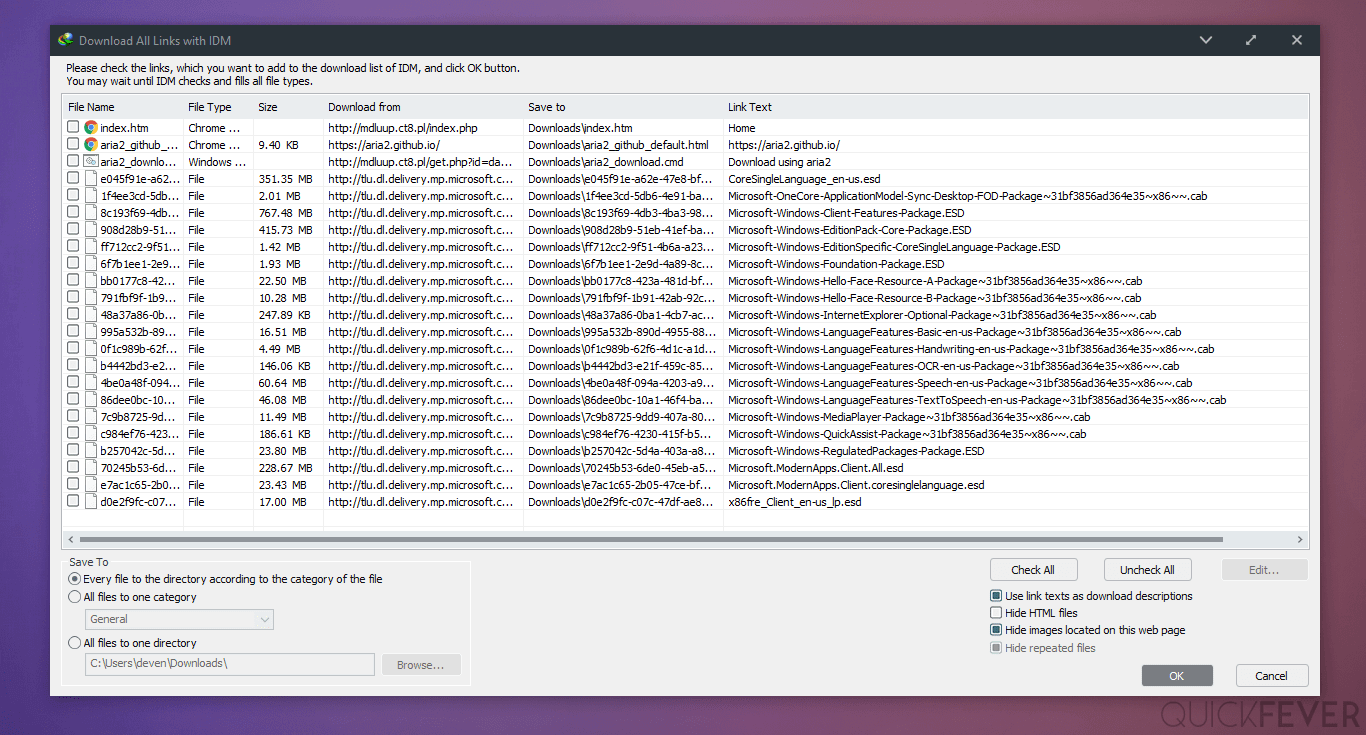 For example make a folder call it Windows 10, inside it, make a new folder to keep all download UUP files. And download the uup convert tool and have it under the Windows 10 folder, later you need to extract the tool using an archiving tool like Winrar or WinZIP.
Once you have all the UUP files, it's time to rename them. You will find a rename (.bat) file on the same page where you've copied UUP download links. Move the rename (bat) file to the UUP files folder and run it, no need to run it as admin unless you do not have those files under the root folder of the system partition.
Note: Also, SHA code is also given on the page, you can match them with the files you just downloaded to avoid any error caused by a corrupted file.
Cut all the UUP files and paste it to the UUP folder inside the tool folder.
This is how the tool folder looks like,
UUP to ISO
There is a tool goes by the name WimLimb, you can download from here and extract on your computer. Inside it, there is a "UUP" folder you need to copy all the UUP files to the folder so that the tool can read them.
Open the Convert-UUP file, and you've some options.
Create ISO with install.wim
Create ISO file with Install.ESD
ESD option will create a smaller ISO file because the compression is higher and the file is not encrypted. Follow the on-screen instructions, and it will take half an hour or so to complete the process.
Once the ISO file is ready, you can use any tool to create bootable USB or DVD.
Happy latest Windows 10.
Special: Use media Creation tool to get 1803 ISO.
Go here to get the Media Creation Tool: https://www.microsoft.com/en-us/software-download/windows10
Then download this: (points the Media Creation Tool to the latest 1803 ESD files) http://abbodi1406.square7.ch/ESD/products.cab
Place both files (the .cab file and the MCT) into the same folder, then run this from command line in that folder: "MediaCreationTool.exe /Selfhost" (without quotes)
Or you can download and run this batch file for the automated process.
Now you can use the Media Creation Tool to create 1803 ISO files instead of 1709 ISO's