Xiaomi Pad 5 vs Xiaomi Pad 6: A Comprehensive Comparison
In the tablet market shows, Xiaomi established itself as a budget-friendly brand offering good features at a competitive price. The recent release of Xiaomi Pad 6 is powered by Snapdragon 870 does it really do justice as a successor to Xiaomi Pad 5 and what features are there in the newly launched Pad 6, so will compare these two Android tablets to help you make a decision.
| Features | Xiaomi Pad 5 | Xiaomi Pad 6 |
| --- | --- | --- |
| Design | Slim profile, premium metal body | Bezel-less display, aluminum frame |
| Display | 11-inch LCD, 2560 x 1600 pixels | 2.8K, 11-inch LCD, 2880 x 1800 pixels |
| Performance | Qualcomm Snapdragon 860 chipset | Qualcomm Snapdragon 870 processor |
| Camera | 13 MP main camera, 8 MP front camera | 13 MP main camera, 8 MP front camera |
| Battery Life | 8,720mAh battery | Bezel-less display, the front camera is aligned vertically. |
| Software | Runs on Xiaomi's MIUI 14 interface | Runs on Xiaomi's MIUI 14 interface |
| Additional Features | Bezel-less display, the front camera is aligned horizontally. | Bezel-less display, front camera is aligned horizontally. |
| More | – | 4k Type C Output, Mirror & Control Android. |
| Output | USB 2 | USB 3 (Fast speed in File Transfer and USB Tethering) |
Why you should opt for Xiaomi Pad 6?
A. 4k TV Output through USB 3
The Xiaomi Pad 6 features USB 3 output So as a result it can do a 4K output to your TV.
This device supports Wi-Fi 6 so you can easily connect to any Wi-Fi 6 network and then connected to a computer using the USB tethering feature that way it allows you to go beyond the typical 425 MBps connection speed, we were able to achieve an 825 Mbps connection speed to our PC.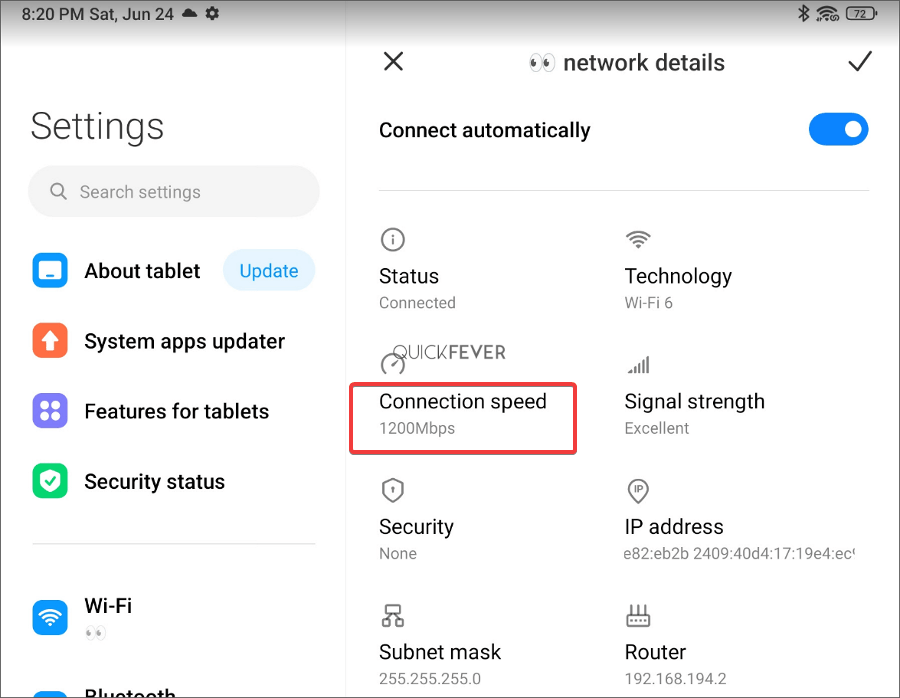 the speed can go up to USB 3 output on the Xiaomi pad 6 allows better speed when doing file transfer and USB tethering, Xiaomi pad 5 is capped at 425 MBps just like the 13 Pro.
B. Performance
The Xiaomi Pad 5 is powered by the Snapdragon 860, which is a fairly average processor. With an Antutu score of 500,000, it is capable of handling your daily tasks without lag. However, recent user reports indicate that the performance of the Xiaomi Pad 5 has become sluggish. We also own a Xiaomi Pad 5 and can attest to this. While the performance hasn't significantly degraded, basic actions such as swiping up or toggling between apps now feel sluggish. We're unsure whether this is a deliberate move by the MIUI software, possibly underclocking the CPU.
On the other hand, the Xiaomi Pad 6 features the Snapdragon 860, which is worth mentioning despite being a 2-year-old processor. It is considered one of the greatest Snapdragon processors ever made, with an Antutu score of up to 700,000.
C. Connected Phone Feature
You can directly control your Xiaomi 13 Pro and other Xiaomi phones from this Android tablet. All you need to do is sign into your Xiaomi account on both devices. With the Xiaomi Pad 6, you can now control and view your devices in real time. Of course, both devices need to stay within range as it uses a Bluetooth connection. The best part is that when you're controlling your Android phone's screen, you can simply drag and drop a file to copy it. I mean, this is really cool!
The Not So Good Part about Xiaomi Pad 6.
1. Processor and avability
In certain countries, only the Xiaomi Pad 6 is released, which limits you to the Snapdragon 870 processor that it comes with. If we talk about the Xiaomi Pad 6 Pro variant, which features the Snapdragon 8 Plus Gen One and an amazing camera sensor, you're out of luck, my friend. However, we can't complain about the Snapdragon 870 because we have another variant with a superior processor, but unfortunately, it's not available worldwide. Even in India, they have only released a base variant with limited storage capacity.
2. Battery Life:
The battery capacity remains almost unchanged, but we have observed that it is quite sufficient for an Android device with the Snapdragon 870 chipset, which is highly power-efficient and ensures smooth performance without any lag or stuttering. However, some high-end games may not perform optimally. When using the device for entertainment purposes, you can expect it to last for many hours before running out of battery. The included charger has a power output of 33 watts, but if you have the compatible 120-watt charger that comes with the Xiaomi 13 Pro, you can use it to rapidly charge the tablet. In a nutshell, the Xiaomi Pad 6 supports both a 67-watt charger and a 120-watt charger, enabling rapid charging.