The majority of machines run Windows 10 on 64-bit architecture, which makes 32-bit apps run quite slower compared to their 64-bit versions. This is why if your Windows is 64bit, your preference should be using 64bit software; this post will guide you through the process to check if your installed program is 64-bit or 32-bit.
You may ask why? 64-bit applications can access more than 4GB of memory (RAM) and give the best performance. Abundances developers do release their apps in both architectures, eg. Winrar, 7Zip, Google Chrome. You can run 32-bit software on 64-bit architecture but not vice versa.
What's 64-bit and 32-bit (x64 & x86) How to determine which you have?
When you install 64-bit Windows on a 64-bit architecture machine, you can run both 32 and 64-bit applications on it. Running 64-bit on the same architecture will allow the app to use abundant resources, while in my opinion, there is no such big performance gap between 32-bit and 64-bit versions unless the application is using 3 or 4GB of RAM.
Knowledge: 32-bit refers to x86, and 64-bit refers to x64.
Say that you want to ensure all of the application is 64-bit, or just out of curiosity you want to check if installed programs are 32-bit or 64-bit is pure, please keep reading.
Can I upgrade 32-bit apps to 64-bit?
Technically Yes, you need to find out if the particular app is also available in a 64-bit version. Visit their official page, and most of the time, you have an option to select between 32-bit and 64-bit variants. Small tools (in size) don't make a difference in performance, so keep using them, you're good to go. While resource-demanding software like Photoshop, the Video editor should be 64-bit on a 64-bit machine for best results.
How to switch? you need to uninstall the installed 32-bit version of the app, download the 64-bit variant, and install.
KEEP IN MIND. This article is useful to tell if the installed programs are 32-bit when you're on a 64-bit Windows 10. So if you're running 32-bit Windows, this article is not for you, as you can only 32-bit applications.
Check if a program is 32-bit/64-bit via Task Manager
First, I use the latest Windows 10, which is version 2004 (at the time of writing). Teach yourself to build the latest Windows 10 ISO. The Task Manager in Windows 10 can help you check whether a running app is 32-bit or 64-bit.
Step 1: There are multiple ways to open the Task Manager; our favorite is Right-clicking the taskbar and selecting Task Manager. (taskmgr; command prompt junkies).
Step 2: If this is the first time you are opening Task Manager, click on More Details for the Expanded version of Task Manager.

Step 3: Switch to Details tab, right-click on a column header (see screenshot), click on Select Columns and then tick Platform from the list.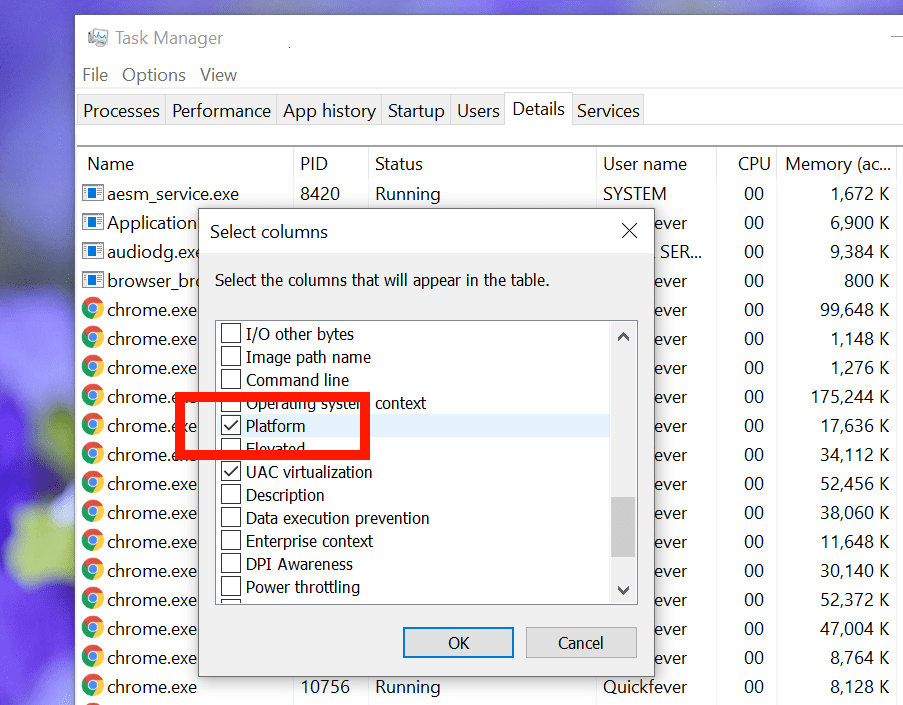 Older Windows 10 versions have this column named Architecture.
Step 4: Open any software, to check it's architecture look at the Architecture column to find out. If it says 64 bit which means it's a 64-bit program, otherwise 32 bit.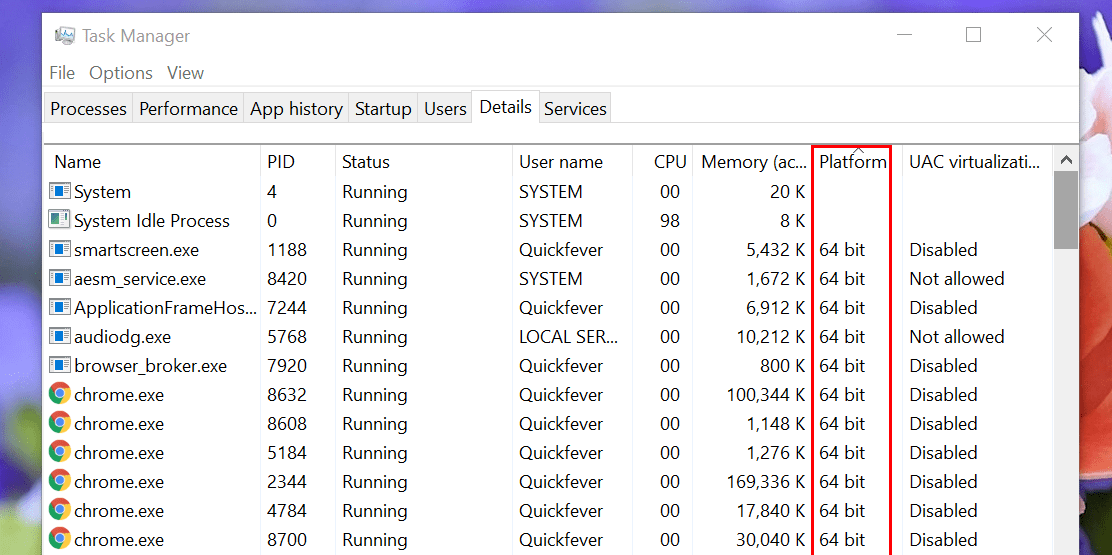 The easiest way to check whether application is 64-bit or 32-bit in Windows 10
Open the File Explorer, press Windows key + E and click on MY PC, navigate to Local Disc C: (or where you installed Windows).
You will see these two folders, Program Files and Program Files (x86) folders. The x86 folders will have all the 32-bit installed applications, Open the folder and see for yourself.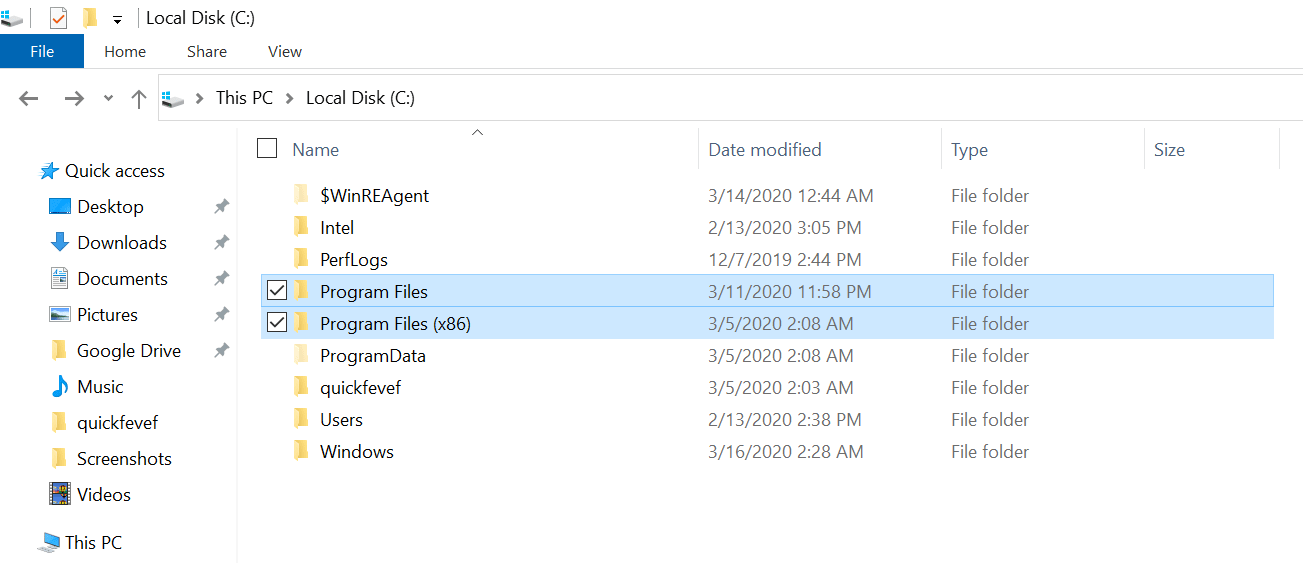 As you can see I've installed Chrome and Internet Download manager both are 32-bit so they went here. Need more applications, check out our best and essential Windows 10 apps article.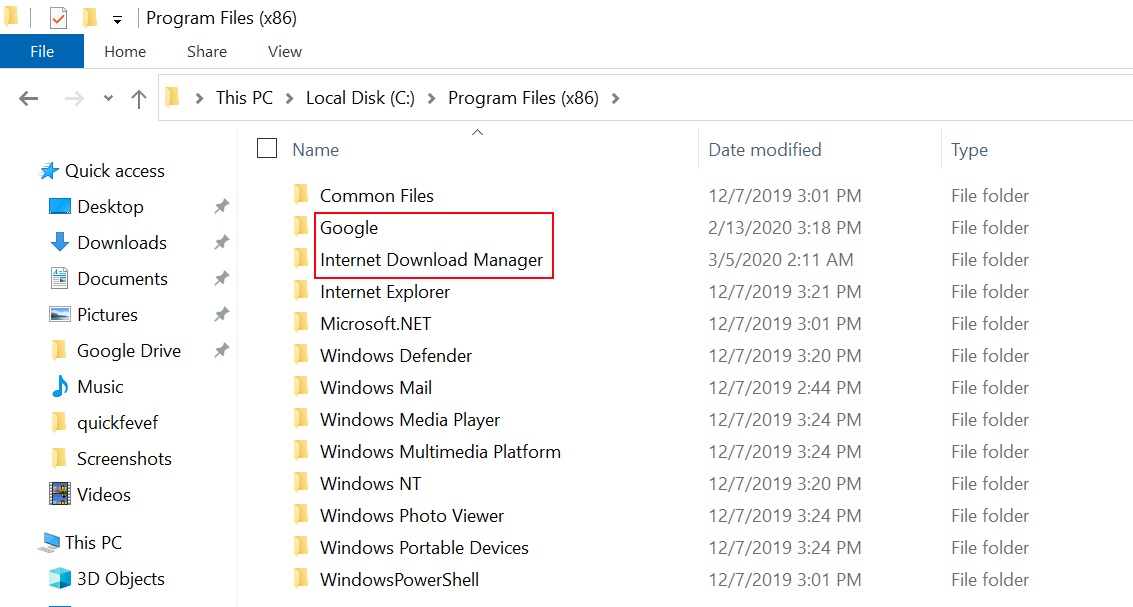 Q. There is no x86 folder: A. It means your Windows is 32-bit.
What's more
Windows 10 recently received a big overhaul especially in build 19041 (version 2004), at this time they are in the beta phase, but hey you still can test them using WIndows 10 insider program (which is free). hop on to this guide to get started with the upcoming Windows 10 features.
There is more to why you should use 64-bit machines, especially if your purpose is to play games. Games like Apex Legends, PUBG, and other massive battle royale games use more than 8GB of RAM; as of now, you know the limit is 4GB RAM for 32-bit games. All the new computers come with 64 architecture, so you better start using the same architecture apps, for sure some applications are available in 32-bit, like small utilities to make bootable USB, there is nothing wrong with them. The conclusion here does not to be afraid to use 32-bit applications, and when possible, your preference should be 64-bit over 32-bit apps.