You can say whatever you want on the Internet, it can be readily available to you. To download a file from the Internet, two things are important, first is a search engine and the other is a web browser. But often we forget the third thing which is important is a download manager, although almost all web browsers is able to download files, but a good download manager can be quite beneficial in terms to download files from the Internet.
You hate downloading files using your web browser, don't you? Even if you don't, you must, because a dedicated download manager can speed up the process. Then the question arises — which is the best download manager for Windows? Do you have the same question? Don't worry! In this article, we will present a few of the best Windows download managers.
Best Download Manager for Windows
I have tried a lot of download managers in the past, both free and paid. In the light of such experiences, I am presenting seven of the best ones available on the web.
1. Internet Download Manager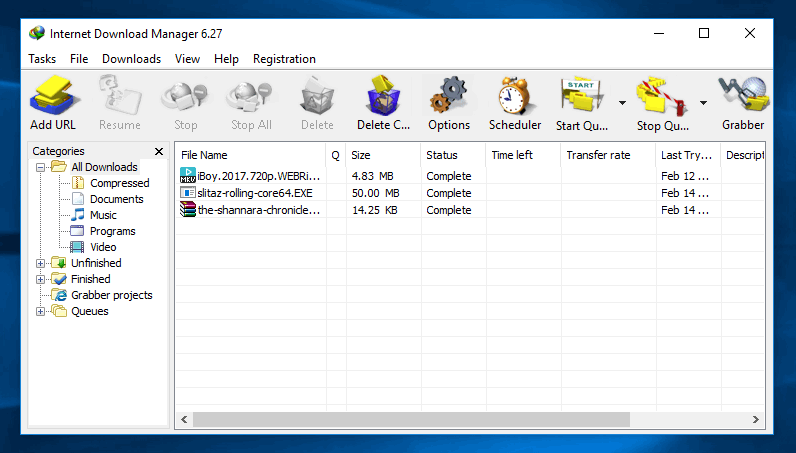 I couldn't resist giving Internet Download Manager aka IDM the first position. Yeah, you have to pay a small amount to get a license to use the software. If you want the speedy downloading process and don't care about the price, you must go for IDM. Just like most of the managers today, it splits the download into eight parts and then combines the file upon finishing it. For the same reason, we get the maximum speed. IDM has no issue in getting attached to all the modern browsers. And, it automatically detects a downloadable file on a web page and asks you whether you want to download it or not. The scheduler helps you set the time to start the downloading process for a specified file. IDM offers 30-day free trial, and you can purchase the product from $9/year.
2. Download Accelerator Plus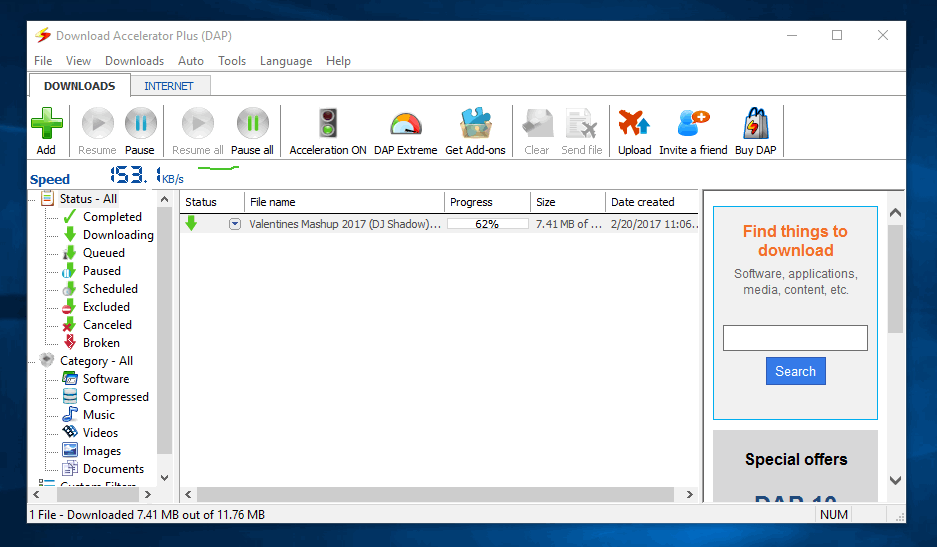 Before I came to know about IDM, Download Accelerator Plus aka DAP was my favorite. It brings all the features needed for an ideal download manager. The simple user interface makes it easier for users to begin downloading without going through a series of complicated steps. One of the best features I like about IDM is the option it gives us to play a video even before finishing the download. And, it can convert YouTube videos right away into MP3s. So, you can kick out YouTube to MP3 services you use today.
Unlike IDM, you can get DAP in two different versions; both free and premium. Both the versions include a powerful download engine that finds multiple sources to grab the same file.
3. Orbit Downloader
Another full-fledged download manager in this list is Orbit Downloader. Chances are you heard about this one in case you researched about best download manager for Windows in the past. Do you have an older computer or a system with low specifications? Then Orbit Downloader is the best one you should pick. It needs only 64 MB RAM and 6 MB disk space to run. The software has all the necessary features of a typical download manager. And, it has RapidShare support that makes it viable to catch the links from file hosting services. The latest version comes with tags, which help you group a set of download processes.
4. JDownloader
Are you an open-source software lover? Then, you must not look elsewhere, but JDownloader. Unlike the previous download managers for Windows mentioned above, this one doesn't have a premium version.
Maybe you are skeptical to try JDownloader solely because of the open-source nature. Don't worry! On the contrary to what you think, it has a handful of impressive features. You can customize the look and feel of the interface with the help of themes. Moreover, JDownloader gets you a new IP in case the current address prohibits you from achieving the maximum speed for a process. The best feature of JDownloader is around the clock support. Even premium tools don't offer that.
5. Free Download Manager
Are you looking for an IDM alternative that is available for free of costs? Then, you can stop your quest right now. Free Download Manager aka FDM is the best free alternative to IDM. Just like what IDM does, it stores different types of files in separate folders, making the management easier.
Once you start using FDM, you can uninstall your Torrent clients because the former has full support for it. The speed of the torrent download is on par with other services out there. The download manager has an in-built media player to play media without opening a third-party tool. In case you feel any stutter while using the full version of FDM, you can go for Free Download Manager Lite. It was developed in such a way to run on computers with low configurations smoothly.
6. FlashGet
The next one in this list is another completely free download manager. FlashGet uses the least system resources and provides many useful features. The interface itself is simple and straightforward. So, you won't fumble while you try to download a file using FlashGet. It supports almost all the major file transfer protocols. And, you can change the interface style with the help of skins that are readily available on their website.
Two add-ons are also available that helps you control FlashGet remotely. The first one kick starts download process on a remote computer with an email (given that the remote computer has FlashGet downloaded on it). And, the second one involves the complete control of FlashGet remotely.
7. DownThemAll
Maybe, you are not interested in installing complete software for the sake of downloading files. If you are such a person, you can go for DownThemAll. It is not a desktop tool but a Mozilla Firefox extension. No, DownThemAll isn't comparable to a complete download manager. Still, it enhances the downloading capabilities of Firefox. You will have improved speed and customizing capabilities as well.
Are you a Chrome user? Chrono Download Manager will satisfy you then. It doesn't matter whether you are a Windows user or not when it comes to browser extensions.
Wrapping Up
So, which is the best download manager for Windows? If you ask me, I will cast my vote for IDM. DAP and FDM come later. If you give preference to customization, you should go for JDownloader or FlashGet. For browser extension lovers, DownThemAll (Firefox) and Chrono (for Chrome) work well.