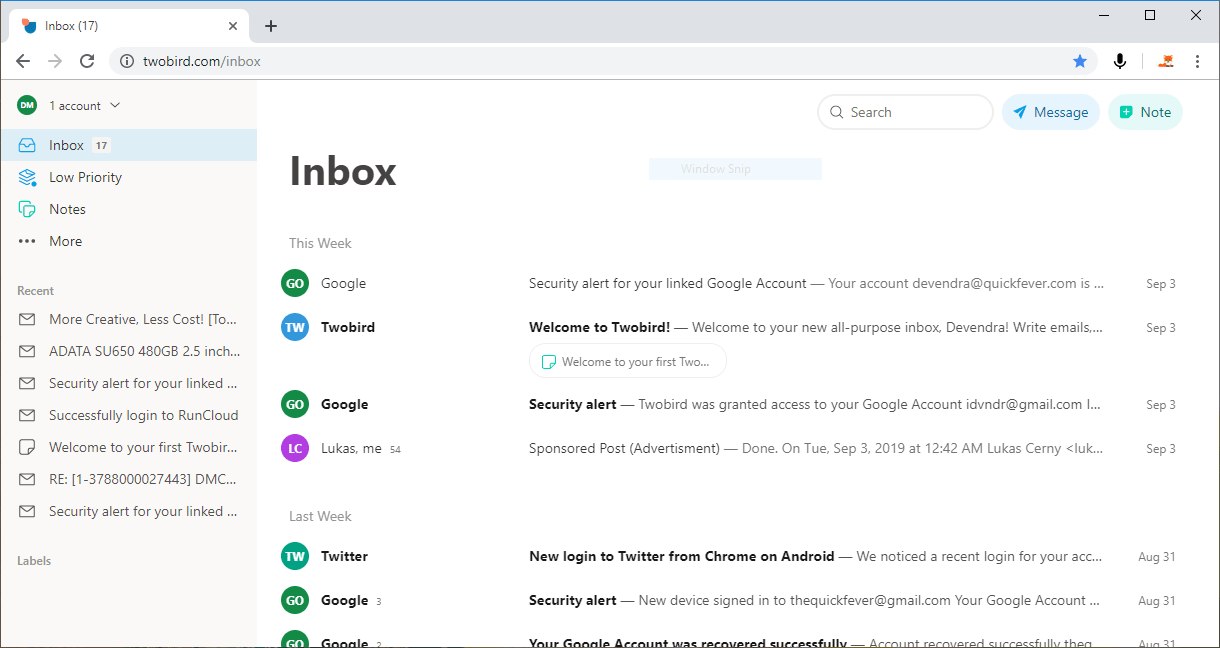 Gmail is indisputably the best email client which is available in over 72 languages. Gmail has over 1 billion users as of February 2016. The user-friendly interface, services, being it free and for so many reasons, we love using Gmail and the user count of Gmail is increasing day by day. Despite, Gmail is the best email service provider and offers everything that a user wants, it's always good to not to completely rely on just one thing. In the recent past, the internet was full of news that Gmail will stop working on Chrome 53 or lower versions by the end of this year.
If something similar happens again and Gmail stops serving people suddenly, then what do you think will be the best alternatives to Gmail?? In this very article, we are going to talk about such Gmail alternatives. More or less, these email clients offer almost the same features as Gmail and come out really handy when (for any reason) we don't want to use Gmail as our email client. So without wasting our time, let's head over to our list of top 8 best Gmail alternatives.
Best Gmail Alternatives to check
Below, we have mentioned best Gmail alternatives but the list doesn't end here. There are so many other email clients which come out really handy when we need to switch from Gmail to other email clients.
The list below is in no particular order. You can go through all the email clients one by one and decide which email service is best for you when you do not want to use Gmail as your email client.
In the list below, along with best Gmail alternatives, I have mentioned few of their key features. Have a look at them and decide which Gmail alternative you would like to go for!
---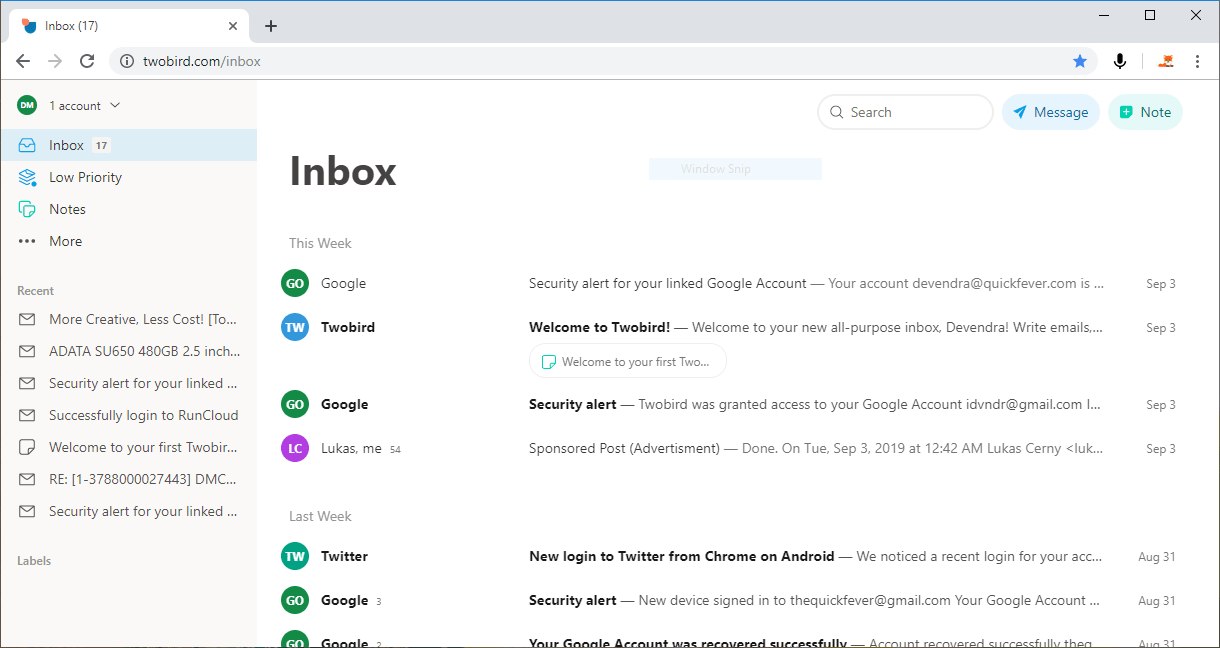 0. TwoBird -A Gmail Client
Before you move from Gmail, maybe you should check TwoBird – a Gmail client along with Notes. TwoBird offers a clutter-free environment and you can add multiple Gmail accounts. What's more exciting about this is Dark mode and apps for mobile. The desktop client is available for both Windows and macOS.
The UI is soothing, and you can snooze, mute emails very quickly. it currently supports Gmail and as per their site, they may allow connecting other email accounts in the near future.
If you are a Microsoft user, Outlook can be one of the best Email clients for you. For a Microsoft user, I don't think there is any need to tell the usage and the features of the Outlook. Outlook is the full-fledged email service provider and offers to its users the most simple interface, creation of custom emails, calendaring and many more features. And the best part is, you can integrate these tasks all in a single app.
Also, it comes pre-installed in Windows 10 computers so you just have to setup your account in order to manage emails. Moreover, you can also add another email account to the Outlook app.
If you have planned to switch your Gmail service, then you can go for Zoho as well. It is also one of the best Gmail alternatives. Zoho provides 5 GB of free storage space and 10GB of document storage ability. Moreover, Zoho Mail is the best Email clients for business users. It allows you to set-up your own Email address if you already have a domain name for free, while you need to pay some good amount when you wish to create a business email on other email clients. Here is a good deal, the starting plan of the business level features are totally free, meaning you can create a custom email address for free.
What if you could set a custom email address with your existing website. For example for this website I've created a custom email address "devendra@quickfever.com" that looks both extensive and professional compared to some known Username@gmail.com/ However, there are a few ways you can get the custom email address Including your web domain name. one such way is to use Zoho email and attach your domain there to create a custom email address including your domain. the starting plan is free and you can even attach the custom email address to work with your Gmail account using the POP/ SMTP settings.
Yahoo has been one of the very first email services in the recent past. If you are not a rookie on the internet, then you must be familiar with the yahoo email services.
Yahoo offers 1 TB of storage space. Along with that, Instant messages, Syncing of your Calendar and many more features are offered by yahoo. So if you are really looking for Gmail alternative, you can think of yahoo!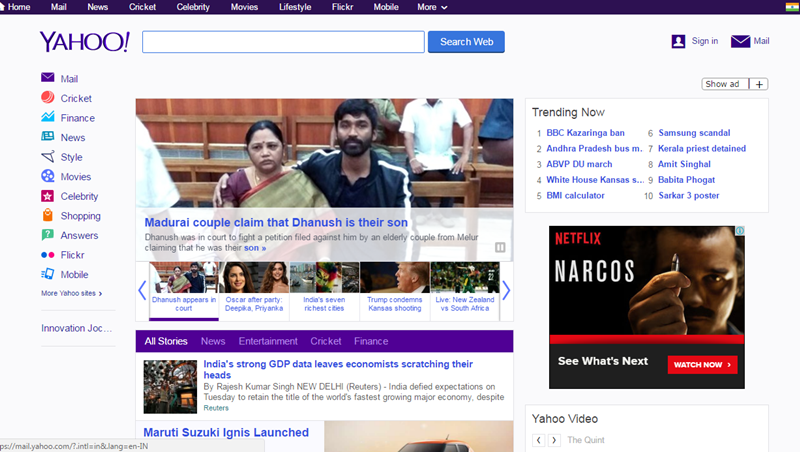 Unlike above-mentioned email services, Mail.com provides unlimited email storage. Apart from that, it also offers spam filters, an antivirus scan, a mail collector, mobile services and there are several other features in the list. Mail.com is a free email service that lets you choose from more than 200 domains. So if you are not satisfied with the email service you have been using, you can switch to the Mail.com without giving a second thought.
As a Gmail alternative, iCloud mail is also not less than any above-mentioned email services. iCloud Mail is the Email client that works on an Apple Email ID. If you are an apple user then, iCloud mail is definitely worth giving a shot. iCloud mail comes with 5GB of free storage space and an individual file upload limit up to 20 MB. In short, iCloud is an appealing mail service for the apple users. So if you are an apple user, you can give a try to the iCloud mail service.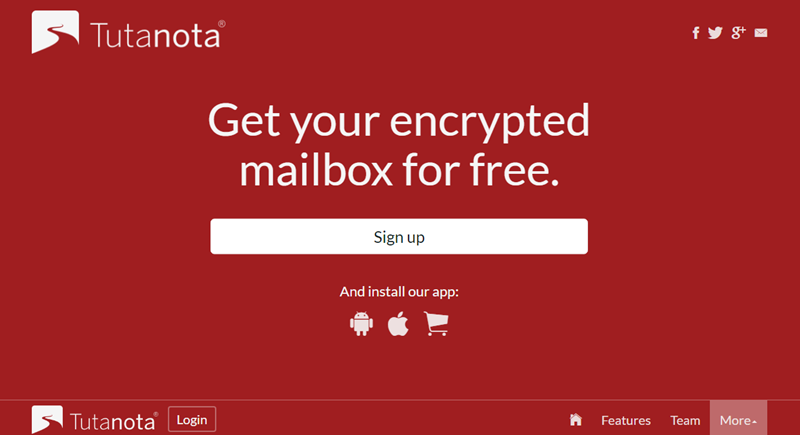 Tutanota is a Germany-based Email encryption service. Tutanota provides completely secure email service without becoming too complicated. This email service provides end-to-end encryption of Emails.
In other words, all of the emails sent or received between Tutanota email addresses are end-to-end encrypted. We won't recommend you using Tutanota just because you want to switch from Gmail but also if you are security conscious and want a secure email client, go ahead and try Tutanota once!
Yandex can also fit your needs if you are looking for any Gmail alternatives. This email service allows its users to easily organize their Emails into different folders and categories. This email service provides maximum upload limit of 30 MB per file as attachments on their Email clients. With Yandex, you can easily customize and manage your contacts and emails. Along with that, it also provides mail security. You will have a good experience if you choose Yandex as a Gmail alternative.
Last but not the least. AOL mail is also one of the best mail services. If you have planned to switch your mail service or looking for any Gmail alternative, then you can go for AOL since it has been also popular once due to its features and specifications.
If you are concerned about the storage provided by AOL, then let me tell you it provides Unlimited Email Storage capacity and with a maximum file attachment limit of 25 MB.
Which Gmail alternative you picked?
These were the Best Gmail alternatives. However, Gmail itself is one of the best email service provider. With Google's gmail you get a USERNAME@gmail.com email address. One of the most trusted email provider in this world, and google knows the responsibility and so Gmail has plenty of amazing features including POP / SMTP setting, e-mail undo, and a limit of 15 GB which you can expend with a premium plan. But for many reasons, if you have decided to switch your email service or want any Gmail alternative, then you can consider the above-mentioned list. Apart from the above-mentioned email clients, you can also try FastMail, GMX, Scryptmail there are countless others. For any doubts or queries, you can drop your comment in the comment section below!!