/ This article is scheduled for an upgrade.
Although there are cool Android OS for computers that mimic the Windows interface and runs way faster, sometimes you just need to deploy Android environment on your computer, here are some options.
A. Windows 11's default Android subsystem
B. Fully-fledged Android OS
C. Android Emulator
We'll explore section C here. When you use an android emulator on pc it allows installing android apps from the google play store. No google play store? sideload your favorite android app or game on one of these android emulators.
There are numerous reasons to use an Android emulator on a Windows computer. The most common reason is using chat messaging apps like WhatsApp and Google Allo. Or you just want to use any particular Android application on your computer. And for that, you don't need a real Android smartphone. With the best Android Emulator, you can do almost everything you could do on an actual Android phone. Interested? In this post find out some best android emulators for your computer. In this post find out some best android emulators for your computer.
Minimum requirements: 5GB storage, 32-bit i3 CPU or newer, Virtualization (vt-x).
Most people probably use an emulator to play android games such as what is trending right now PUBG, Fortnite, Black desert, and strike of the king. LDPlayer is the best Android Emulator for playing PUBG mobile. Tested on an i5 (Gtx 1060) computer, it was able to run the game at 60fps, HDR extreme graphics, and 2K resolution. This is the best you can get from this game. Because it is a royale battle game, you may notice frame drops at certain times.
Quickfever.com runs a YouTube channel that uploads Android customization videos as well as gaming videos, and most of the videos are of PUBG gameplay which is recorded on LD player. The emulator allows you to customize the critical mapping; For example, running the game at 720p resolution by default, you get crucial pre-configured mapping. There are few options to choose in key mapping settings for 720p and 1080p, and you can toggle the right mouse click to AIM and CTRL to toggle the mouse cursor. The new latest LD Player version embeds video recording functionality, allowing to record the gameplay seamlessly and then upload them to YouTube. There is also a situation where your is not fast; then at the time of the stream, you get high pings. You will not be able to play games and flow at the same time. So one better solution is to record your gameplay and then upload it.
From this article.
The company claims a higher Antutu benchmark compared with flagship Android Emulators such as BlueStacks and rest. Lemme tell you one thing this Android Emulator is compatible with Intel HD graphics, and AMD graphics, which means utilizing your hardware to give you the best Android gaming on your computer. It is compatible with the new Windows 10 along with joypad support.
Minimum requirements: 8GB storage, 64-bit i3 CPU or newer, Virtualization (vt-x).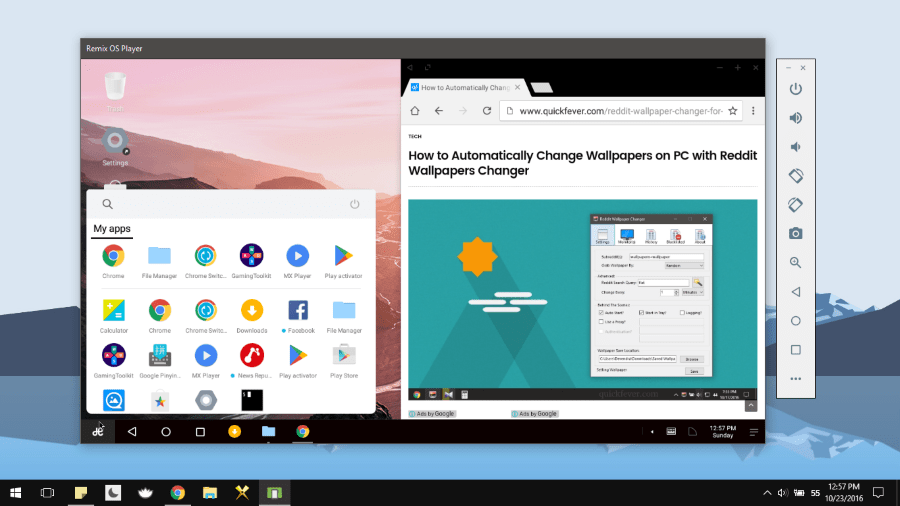 Remix OS is hit as an operating system, the company who brought Remix OS also released the "Remix OS Player" which is an android emulator and works with Windows. Remix OS Player is new, advanced, and supported by a dedicated community. While most of the other android emulator is stuck with KitKat and Lollipop, Remix OS player runs on Android Marshmallow. However, You need to enable the "Virtualization" feature from BIOS and Hyper-V in Windows. Activation Hyper-V is easy but getting into BIOS will be a bit hard especially if you have a laptop from HP or Dell, both are known to prevent users from getting into Advanced BIOS options by adding a pre-password to the BIOS. But most of the time you'll be able to enable the Virtualization feature from BIOS. If not you should contact your laptop support team. Otherwise, Remix OS Player is robust and lets you play high-end Android games on a computer. The download file size is just 1GB (and 6GB when extracted). Suffice to say it's the best android emulator in the shape of a complete operating system. The only downside of this project is now that it is discontinued, the last release was of 15 November 2016 and is based on the android marshmallow. it's sad that you won't get the latest security patches or anything at all.
Unlike most android emulators, the Remix OS player is a full-fledged Android operating system that works on the Windows operating system. In addition, it requires the Virtualization feature to be enabled on your computer (from the bios settings). At first glance, it looks like other Android Emulators, there will be some buttons next to the box that you can use to control this android os better. In a shell, it is just like the whole Remix OS, but running on Windows. If you do not want to switch more than one operating system, you can get the remix os player that runs on Windows. But in some cases when you BIOS is locked and you don't know your computer's BIOS admin password, you have to reset the BIOS password in order to get into BIOS settings and turn the VT feature on. There is one drawback that it doesn't support AMD chip computers. Just like Remix OS, the Player is also abandoned.
BONUS: Remix OS is a different product from Jide, can be installed on your computer along with Windows as an Android operating system, or simply boot from a USB drive. When you boot from a USB the persistence mode saves seasons (anything you do or apps you install).
MoMo PLayer
It looks just like LDplayer but in Chinese
TianTian
Ever heard of KoPlayer, TianTian is one step ahead in development.
Youwave
Minimum requirements: Intel Pentium 1.6GHz CPU, 2.0GB RAM, 500MB disk space. (64 bit and VT-x support).
One of the best alternative if you have used the heavy blue-steak android emulator before. It's tiny in size around 150MB which is the Android 4 version setup. The lollipop version is paid which costs around $29. If you need more flexibility and newer version of Android, you may want to try Android on an operating system on your computer. Consider Remix OS and Phoenix OS which can be installed on your computer just like you install's Windows. Read more about them here. Or Check other alternative operating systems as well.
AMIDuOS
This is a new android emulator in this list that comes in two variants the first one is JellyBean and the second is based on Lollipop. The difference between both is price, the lollipop is $5 more compared to the older Android version. The price of the JellyBean variant is 10$ which is a one-time charge. AMIDuos runs without any hassle and serves multiple purposes. The features it has are for productivity and fewer features are present for gaming. If you want to use this in office and do work this is a nice choice. The app developers do tests of their apps but it's nothing far than that. Do not expect to run this for advanced stuff. This is based on an old android version but it offers you a stable android environment and no bugs.
The download page is giving an error when opening.
LeapDroid
Update: Nov 6, 2016: Leapdroid team Joined Google and discontinued it.
Download the archived installer (GDrive)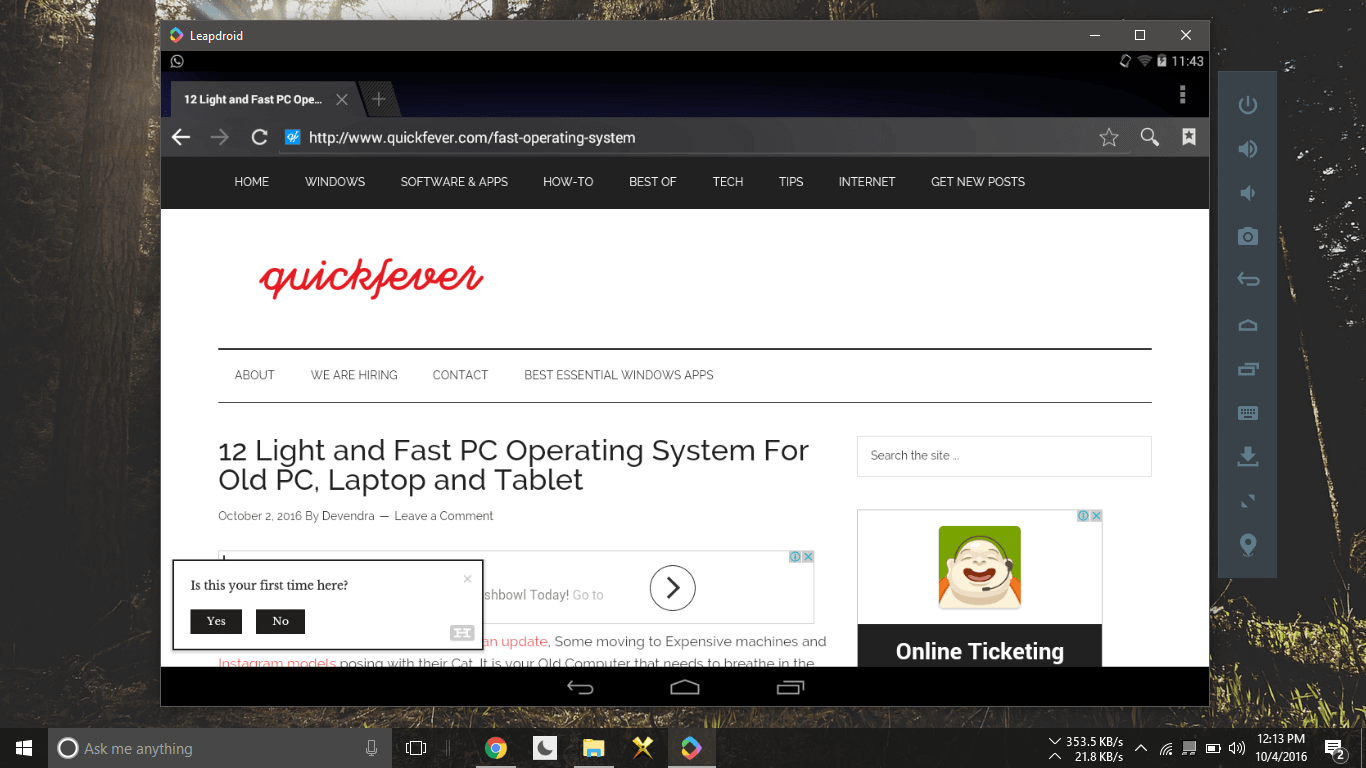 LeapDroid is one best lightweight, and a full-featured android emulator runs on Android KitKat. Overall this is recommended so you can install it without reading all sorts of other emulators. This is your choice. Despite it is a free emulator, and have lots of options like installing apk from your hard drive or mapping keys. You can also resize the screen at your convenience, and this does not require restarting the program. When you install it for the first time, you'll see 2 shortcuts on your desktop, they are both same but different environments, so you can have like, alright pretend that you have 2 Android environments on your computer. Like 2 account of everything that matters, WhatsApp for instance. It comes pre-loaded with the Google Play store, So install any app from the humongous app store. One thing I noticed that if you add a Google account to it, your contacts won't be sync. I don't know this is only mine case or it is for everyone. Maybe you have to see this for yourself. It may work or may not. Rest it does everything that a typical KitKat Android phone does. LeapDroid has it own VM Manager (Virtual Machine) using it you can also install Windows and Linux operating system and launch them directly just like you use this Android emulator.NOX Android Emulator
Nox is our second favorite Android emulator which I used some months ago. It has features and interfaces like the leapdroid. Both Nox and Leapdroid have Pokemon Go game pre-installed, sure go outside with your laptop and try to catch some.
Best Android emulator for pc?
Once you chose any android emulator you'll be able to tune into Google play store and do all sort of thing you can do on a real Android smartphone. If you are confused because you just read about a dozen ofAndroidd emulators just go with Remix OS player if your computer has a Virtualization Feature enabled computer. Our second favorite is LeapDroid which is based on Android KitKat.
I want to get this straight before anyone tries any of these mentioned best Android emulators. Yes, the emulators I mentioned in the starting are very likely recommended and rest is up to you. Or do whatever you want to. Everything is possible. These emulators create an Android environment on your computer, so you can simultaneously run your Windows programs along with an android emulator which runs any Android apps. Sure, the hardest part is still yet to come. Placing these android emulators at their right place in this post. Sorting and adjusting have always been my biggest nightmare. I just hate it. I don't know. I do it. Because I want my authentic voice in my articles. In fact, I still don't know what is my best emulators for Android apps to run them on my windows 10. Sometimes I just toggle them. let's make a leap and go straight to the fastest and lightweight Android emulators some are my favorite and some may not. because everyone has their needs, I added all sorts of the promising and helpful Android environment you can install on your Windows Computer. You can test some of the android emulators to come up with the best android emulator for your PC.
P.S. If your android emulator is not listed here, Slap us with its name in comments.
P.P.S. You can check out more articles you may find helpful and interesting here.
P.P.P.S. If you enjoyed this, please opt-in for new updates here